Yes. The rumors are true.
Trader Joe's is finally opening a 2nd location in Sarasota / Lakewood Ranch.
Here's where the new location will be and when it's opening:
Since 2018, Sarasota residents have been emailing Trader Joe's to open a second location in Lakewood Ranch. Trader Joe's Sarasota Facebook groups have been commenting and requesting Trader Joe's to "please" open a new location in Sarasota. Finally, our voices have been heard.
Why is the New Trader Joe's Sarasota Location a Big Deal?
Anyone who shops at the Trader Joe's in Sarasota knows the parking situation. It's super busy. Driving from Lakewood Ranch or Palmer Ranch, is a 20 minute drive on a good day. Considering half of the United States moved to Sarasota since 2020, the traffic was brutal.
Is the 2nd Trader Joe's Location Confirmed?
Yes. Trader Joe's has confirmed the new location in Sarasota, Florida and posted it on their website.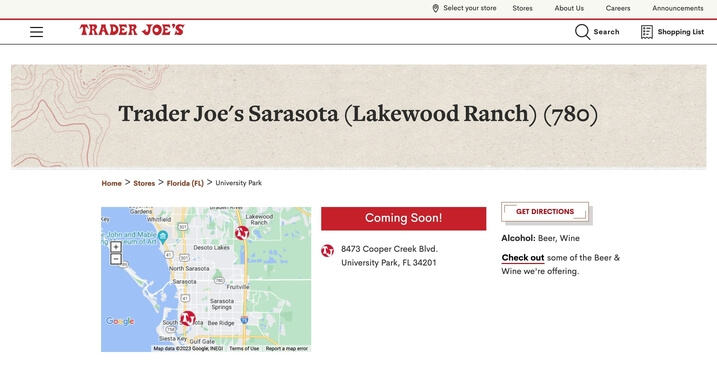 Trader Joe's Sarasota / Lakewood Ranch (780)
8473 Cooper Creek Blvd., University Park, FL 34201
The new Trader Joe's location will be conveniently located at The Shoppes at University Town Center (UTC). It will be replacing Rack Room Shoes, on the same plaza as Fresh Kitchen, Tandoor Fine Indian Cuisine and many other Lakewood Ranch restaurants.
When is Trader Joe's Opening in Sarasota?
The new location is opening in 2023.
15 Items That Are Cheaper at Trader Joe's
Here are the 15 items that are cheaper at Trader Joe's compared to other grocery stores in Sarasota, Florida.
Fancy Cheeses
Olive Oil
Dips and Sauces
Baked Goods
Nuts
Cold-Cut Meats
Berries
Wine
Chips and Popcorn
Condiments
Spices
Sugar and Flour
Milk
Balsamic Vinegar
Avocados
What to Buy According to Reddit
Here's what to buy at the new location according to Reddit.
Fancy Cheese
Coconut Milk
Tofu
Frozen Fruit
Nuts
Coffee
What to Buy According to Trader Joe's
In 2023, Trader Joe's published their 14th annual customer choice award winners. Here's what they are and how much they cost:
#1 Overall: Chili & Lime Flavored Rolled Corn Tortilla Chips: 9 oz – $2.99
#1 Cheese: Cheddar with Caramelized Onions: $9.99 per pound
#1 Entree: Butter Chicken with Basmati Rice: 12.5 oz – $4.49
#1 Produce: Bananas: $0.19 each
#1 Dessert: Hold the Cone! Mini Ice Cream Cones: 7.9 oz – $3.79
#1 Vegan/Vegetarian: Kale & Cashew Pesto: 8 oz – $3.99
What is Trader Joe's?
Trader Joe's is a national chain of neighborhood grocery stores that has been revolutionizing the way we shop since 1967. They're all about value. Providing customers with top-quality products at unbeatable prices, without the hassle of sales, coupons, or membership cards.
How?
By cutting out the middleman and buying direct from suppliers, bargaining hard for the best prices, and passing the savings on to you. But that's not all.
Shelves are stocked with unique and interesting products from around the world. Carefully selected by expert buyers and rigorously taste-tested by a panel of experts. If a product doesn't make the cut, it's outta there, making way for the next innovative item.
And the Crew Members? They're the friendliest and most knowledgeable in the business, dedicated to creating a welcoming and fun shopping environment. The Lakewood Ranch location will be their 23rd grocery store opening in Florida.