This is a list of the best coffee shops in Sarasota, Florida.
We spent 3 weeks looking for…
… locally owned cafes, independent roasters, experienced baristas, latte art, fast wifi and the best coffee in Sarasota.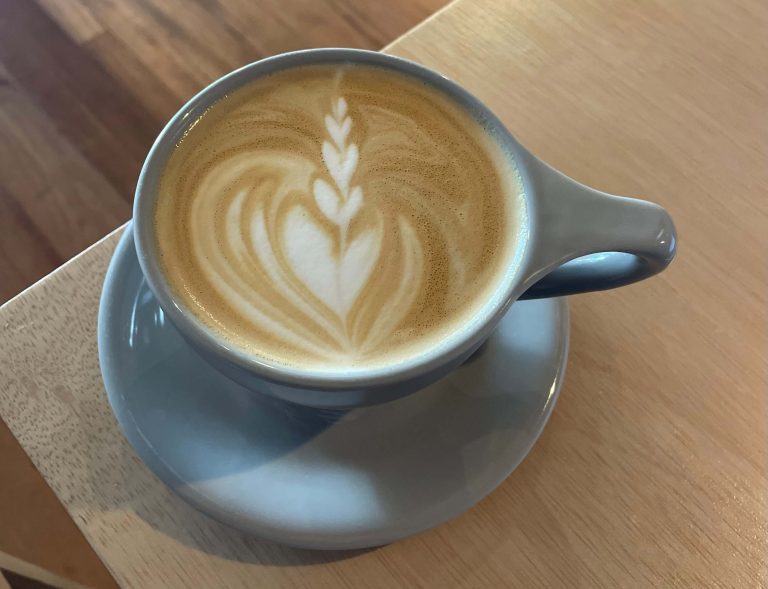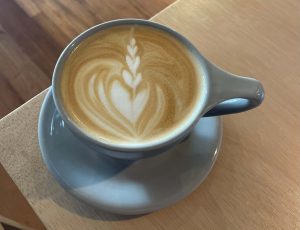 Let's jump right in
Here are the local cafes we'll talk about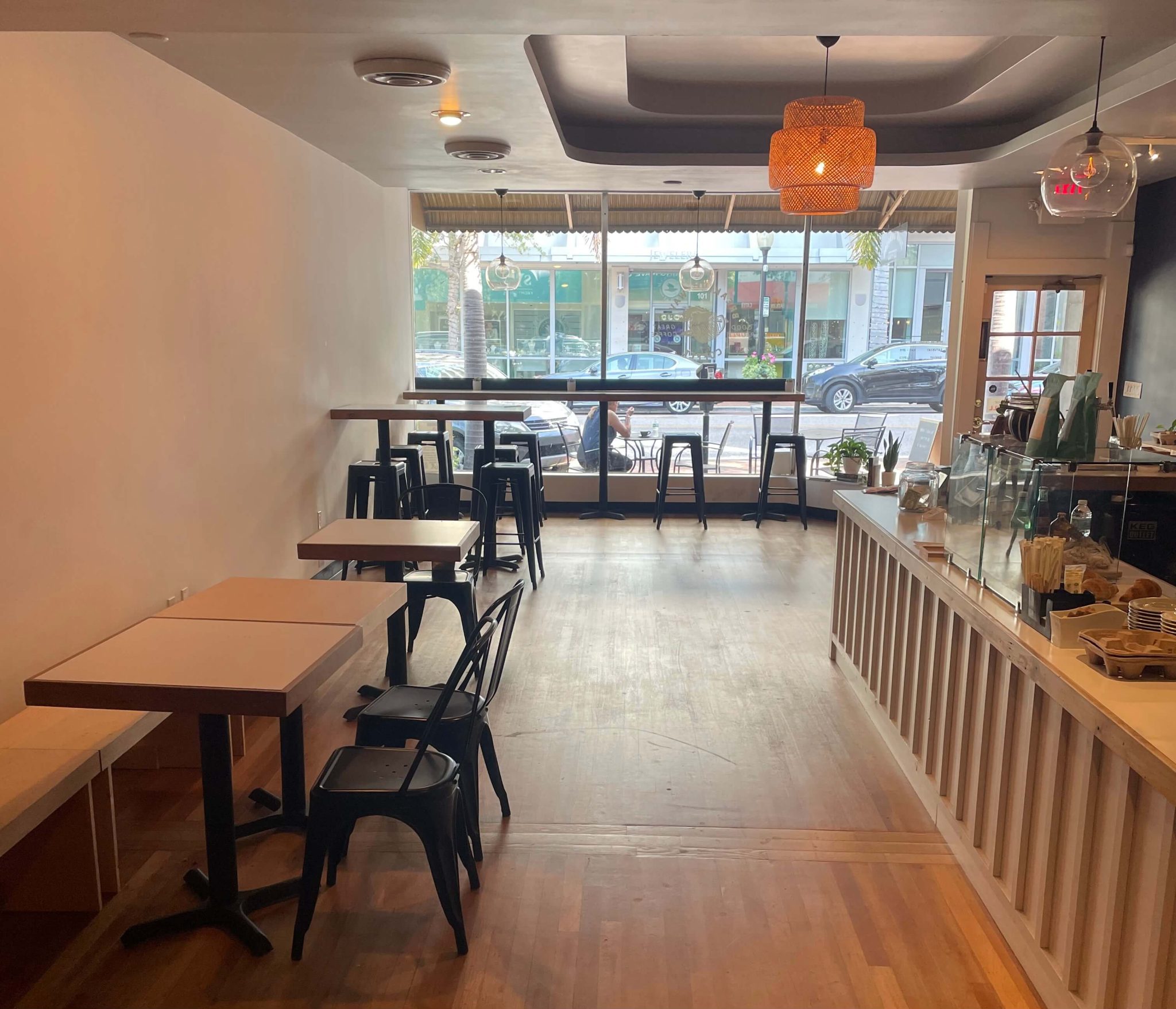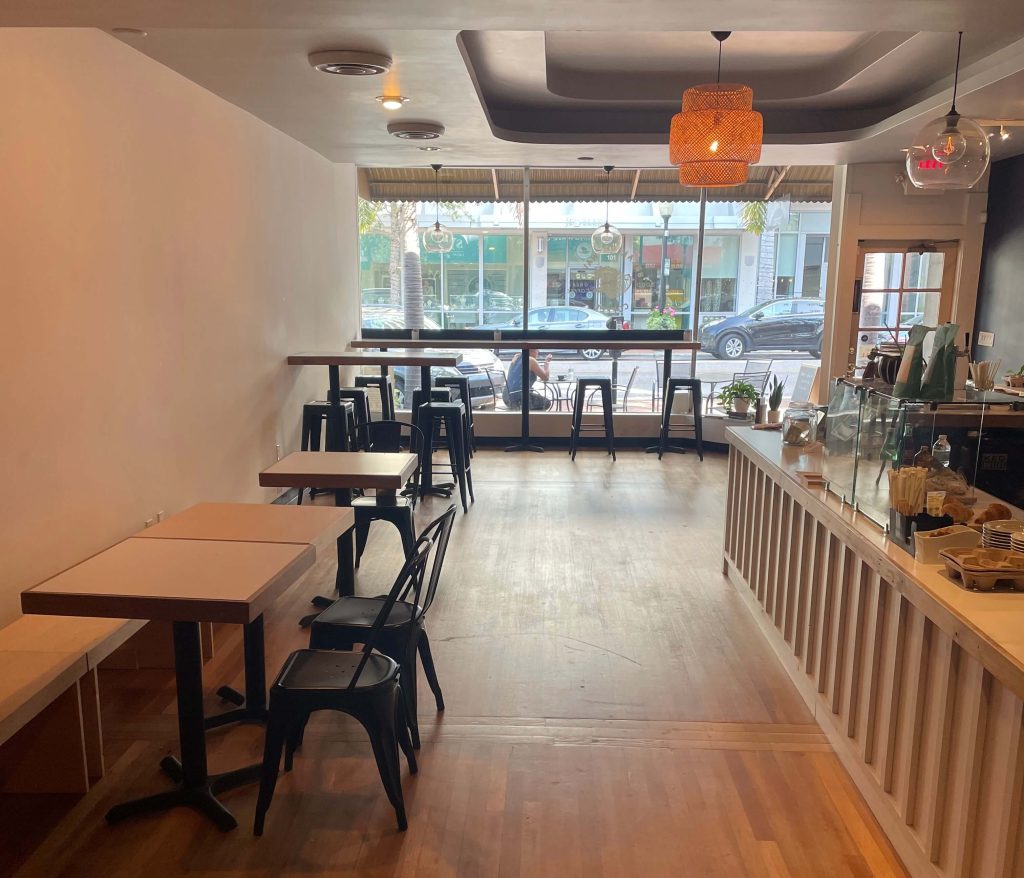 Breaking Wave Coffee
1310 Main St, Sarasota, FL
Breaking Wave Coffee is a modern, clean and quiet coffee shop in downtown Sarasota. It's a great little spot right on Main Street with a chill atmosphere. It's known for the best hot coffee, excellent espresso roasts, flat whites and cappuccino's. Locals rave about their experienced and friendly baristas.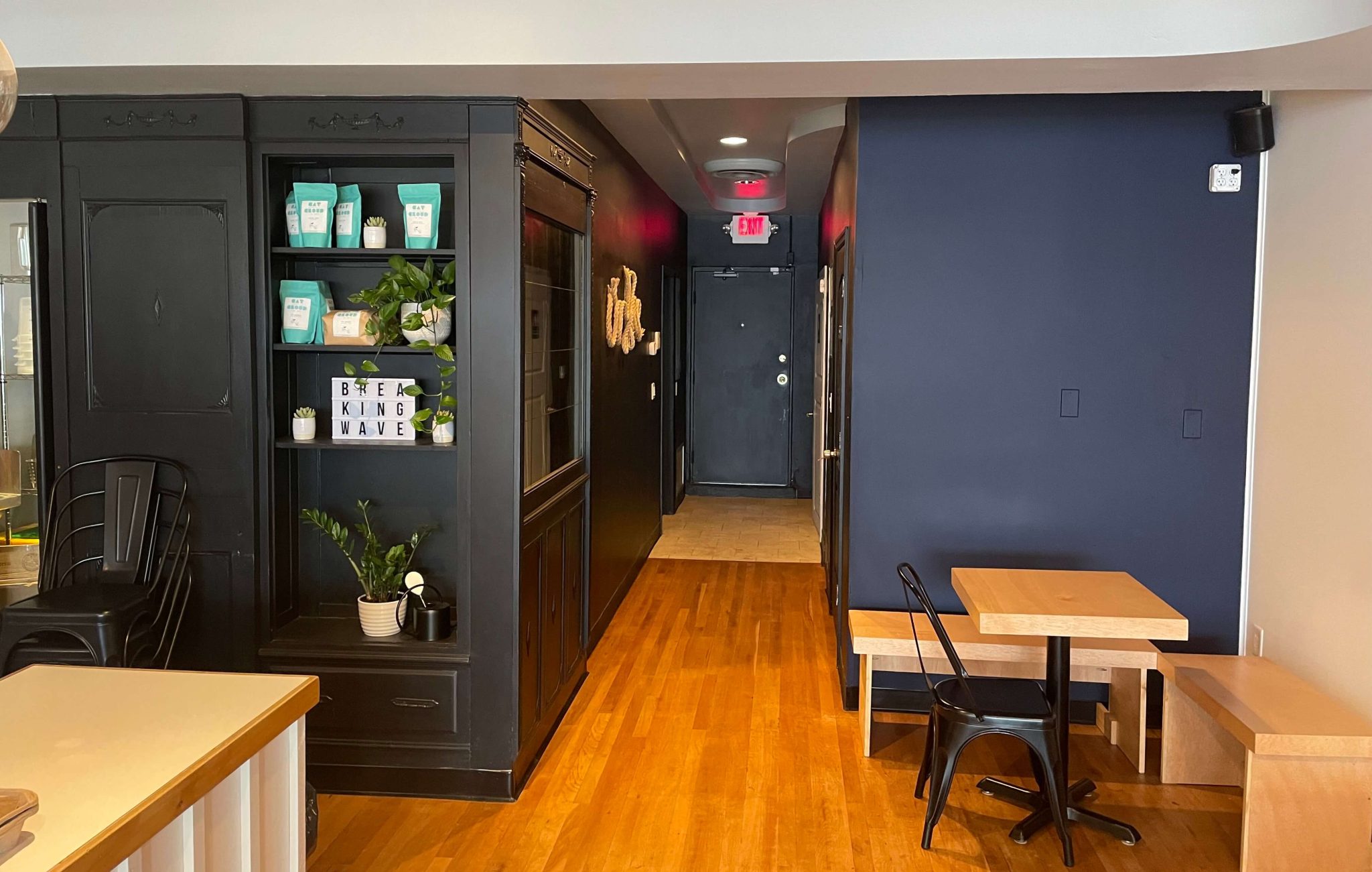 Expect a strong espresso in a little cup with expert-level latte art. Their coffee is smooth and has very low acidity. If you're looking for local coffee shops to work from, they win by a long shot. Breaking Wave has super fast and free wifi.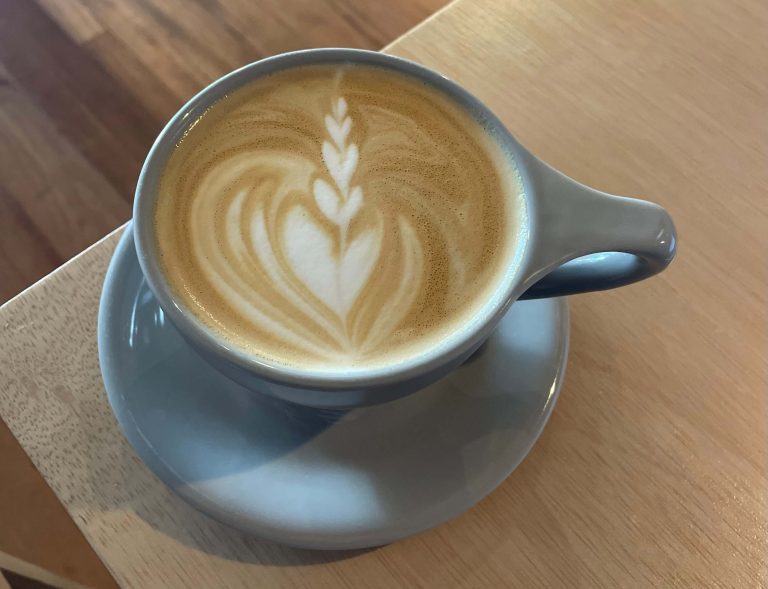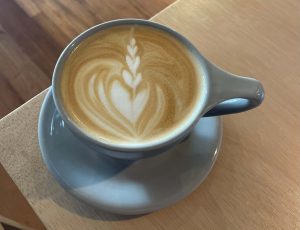 It's also only a 5 minute walk to downtown Sarasota restaurants, Marina Jacks or Bayfront Park. If you moved here from a big city, you'll love this coffee shop. It's also one of the newest coffeeshops (opened in 2019).
The Clever Cup Coffee Shop
6530 Gateway Ave, Sarasota, FL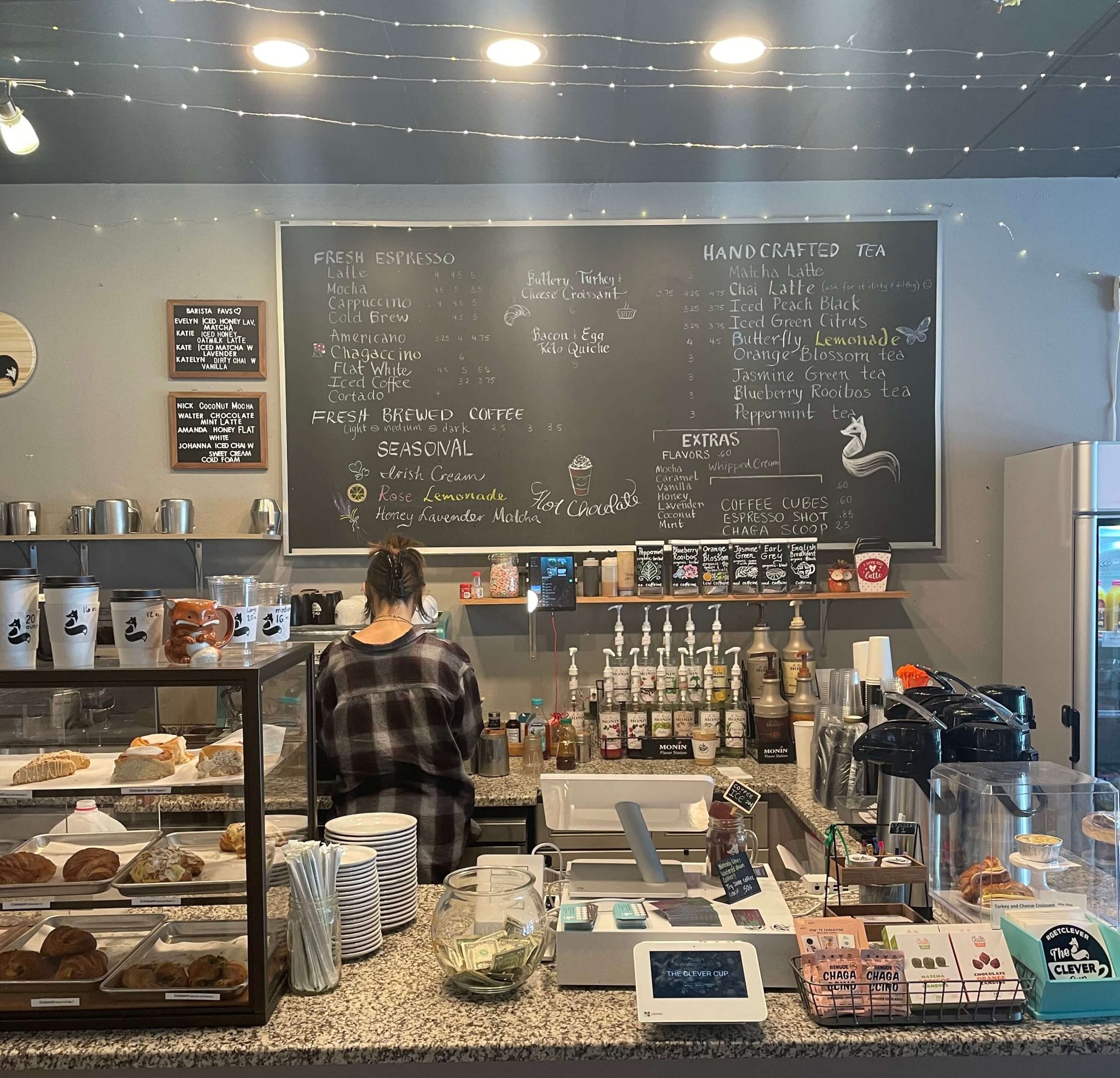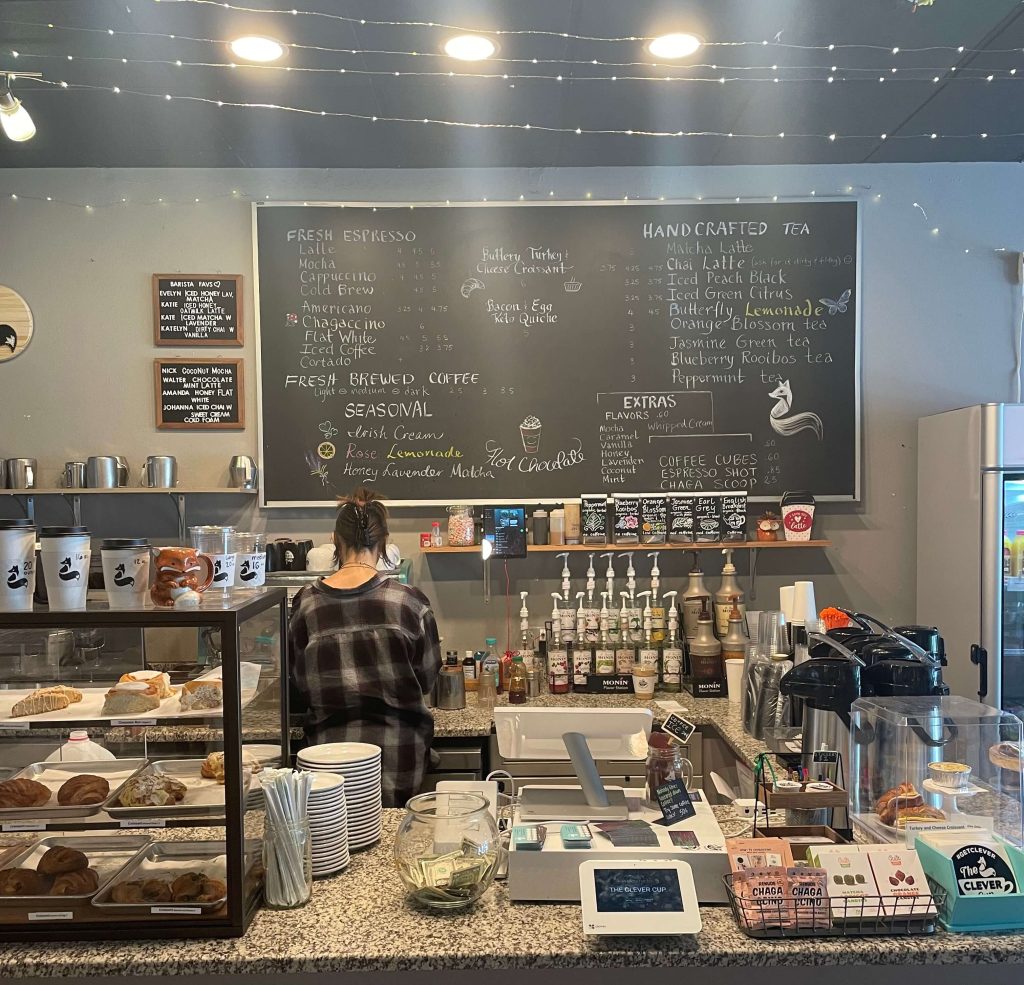 The Clever Cup offers fair trade organic coffee in a warm and cozy atmosphere. They have lots of tables inside and some bar seats with outdoor seating. Inside, you'll hear relaxing coffee shop (bookstore type) music. You'll see really cool art on the walls made by local artists.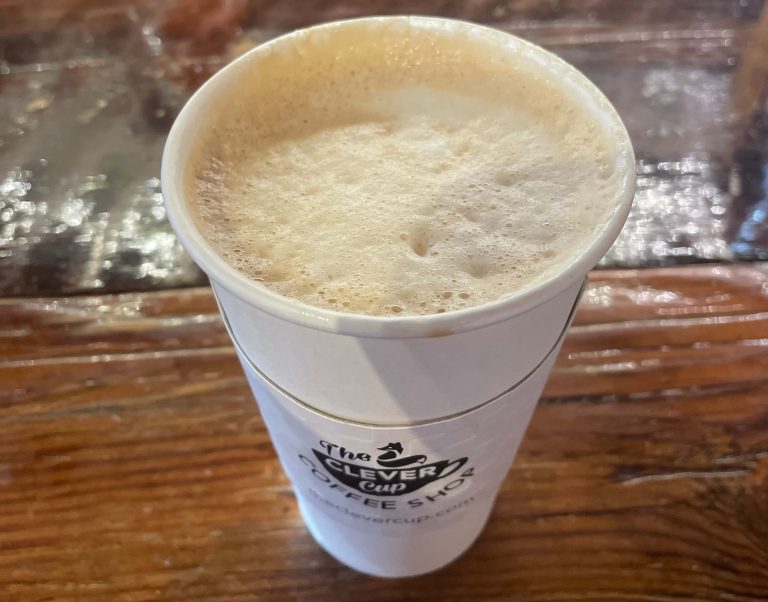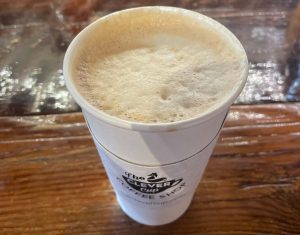 Best Coffee Drinks [Clever Cup]
Delicious coffee made with Black Gold Coffee Roasters organic beans
Lavender honey latte
Honey comb latte with vanilla almond milk
Cold brew with almond milk
Espresso cortado
They're also known for their vegan pastries, vegan cinnamon rolls and gluten free muffins. Make sure to ask about their coffee ice cubes. If that's not enough, they also offer free wifi and open mic every Friday 7-9pm.
Buddy Brew Coffee in Sarasota
1289 N Palm Ave, Sarasota, FL


Buddy Brew Coffee is a tiny little coffee shop with outdoor seating, a great atmosphere and excellent espresso drinks. It's the best coffee shop for remote working with insanely fast wifi (233Mbps). If you're looking for things to do when it rains, their outside seating is under a parking garage.
We would highly recommend you try a Cortado with the Double Dog or Cubano espresso roast. It's full of flavor, not acidic and uses fresh beans. It's our favorite drink off their menu.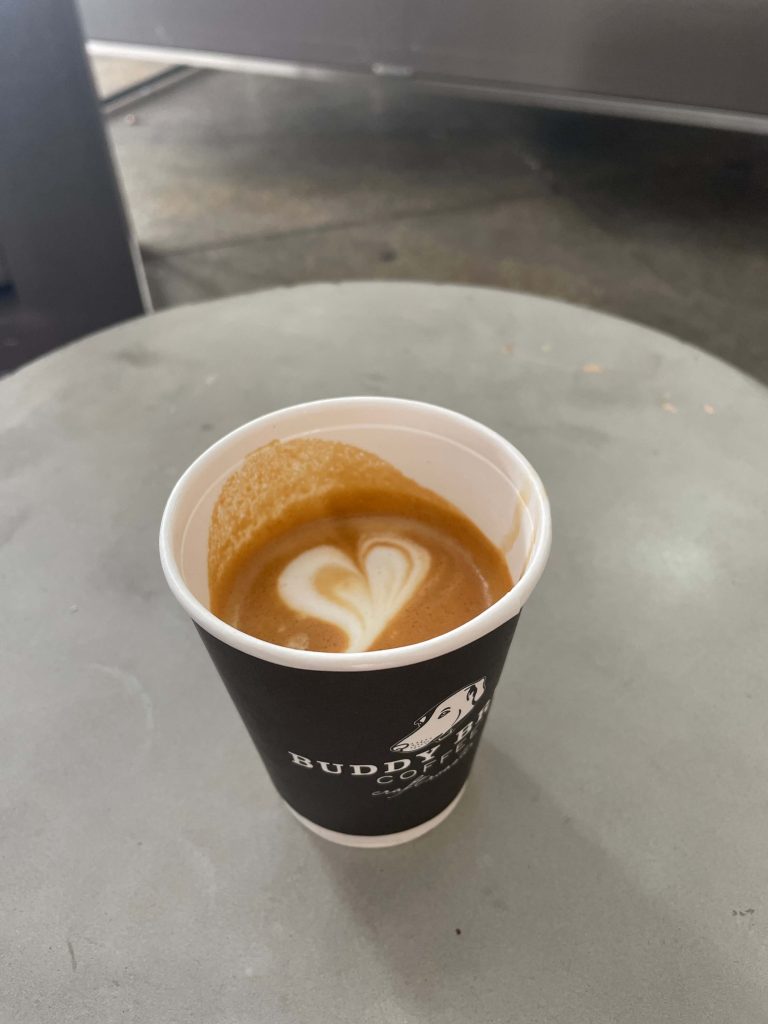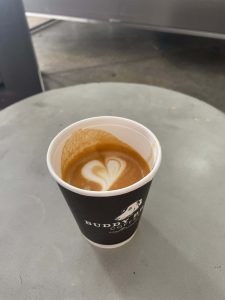 If you're looking where to buy buddy brew coffee, they also have 7 other locations in Tampa, FL. Hyde Park Village, Bay to Bay, Park Tower and 4 other locations in Tampa. When it comes to speciality coffee roasters, they are among the best coffee shops in Sarasota you can visit. Their hours are from 8am-3pm every day.
Perq Coffee Bar
1821 Hillview St, Sarasota, FL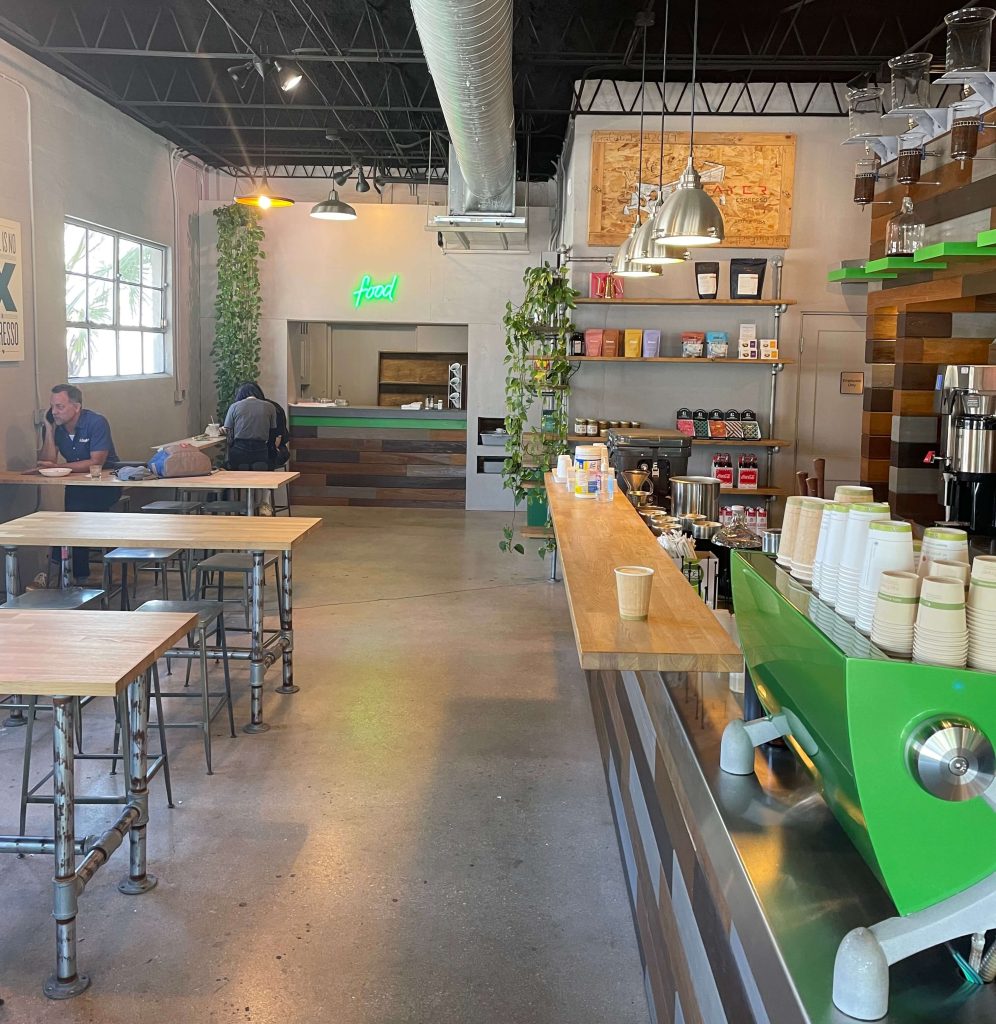 Perq Coffee Bar is a high end coffee shop in Southside Village with a lively atmosphere. It gives off a strong sophisticated feel from the first second you walk in. It's no surprise that so many people choose to meet here.
Other than their unbelievable coffee, they're known to have the best flat white in Sarasota. While that's a strong statement, we agree. They also have an amazing nitro cold brew. Their freshly roasted coffee beans give off flavors your taste buds have never experienced.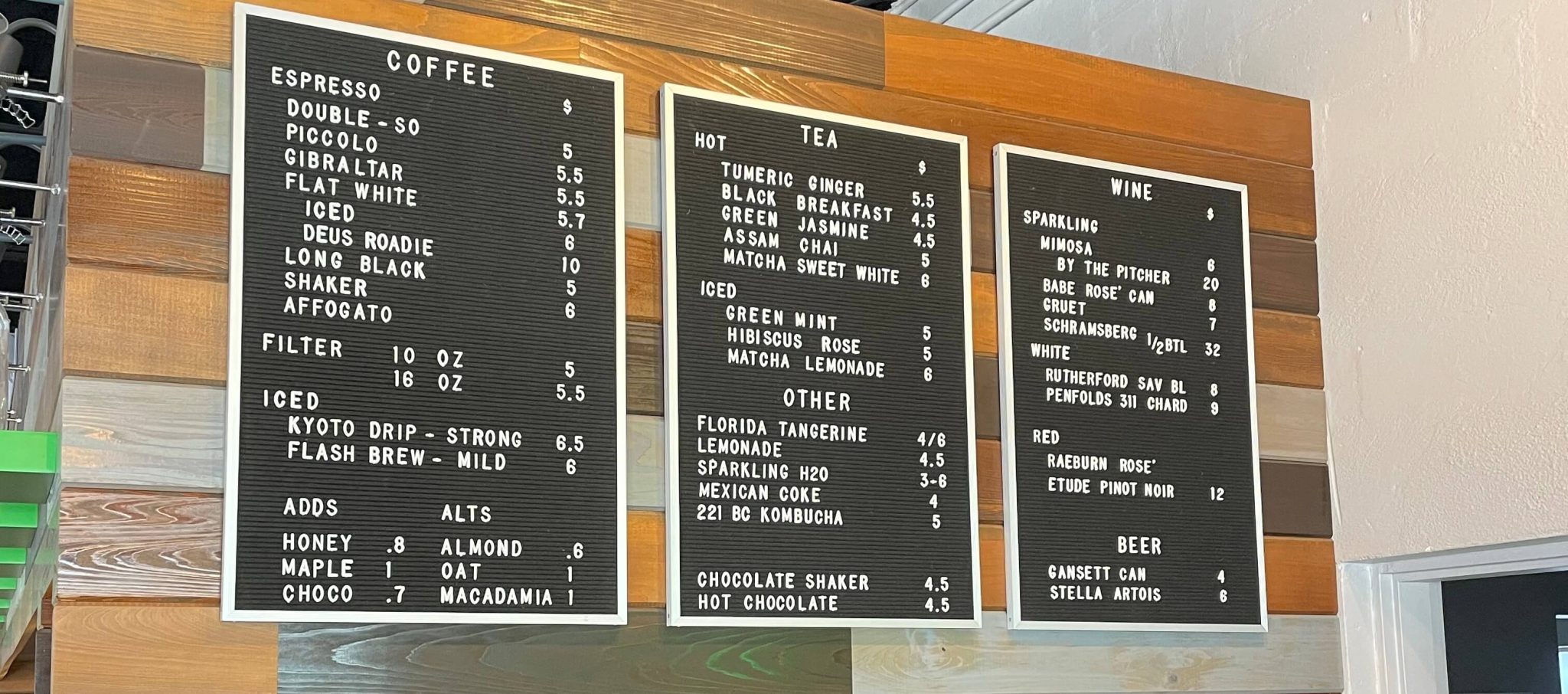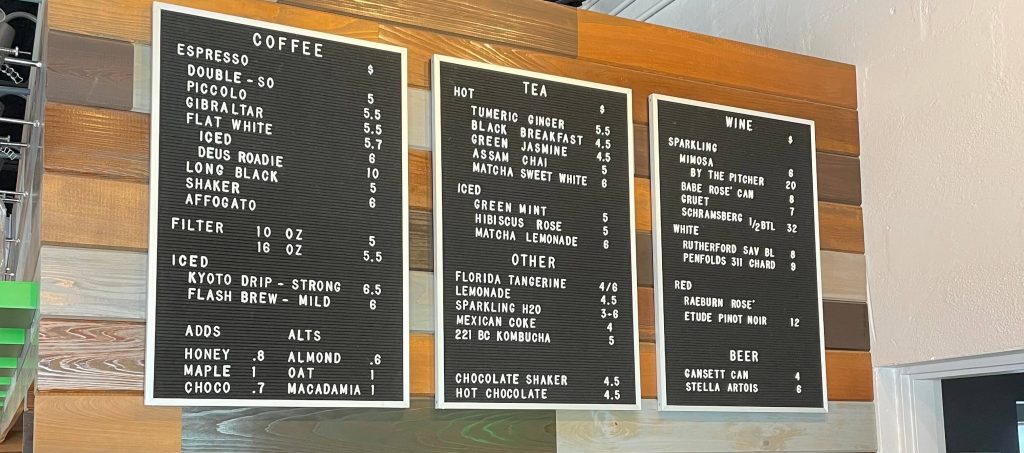 Perq's breakfast menu offers keto friendly, vegan and gluten free options. You're going to love their Yeti water cooler and modern industrial ambiance. They're also the closest coffee shop near Sarasota Memorial Hospital.
O & A Coffee and Supply
1316 Main St, Sarasota, FL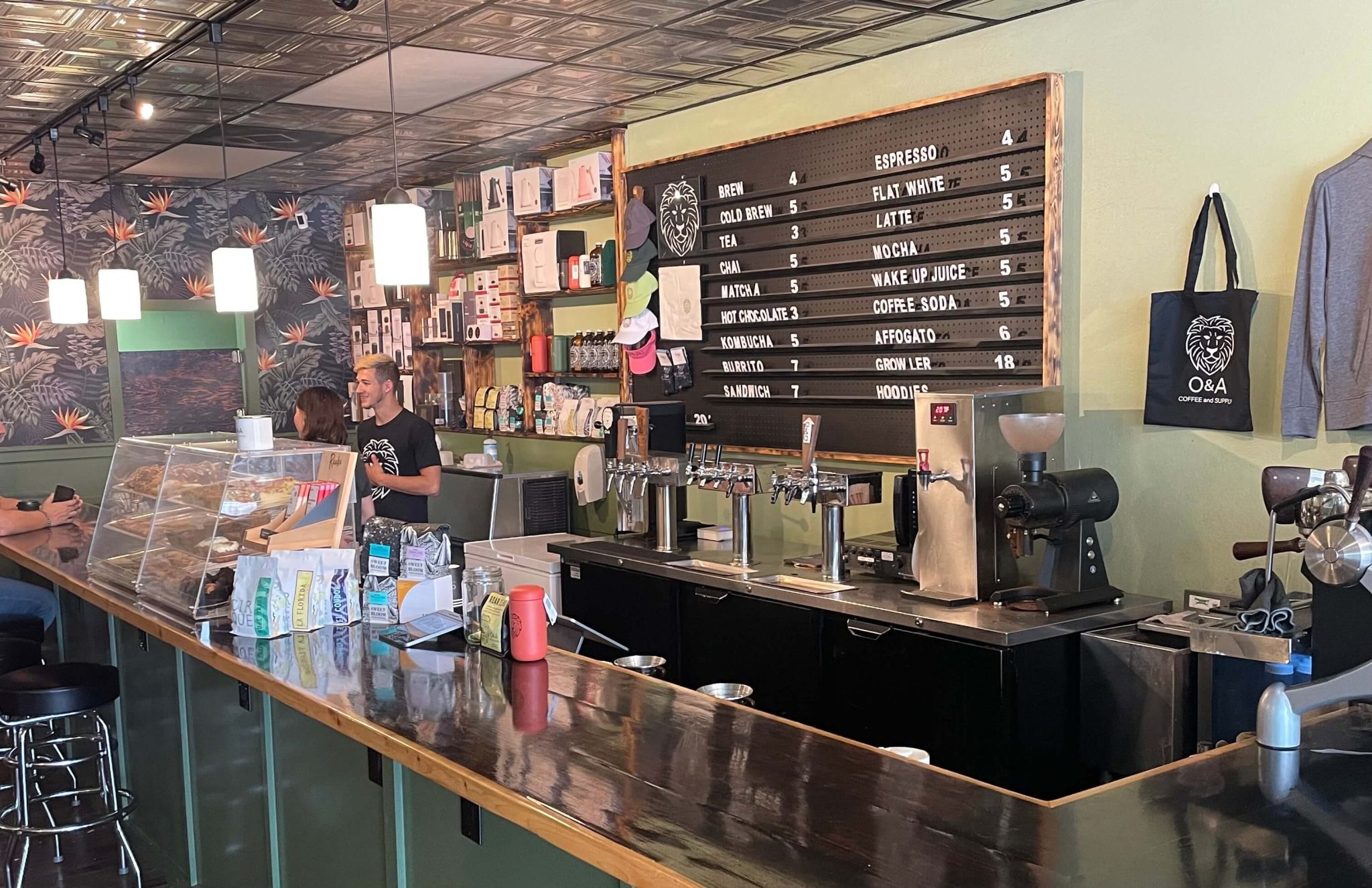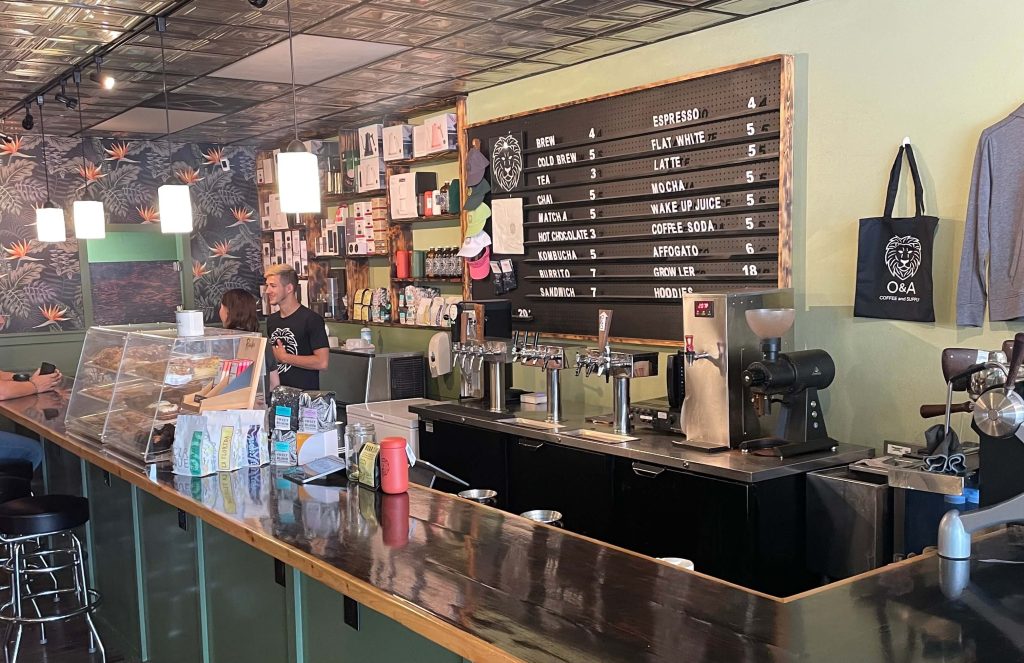 O & A Coffee is one of the best downtown Sarasota coffee shops that offers speciality espresso drinks. It's located on Main Street, next door to Breaking Wave. Out and About Coffee is also among the trendiest coffee places and has a strong cult following.
We recommend you try one of their great lattes, flat whites or iced Cappuccino with oat milk. O and A also serves high quality vegan pastries and mouth watering blueberry muffins. Expect really cool latte art in your coffee cup!
They have free wifi and lots of indoor seating if you're looking to get some work done. If you're in a social mood, they have a cute coffee bar. If you're looking for coffee shops in Sarasota for remote working, this is a great place. They're also one of the busiest vendors at Sarasota Farmers Market.
They're also opening up more coffee shops in Lakewood Ranch. So you can add it to your list of things to do in Waterside Place.
ATRIA Cafe
4120 Lakewood Ranch Blvd, Lakewood Ranch, FL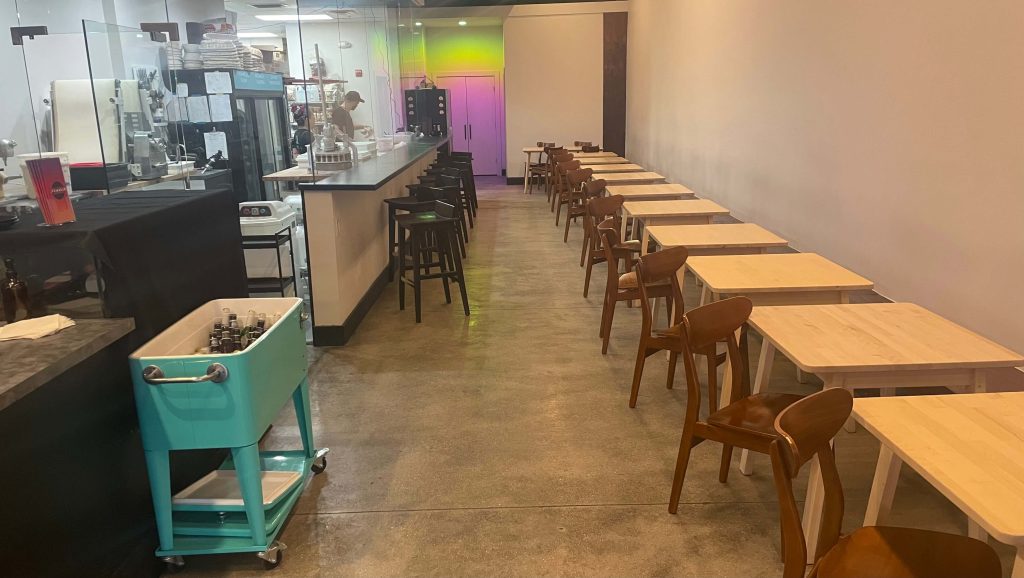 Atria is the shining star of Sarasota's coffee shops and cafes. This is one of those places where no matter what you order, you really can't go wrong. Their coffee is excellent and artisanally crafted by folks who actually know what they're doing.
Our favorites include a breve cappuccino, cold brew, and any of their specialty iced lattes. Their teas vary from the traditional matcha to lavender and chai. All of them are lovely, aromatic and a perfect compliment their bakery treats.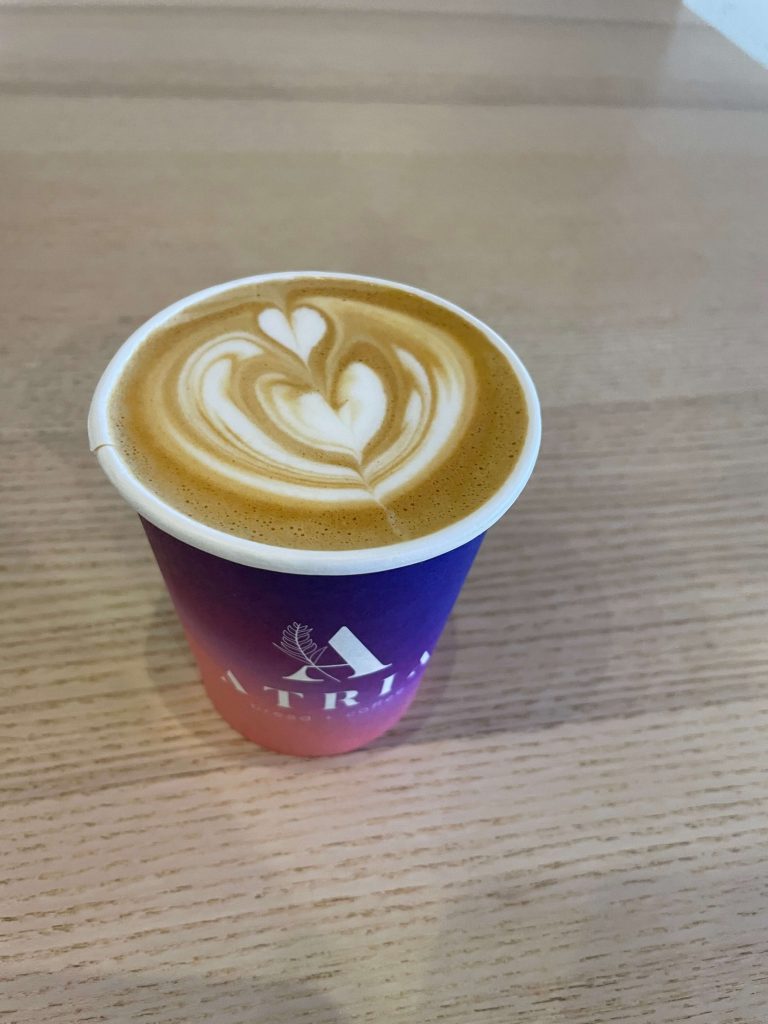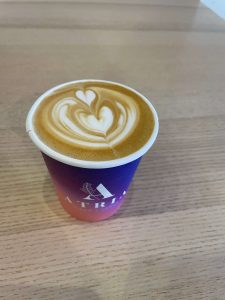 Speaking of bakery treats…
One of their specialties is fresh made-from-scratch sourdough bread. If you're a fan of sourdough, this is it, you've come to the right place. Besides offering the perfect sourdough loaf, their bakery section is filled with treats.
We've tried everything from their delicate madeleines to the sourdough croissants and delicious tarts. All of them are nothing short of divine. Their menu features both breakfast and lunch. So whether you're a fan of sandwiches, salads, pancakes or avocado toast… everyone can find something to suit their tastebuds.
They also serve many dishes with their famous Hokkaido milk bread. If you just can't get enough, you can buy a loaf to take home. Overall, their coffee and dishes are a must-try. The overall aesthetic of this local eatery is very trendy and Instagram-friendly. Even their dish and silverware screams "take my picture!"
Even though Atria is one of the best coffee shops in Lakewood Ranch. We had to include it. If you live in Sarasota, you know everything is a drive.
Mojo Risin' Coffee Co.
5251 Ocean Blvd, Siesta Key, FL
Mojo Risin' has chill vibes, a fun atmosphere, art on the walls and is in Siesta Key Vilage. If you're looking for a local cafe within walking distance to the beach, this is the place. They specialize in light and healthy meals and speciality drinks.
We would highly recommend their:
Iced white chocolate mocha
Coconut mocha
Chai tea latte
Iced caramel latte
For breakfast, our favorites were their breakfast empanadas, blueberry lavender muffins, smoothie bowls and açaí bowls. It has great reviews and is considered the best among Siesta Key coffee shops.
Buttermilk Handcrafted Food
5520 Palmer Blvd, Sarasota, FL
Buttermilk is like a cozy hug from an old friend. It's a great spot when you just want to catch up over a delicious meal and a warm cup of coffee. They have all your favorite comfort foods covered. From warm goey caramel frosted sweet rolls to gravy smothered biscuits.
And honey basted fried chicken on Fridays!
Our favorite drinks are the pour over coffee and cold brew. Both are heavenly with their signature bacon, egg and pimento cheese biscuit sandwiches. We also fell in love with the sausage gravy and baked egg biscuit sandwich. The baked egg is really what makes this sandwich so unique.
If you're not big on biscuits, their avocado toast is the best you'll ever have. That's a promise. Handmade fluffy brioche bread and bursts of flavors that top the mashed avocado. There's really nothing like it. Their hours are 7am-1pm Tuesday through Friday and 8am-1pm on Saturdays.
The Overton
1420 Boulevard of the Arts, Sarasota, FL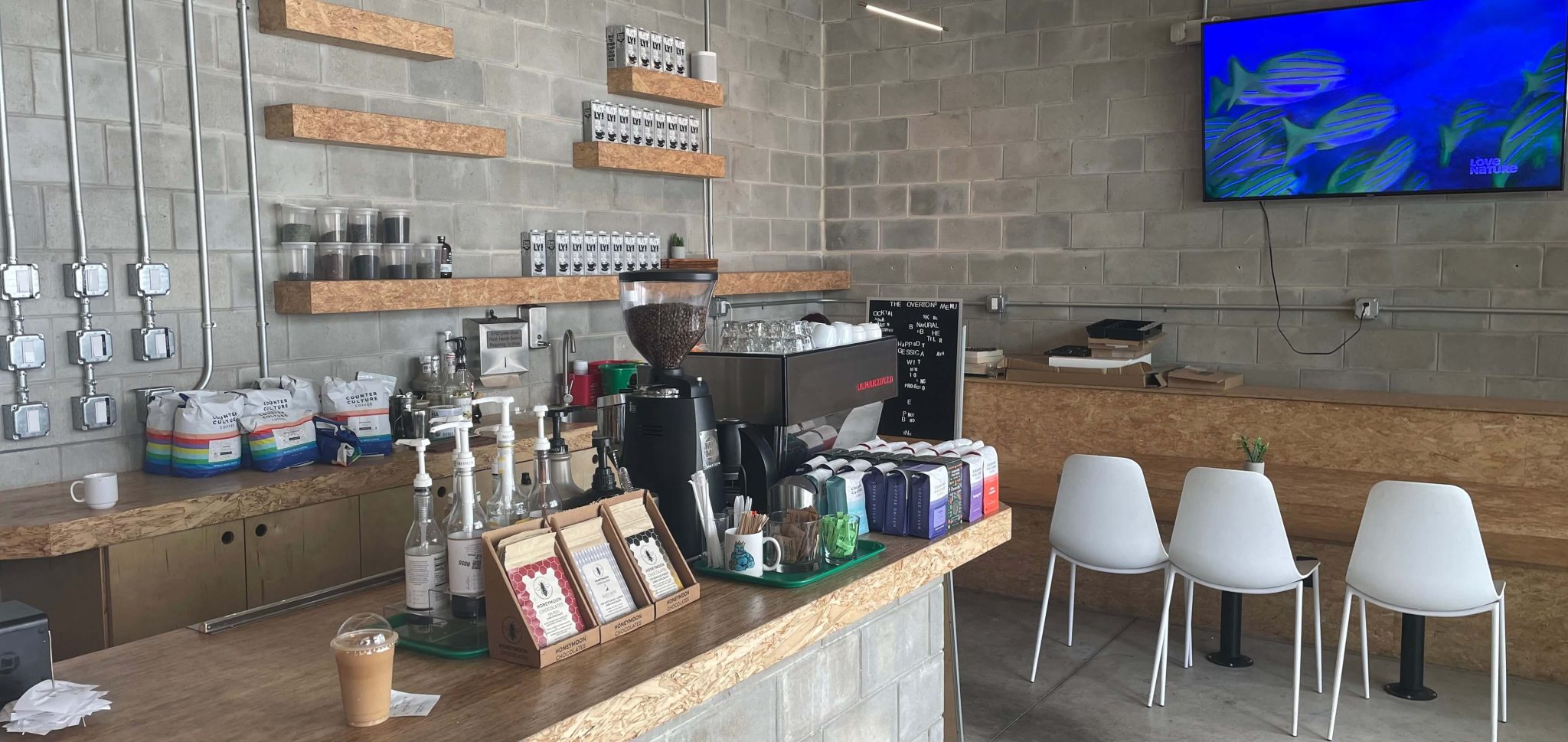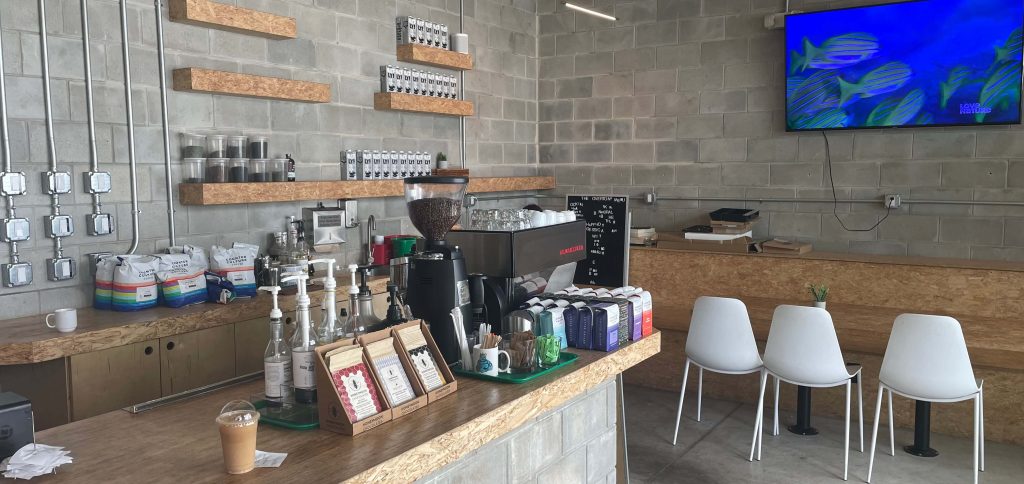 The Overton has it all. Great coffee and the best food. At first glance, you would think this place is just a trendy spot for some avocado toast. Maybe a pretty photo in the Rosemary District… but there's so much more.
Let's start where all good things begin… the coffee.
On the side of the register, you'll find cult classics like Counter Culture coffee. We recommend a deliciously frothy cappuccino or a refreshing iced chai latte. If you're not a coffee lover, there's all sorts of fun drinks to tickle your fancy. Like spiked cola and a matcha fresca tea.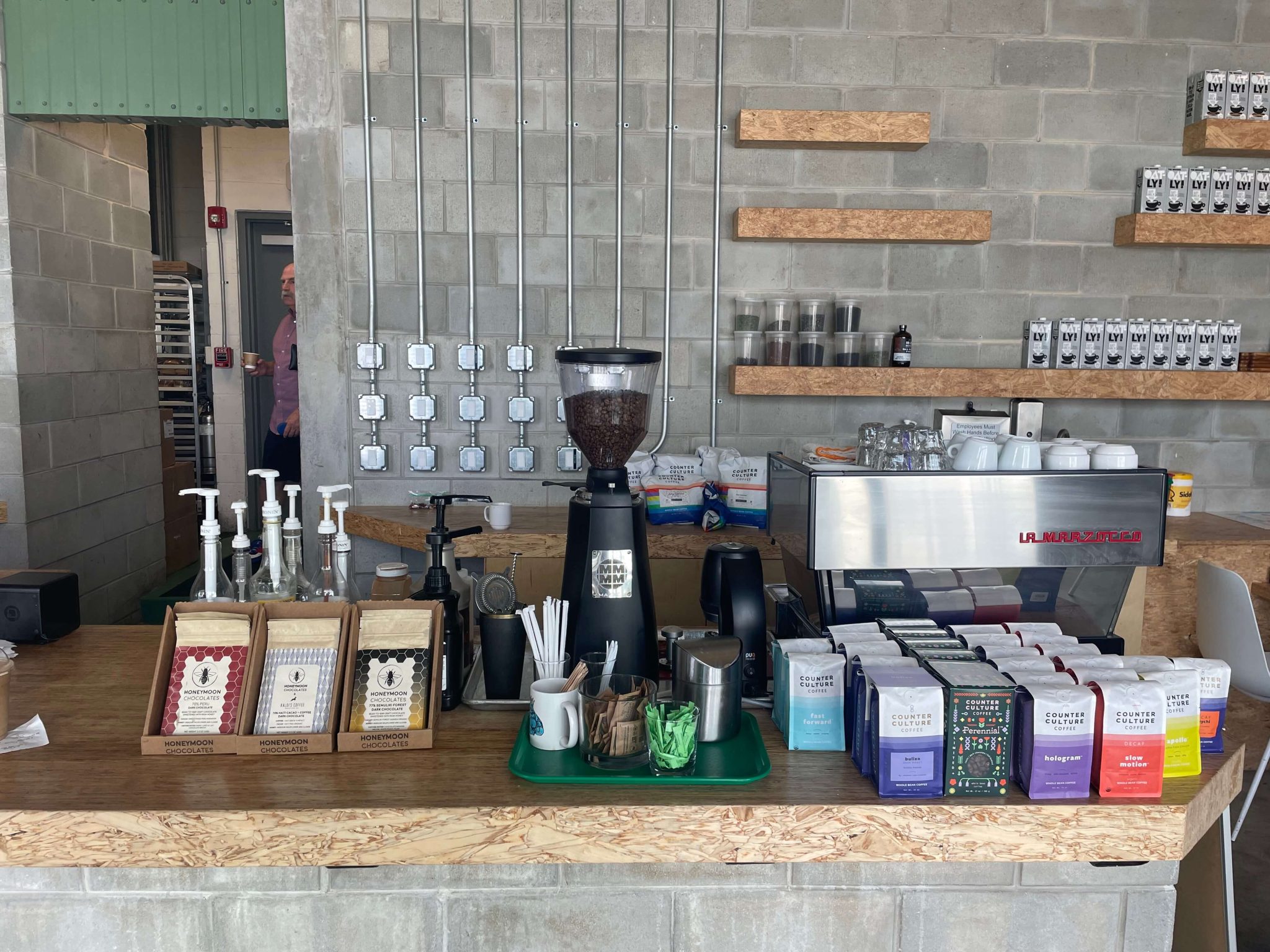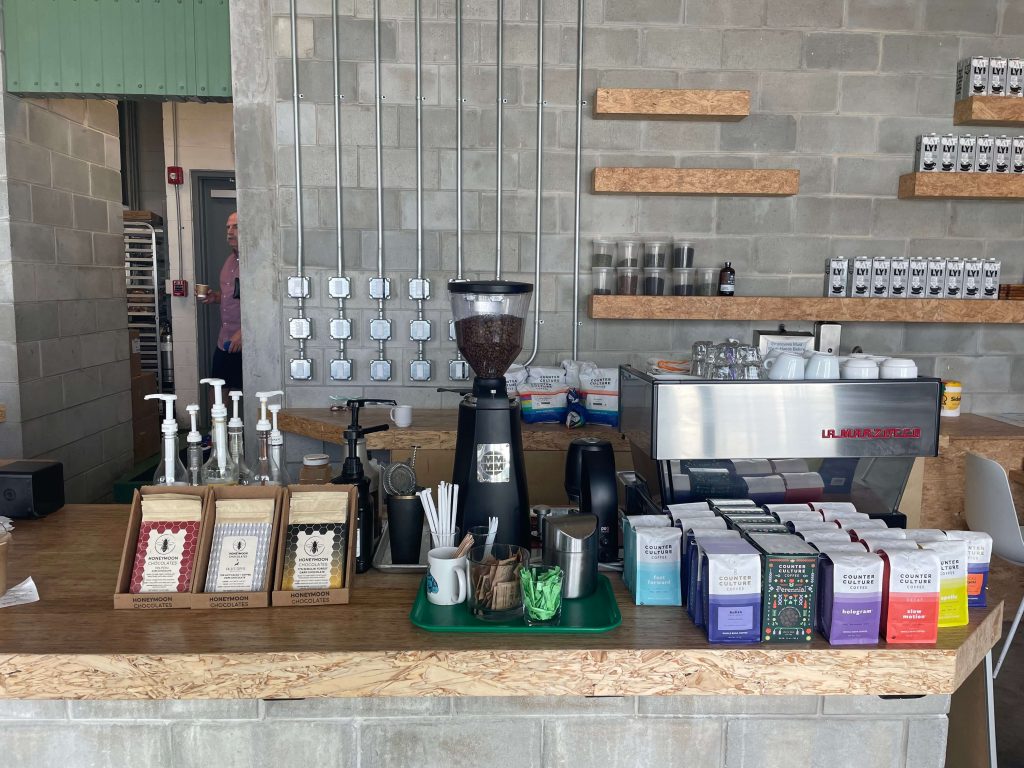 If you're feeling adventurous, there's a full bar with cocktails galore, wine and cold beer.
Let's get to the food. Our favorite pick was definitely the burger. By far one of our favorite burgers of all time. Deliciously cooked and crafted together. It's an explosion of juicy flavors that hits all the right pleasure points in your brain. Just wow.
We also loved was how health-conscious the menu was. For those trying to hit their macro goals for the day, they offer:
A delicious chopped salad
Warm and decadent bone broth
Steak and eggs entree low in carbs but bursting with flavor
Obligatory avocado toast (which was 10/10)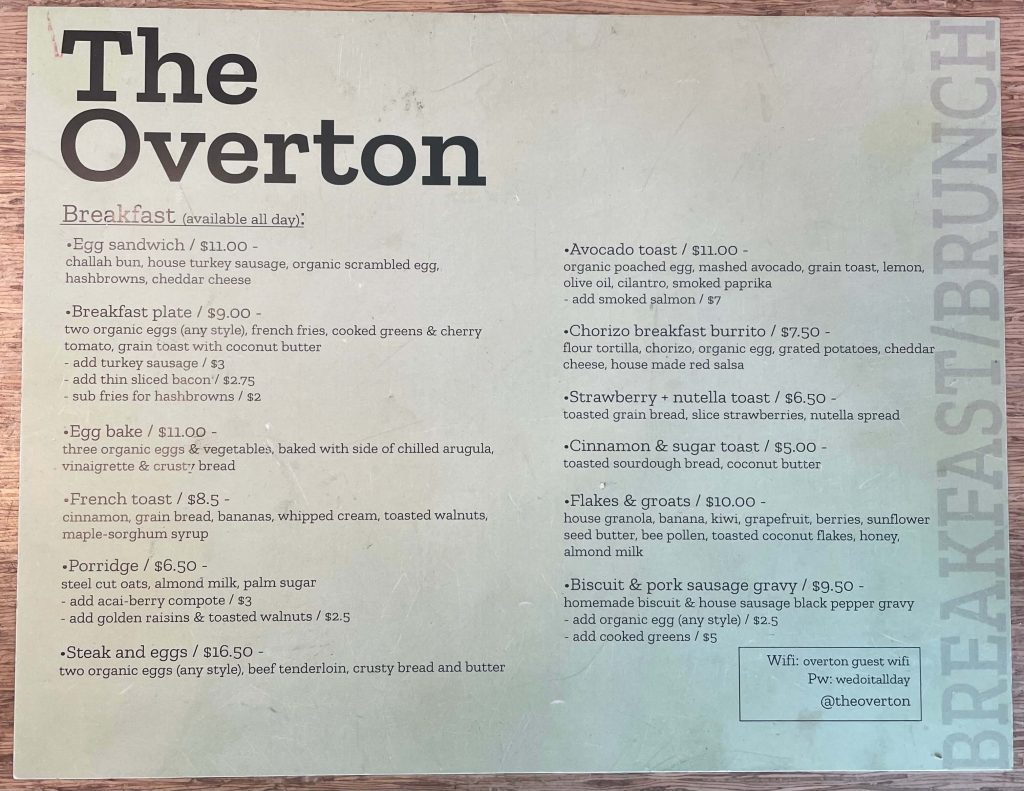 Last but not least, the breakfast sandwich is always a solid option. Made with organic eggs and served on a challah bun. It'll satisfy even the toughest critic.
The atmosphere here is cool and relaxed. We enjoyed the decor and beautiful outdoor seating area. The only downside for us was the moody hipster staff operating the front counter. A little rude and extremely apathetic. Just wrong for such a bright and cheery restaurant with the best food.
Postal 98 Cafe
1240 Yoder Ave, Sarasota, FL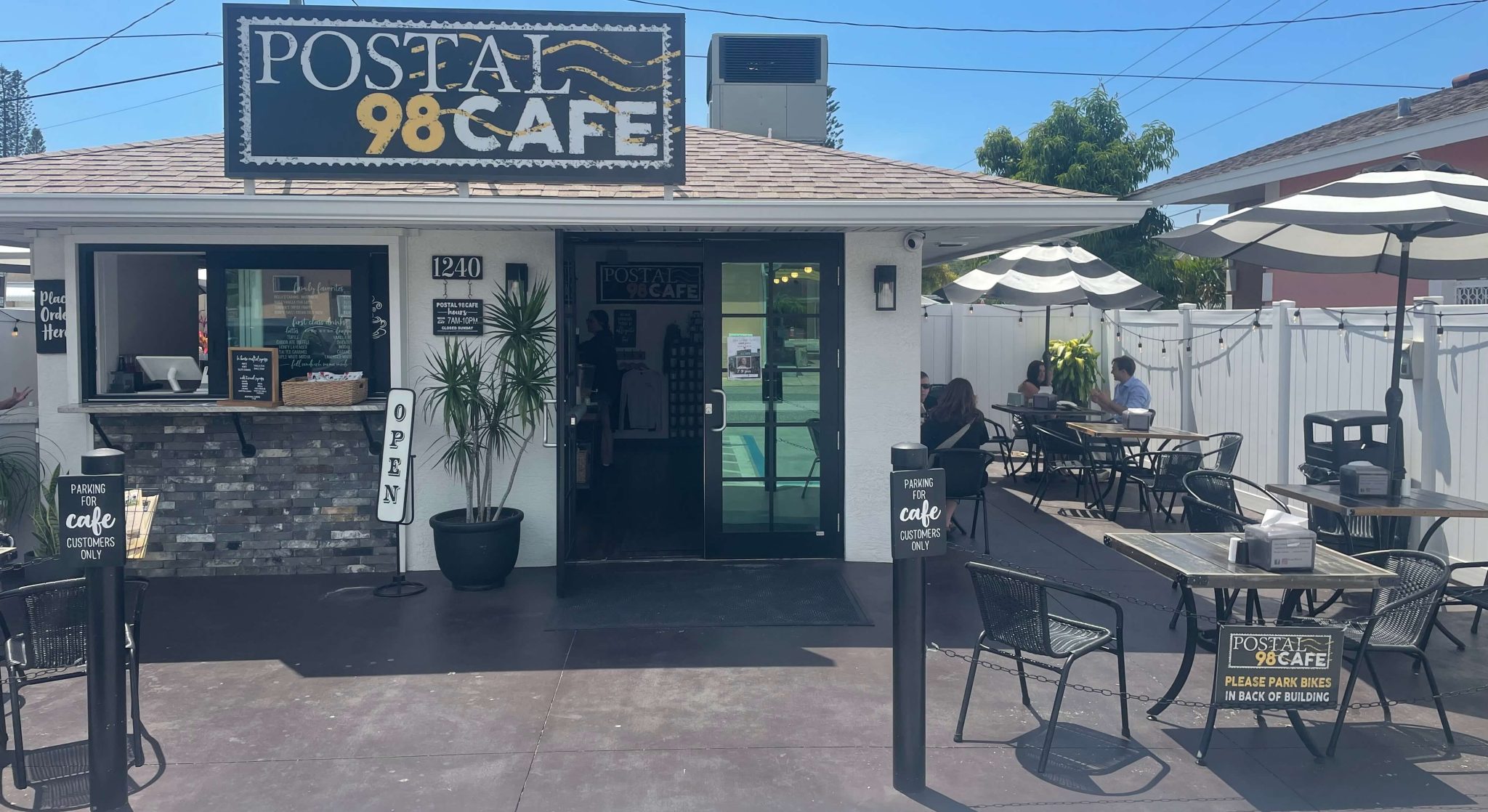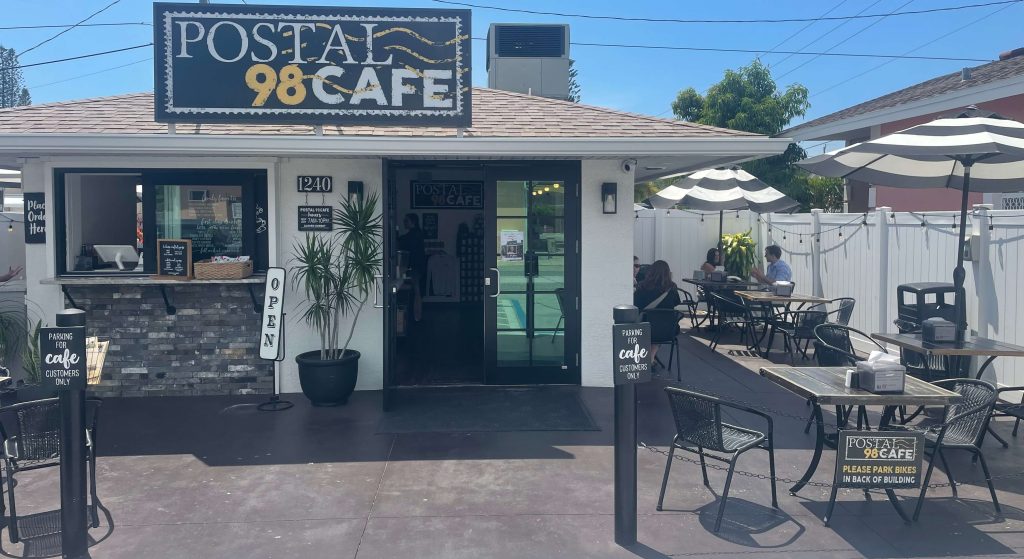 Postal 98 Cafe is a little cafe with outdoor seating near the Pinecraft Amish community. If you're looking for coffee shops in Sarasota with the best food, nothing comes close. They have the best breakfast sandwiches and wraps. They also have a great lunch menu with panini's.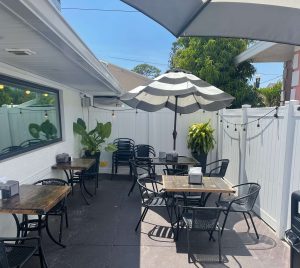 Best coffee drinks [Postal 98 Cafe]
Bub's vanilla chai tea latte
Lavender matcha latte
Cappuccino
Honey lavender latte
Coffee with milk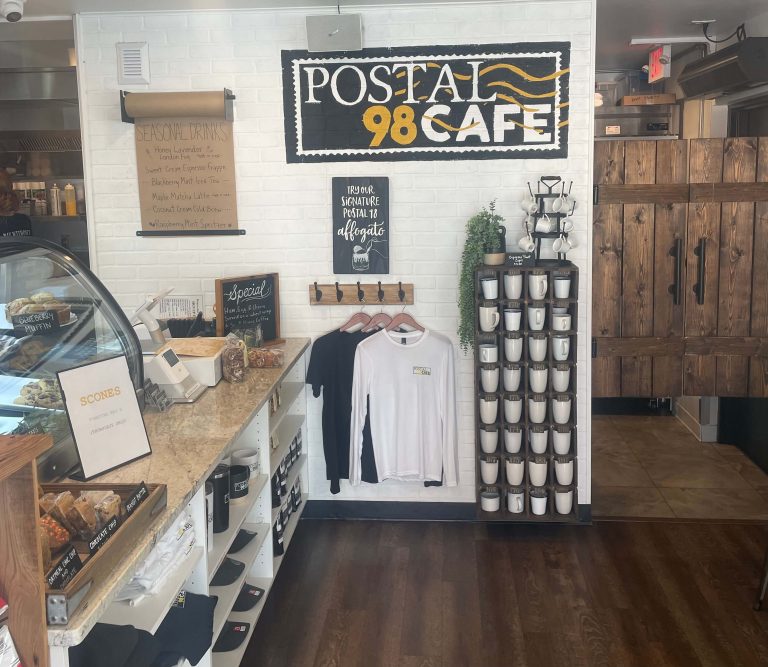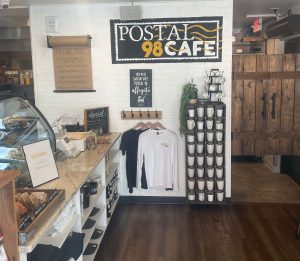 Postal 98 also has some of the best breakfast in Sarasota!
Dave's special (ham, eggs, American cheese, tomato & mayo on an everything bagel)
Bacon, egg and American cheese wrap
Gram's Caribbean chicken
Oven roasted turkey basil pesto panini
Rise and Nye's
1534 State St, Sarasota, FL


Rise and Nye's is the most socially responsible coffee shop in Sarasota. Their mission is to provide secure employment for people with intellectual and developmental disabilities.
The owners are beyond friendly, helpful and glow with passion. They have a direct impact on our local community and employ 30+ employees with special needs.
Rise and Nye's also ships in Zucker's bagels from New York City. Which are some of the best bagels in Sarasota.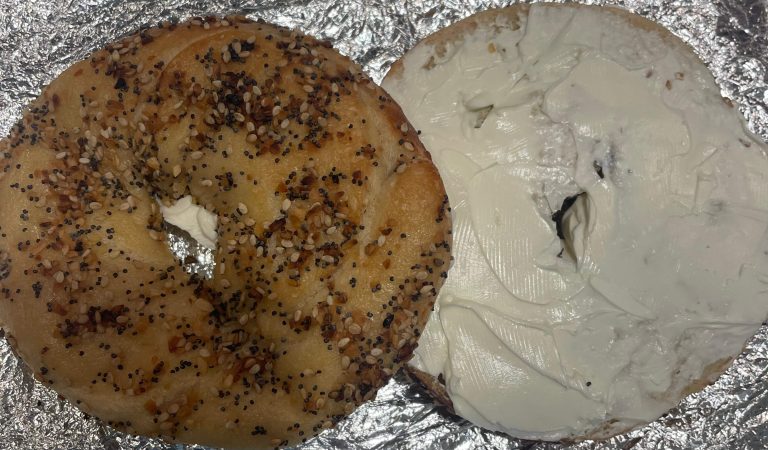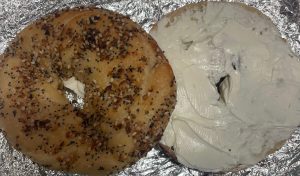 They make mouth watering New Orleans style beignets that everyone raves about. They offer 2 types of beignets, cinnamon sugar and powdered sugar with four different sauces/creams.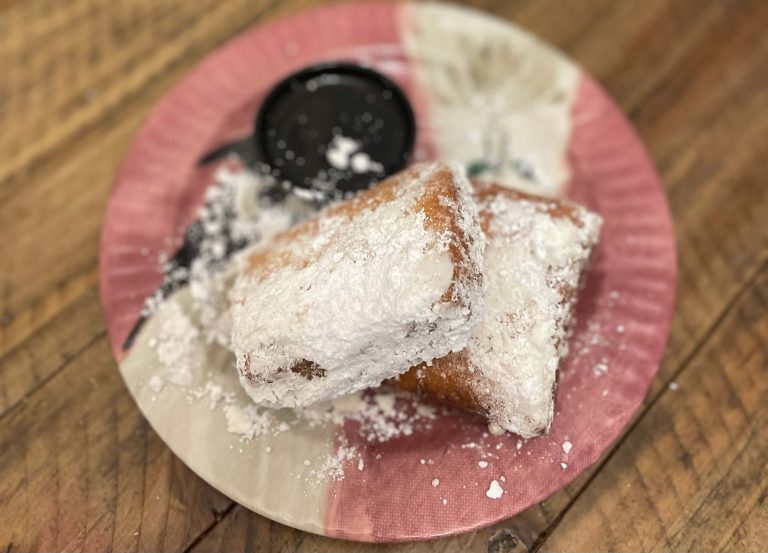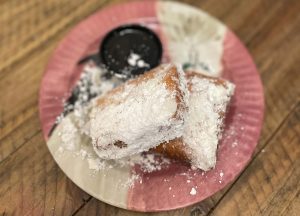 For coffee, you have to try their famous affogato coffee (coffee + ice cream). Last but not least, they have the awesome ice creams sandwiches and many vegan flavors.
Kahwa Coffee in Sarasota
1487 2nd St, Sarasota, FL
Kahwa Coffee offers great coffee, reasonable prices and a low key atmosphere. If you're looking for coffee shops in Sarasota with outdoor seating and consistent morning coffee… you have to stop by. Kahwa is a local coffee roaster (headquartered in St. Petersburg, FL) with 15 locations!
For those that appreciate a well made espresso, try these from their menu:
Lavender vanilla latte
Oat milk iced latte
Pumpkin spice latte
Other than their coffee drinks, they make the best savory scones and absolutely delicious pastries. Our favorites were the almond croissants and chocolate croissants. This is an overall great coffeeshop in the heart of downtown Sarasota with friendly baristas!
Pastry Art Bakery
1512 Main St, Sarasota, FL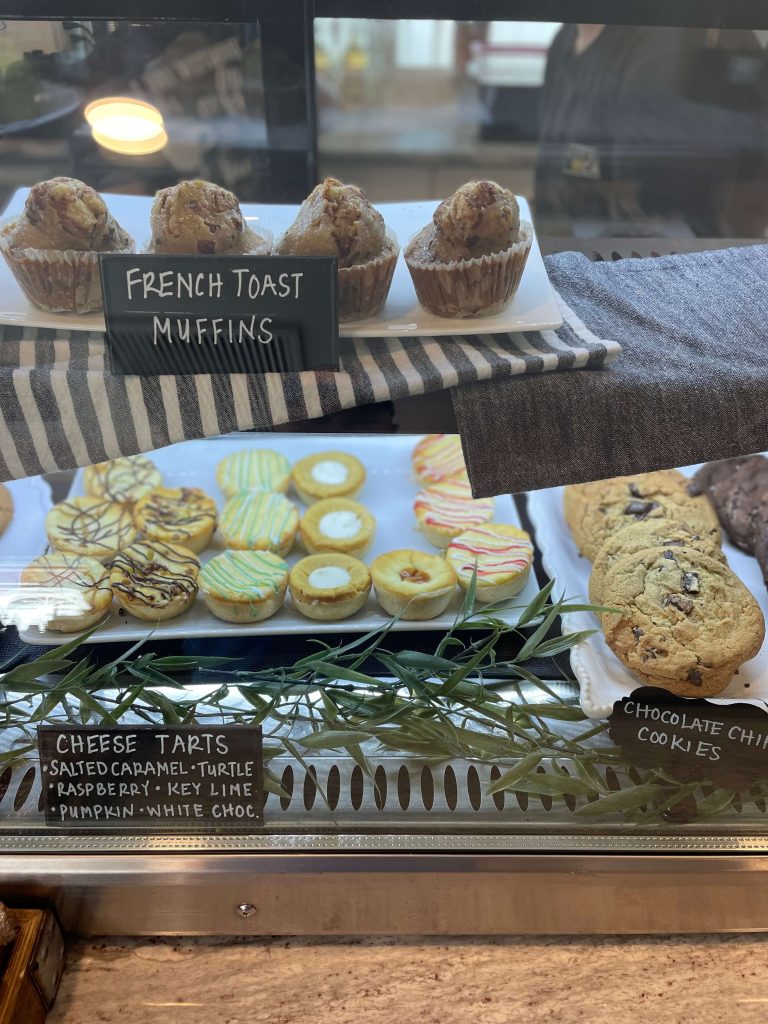 Pastry Art Bakery is a great place to go in morning for coffee. It's located on Main St, in the heart of downtown Sarasota. This is one of the best coffee shops in Sarasota to get a morning coffee with a view. Specifically on Saturdays, since it's practically in the middle of the Sarasota Farmers Market.
They have great breakfast sandwiches, delicious pastries, mouth watering muffins and lunch sandwiches. You absolutely have to try their great coffee and blueberry muffins!
Recommended Coffee Drinks
Chai tea latte
Caramel latte
Cafe con leche
Black Gold Coffee Roasters
2385 E Venice Ave, Venice, FL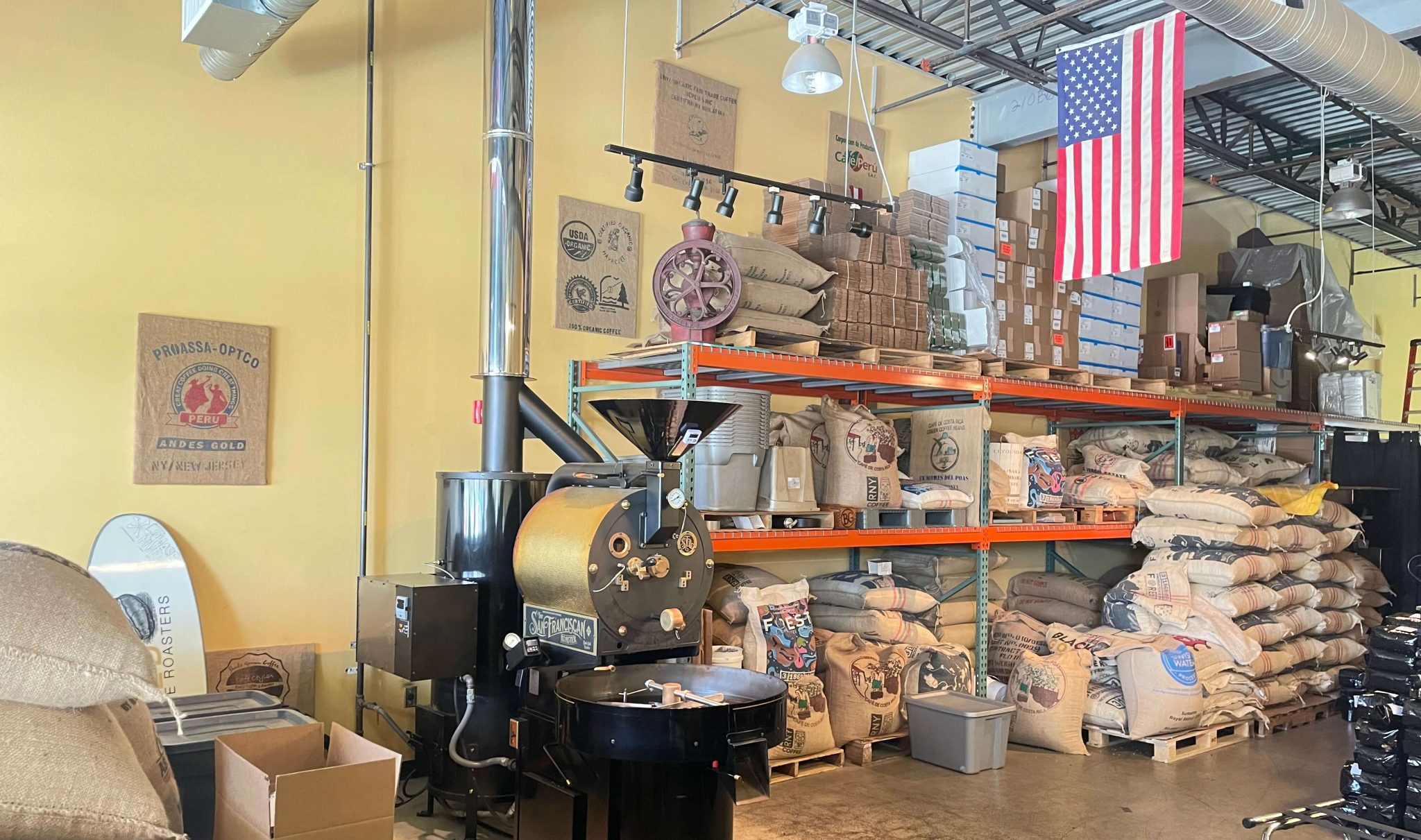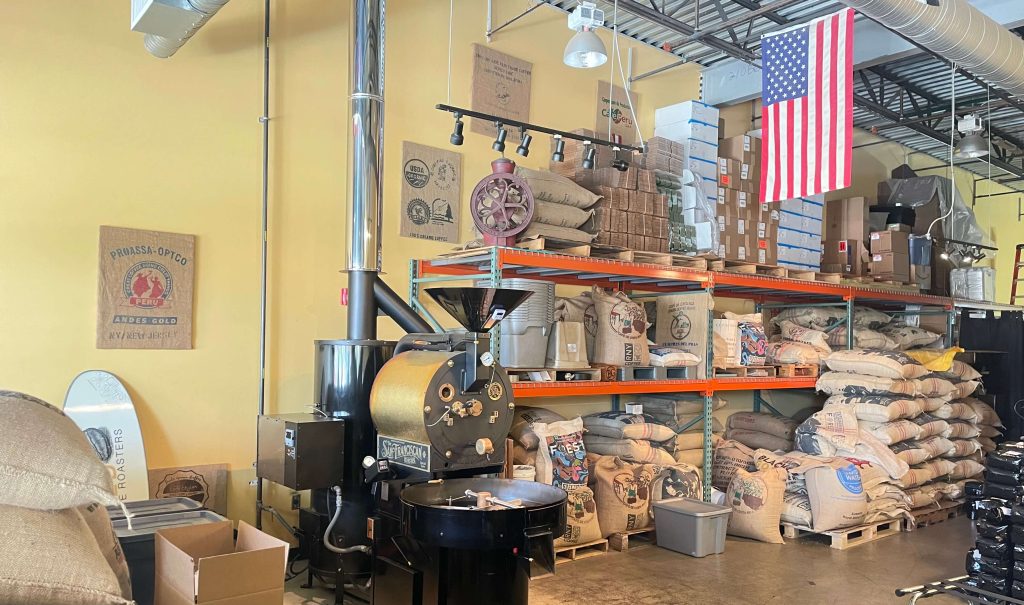 Black Gold Coffee Roasters import single origin coffee beans and roast their own beans in house. Since they're roasted in house, you can expect the highest quality freshest beans. And they're organic! Honestly, they should be #1. But since they're in Venice, FL, the drive is fairly inconvenient.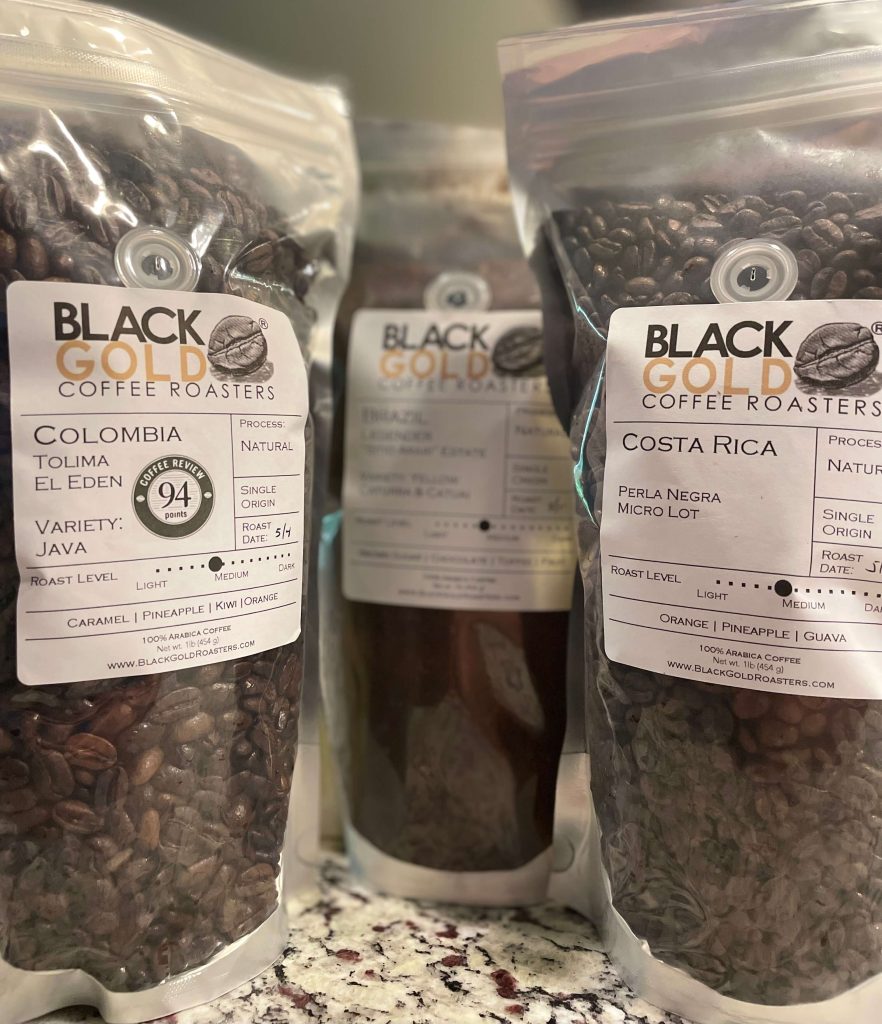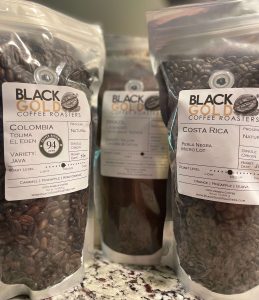 Gary Lauters – The Owner
Gary Lauters specializes in finding the finest micro lots of coffee beans. Every lot is perfectly roasted and the coffee is always brewed to perfection. Gary is very passionate and can talk about coffee beans for hours. You can easily tell he loves his work and is truly enthusiastic about offering best bean selections.
Black Gold Menu Items
We would highly recommend trying their zucchini bread! For breakfast, they have awesome panini's, croissant's, bagels and more! Their menu is also full of vegan, gluten free and bakery items. Even though they're Venice coffee roasters, many coffee shops in Sarasota buy their beans.
If you love dark roast, make sure to take a bag of beans home.
Project Coffee
538 S Pineapple Ave, Sarasota, FL
Project Coffee is an entirely vegan cafe with a clean minimalistic design and a welcoming vibe. If you're vegan, you will love this coffee joint. It's got a lively atmosphere, good vegan food and great latte drinks.
You have to try one of their oat milk lattes! We would recommend a pumpkin spice latte with oat milk. Your cup will have beautifully crafted latte art. For food, we would recommend you try a delicious avocado toast or "The Biscuit" sandwich. Again, keep in mind it's a vegan cafe.
Bean Coffeehouse
5138 Ocean Blvd, Siesta Key, FL
Bean Coffeehouse is a Siesta Key coffeeshop with a relaxed atmosphere. It's very low key and the organic coffee is self-serve. We loved their iced caramel latte and homemade english muffins. Stop by for some quick morning coffee if you're in the Siesta Key neighborhood.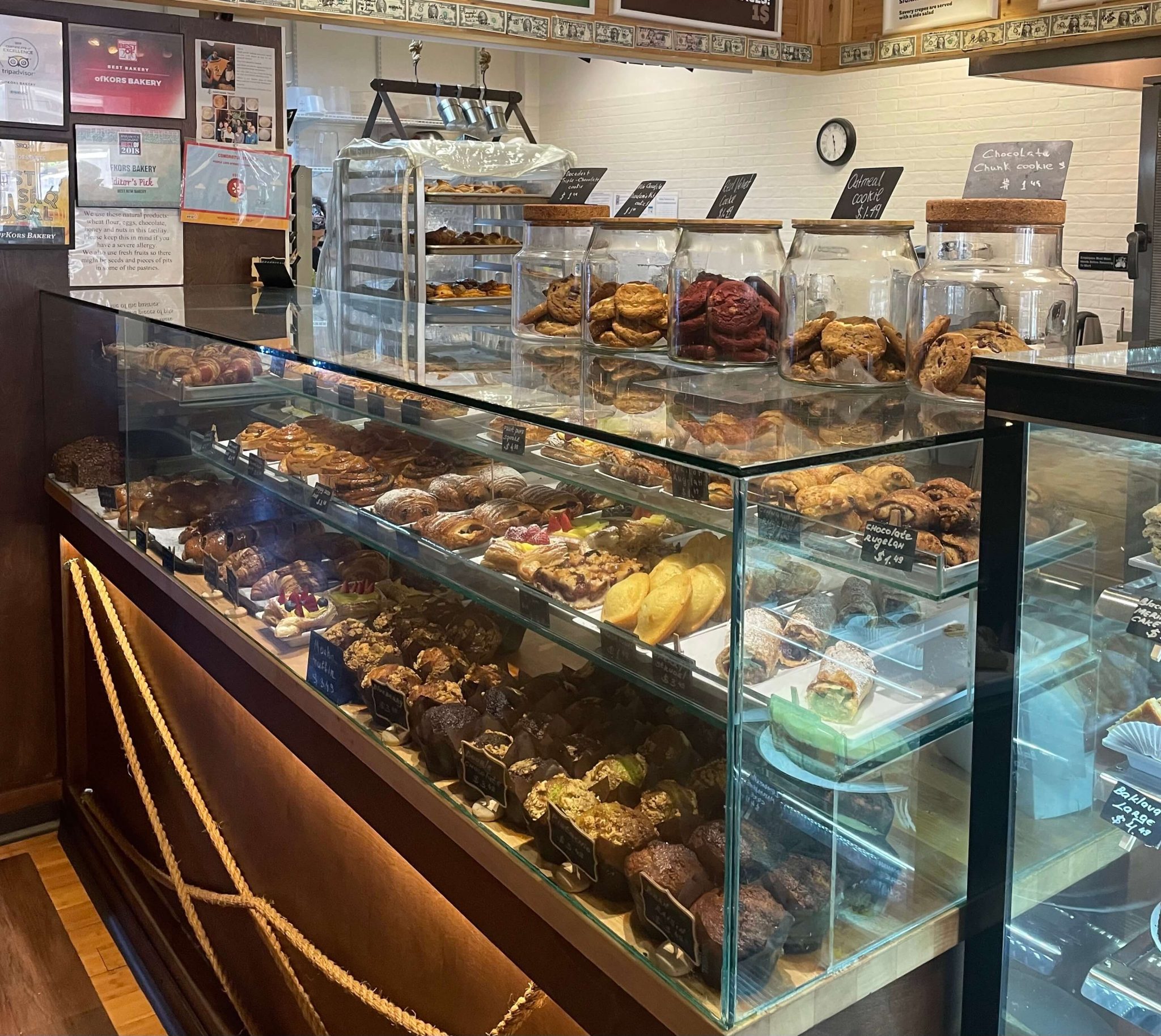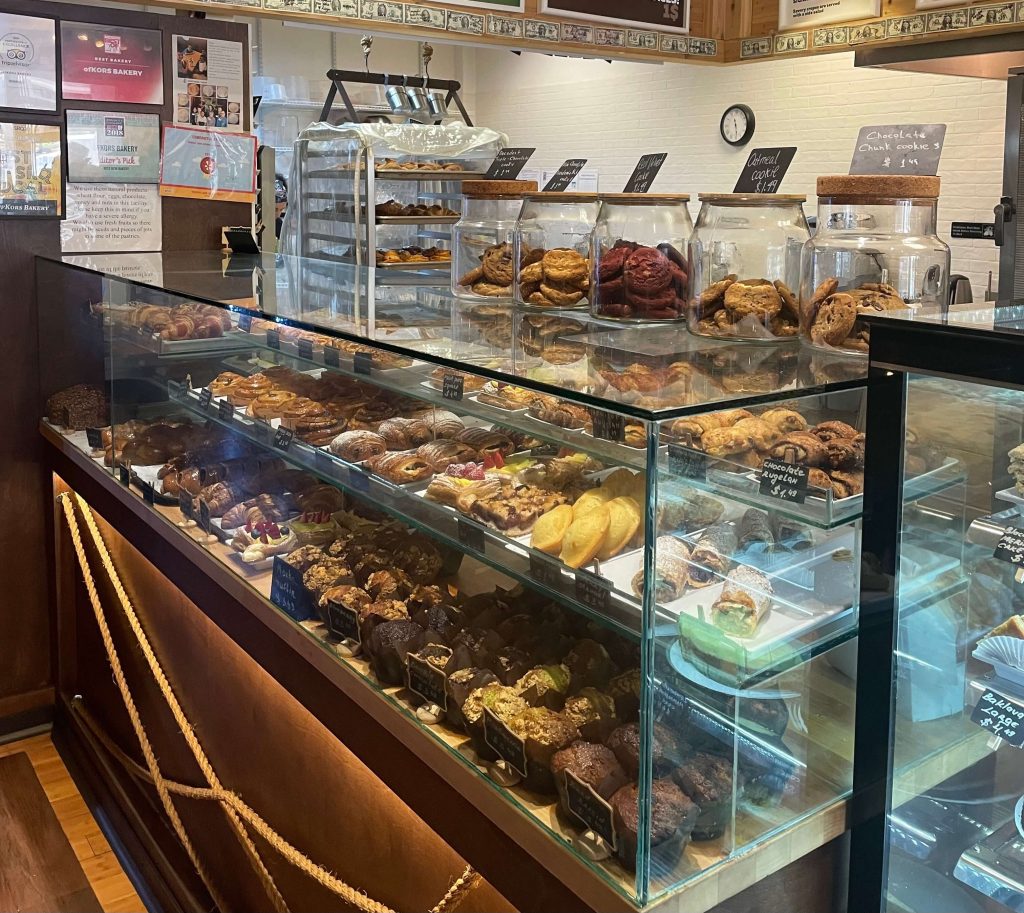 OfKors Bakery
3945 Cattlemen Rd, Sarasota, FL
OfKors Bakery is a European cafe known for organic coffee and delicious baked goods. They're located on Main Street, right in downtown Sarasota. It has a pleasant atmosphere, friendly staff and plays Christian music. It's very family friendly, but does tend to be slow. If you love breakfast crepes, this place is a must.
OfKors Bakery Popular Menu Items
Smoked salmon crepes or croissant
Ham, egg and cheese croissant
Chocolate or strawberry croissant
Apple or cherry strudel
Napoleon cake
Baklava
Chocolate mousse cake
Poppy seed brioche
While the best coffee shops in Sarasota make custom latte art, OfKors takes it to another level. They have a latte printer that "prints" latte art using your phone. Sure, it's not latte art made by an experienced barista. But it's very cool! It'll make a great Instagram photo that'll make your friends jealous.
Coffee Shops in Sarasota
Looking for the best coffee near you? We created a convenient way to find the best coffee shops in Sarasota, FL near your location.