This is a list of the best bagels in Sarasota, Florida.
Yes. We know the best bagels are in NY.
While Sarasota doesn't have NY's soft "wahtah" from the Catskill Mountains…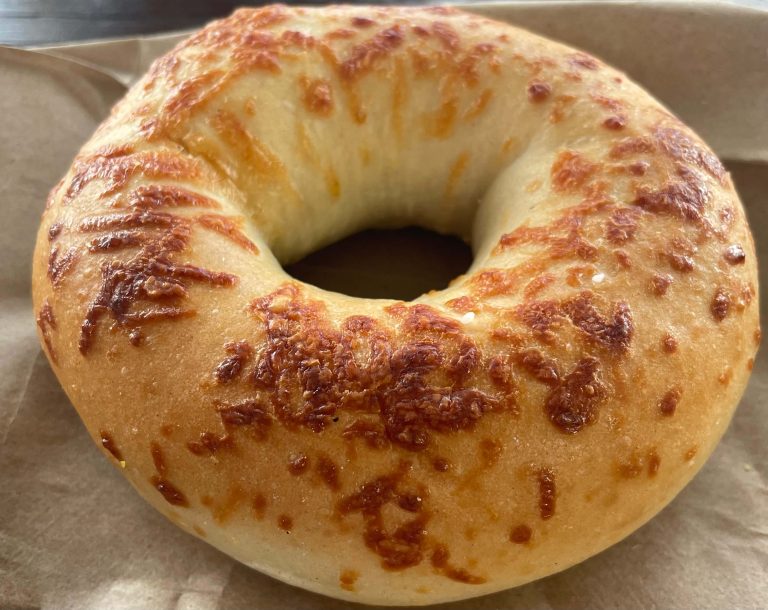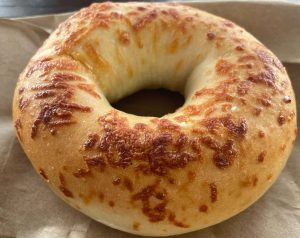 … we do have great places that ship in bagels from Brooklyn.
Here's where to get bagels that'll make your mouth water:
Brooklyn Bagels Sarasota
6970 S Beneva Rd, Sarasota, FL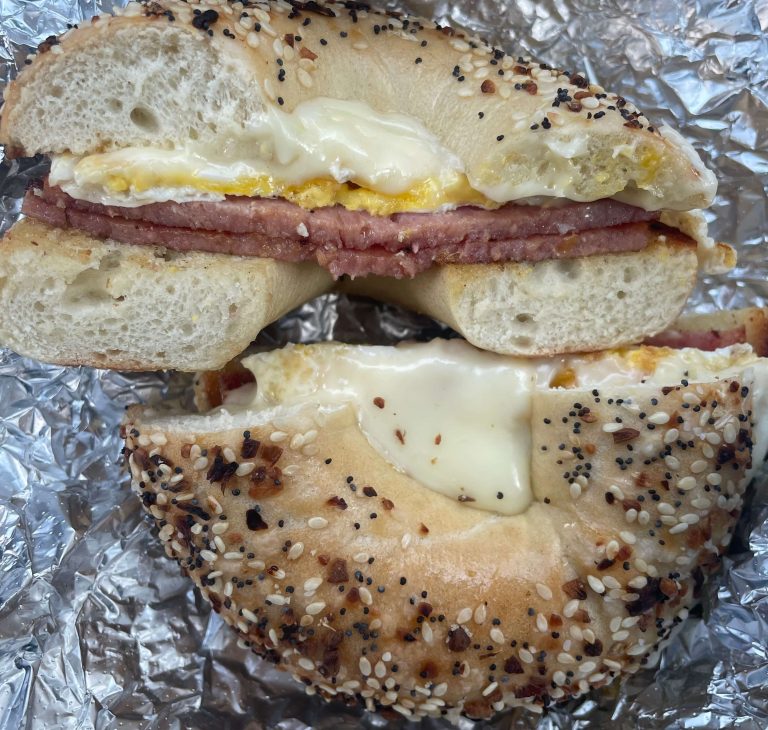 Brooklyn Bagels Sarasota has been making the best bagels in Sarasota since 2015. They have a loyal cult following and rightfully so. Their bagels are amazing! Let's talk about the breakfast menu.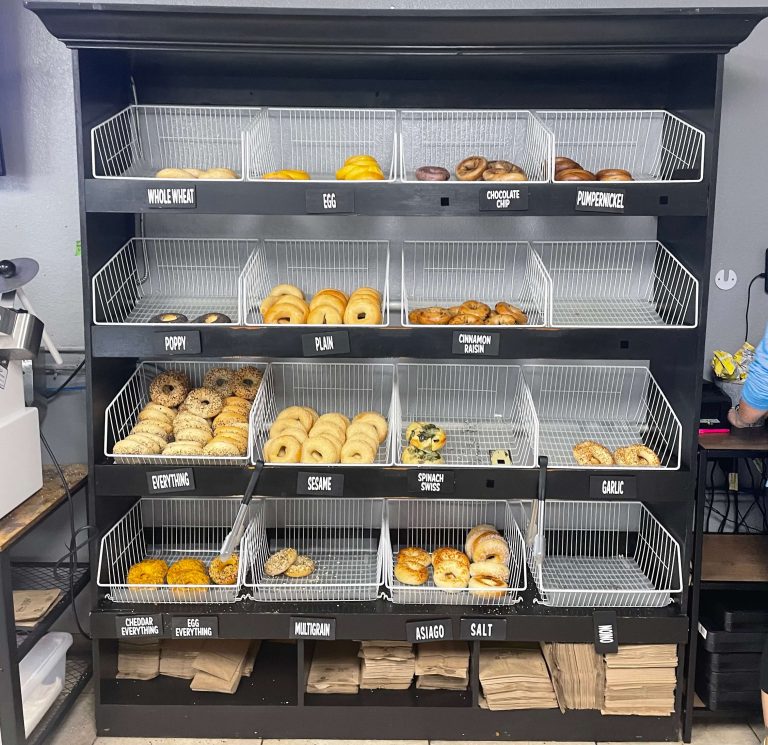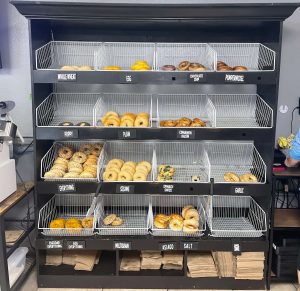 You'll find about 16 different New York style bagel flavors every day. They also have bialys, breakfast sandwiches, lunch paninis and of course coffee. The bagels are fresh, soft, chewy and not overly doughy. The smooth homemade cream cheese practically melts onto the bagel.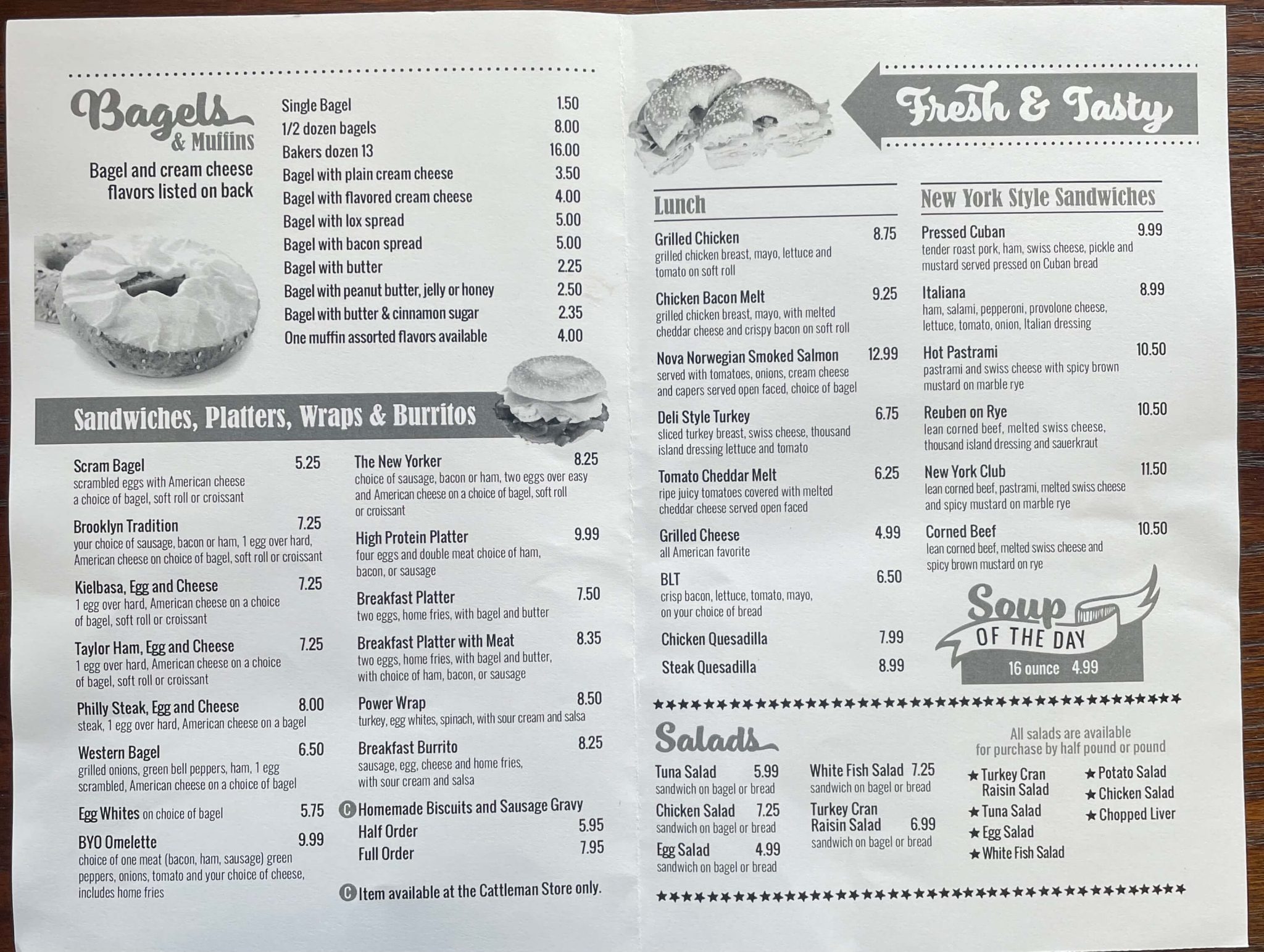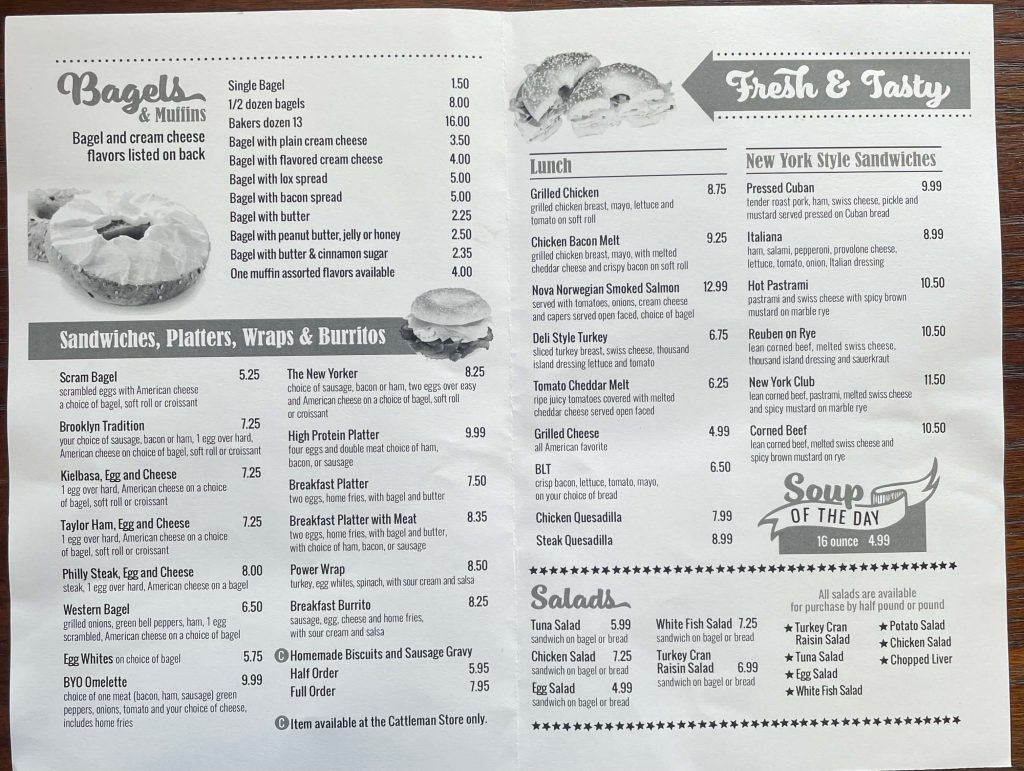 We tried a few different breakfast sandwiches. Taylor ham, egg and cheese was our favorite. The Taylor ham was thick, juicy, full of flavor and not overly oily. The egg was perfectly cooked and the American cheese held everything together.
The place was small, service was fast and it was very clean. Nothing says New York like a diner and this fit the bill perfectly.
Brooklyn Bagel Favorites
Taylor ham, egg and cheese breakfast sandwich
Bacon, egg and cheese on an everything bagel
Nova Lox, cream cheese and capers on an everything bagel
Jersey Girl Bagels (Sarasota)
5275 University Pkwy #103, Bradenton, FL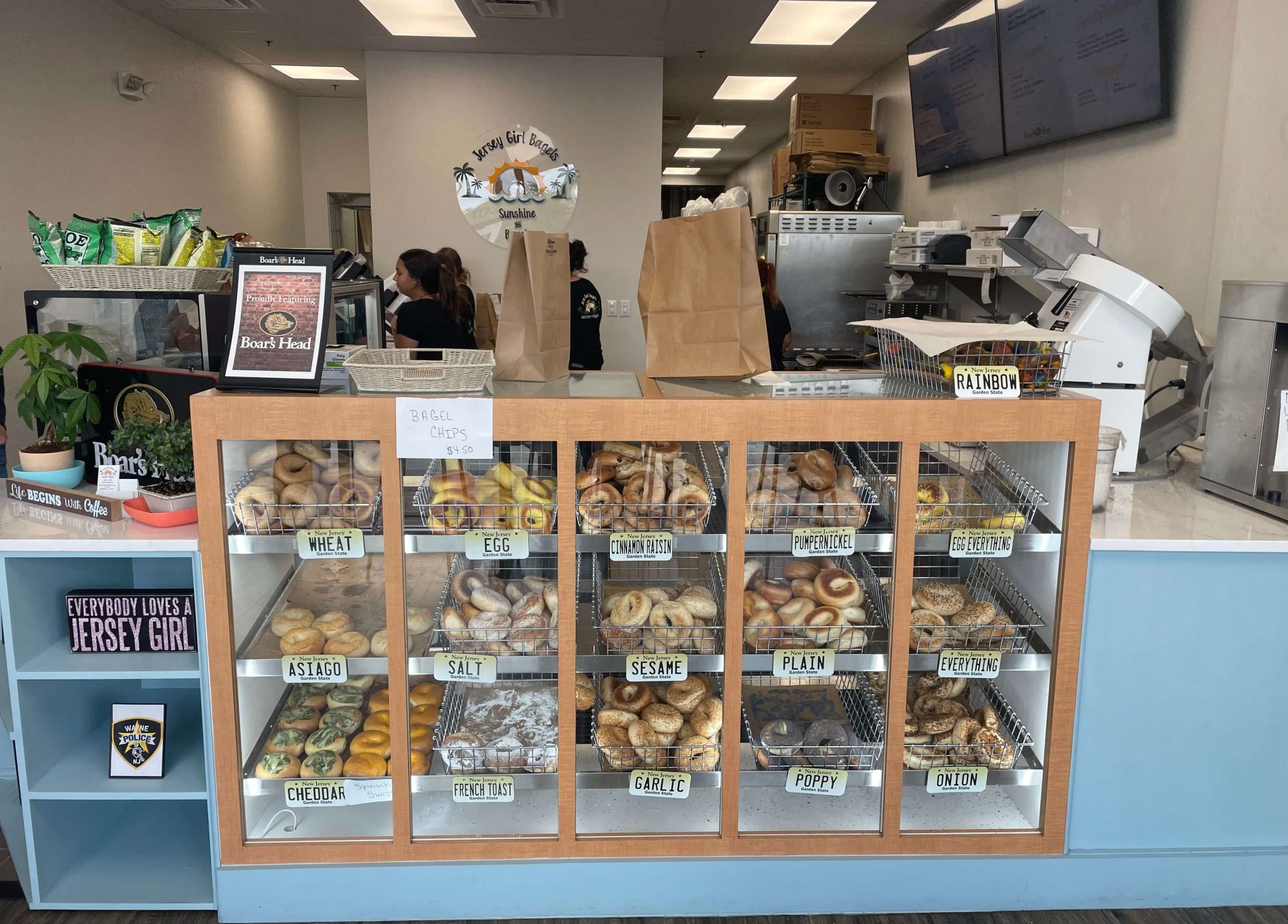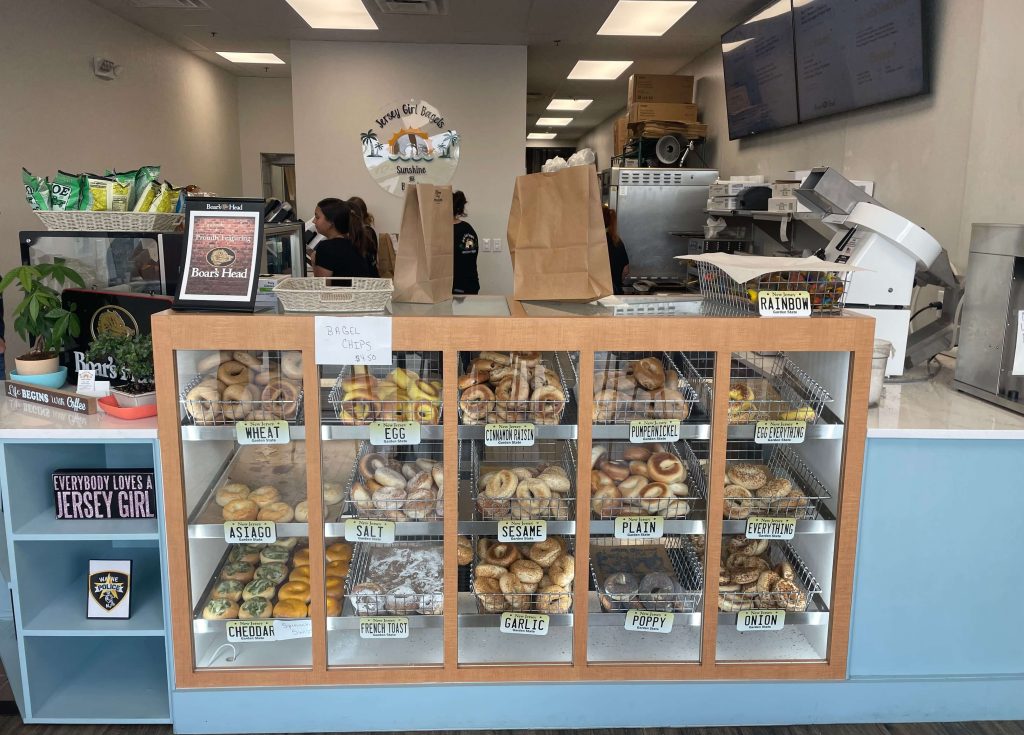 Jersey Girl Bagels is a new bagel shop in Sarasota. They're clean, modern, family owned and offer New Jersey style bagels. While the lines are longer than other local bagel shops, the food comes out quick.
They make fresh dough using old traditional methods every day. The dough is made with filtered water to remove heavy metals and then cold proofed for 24-48 hours. Then they boil the bagels in large kettles and space them out evenly on burlap covered boards.
The bagels then get transferred to revolving tray ovens. After which they're put on oven shelves made of stone. This is what gives them that soft and perfect chewy texture. The bagels retain more flavor and taste great.
They offer 16 different bagel flavors including the rainbow bagel. You'll also find Boar's Head, Taylor Ham and homemade cream cheese at the Jersey Girl Bagels Sarasota location. We tried a few different bagels and sandwiches, here's what we thought: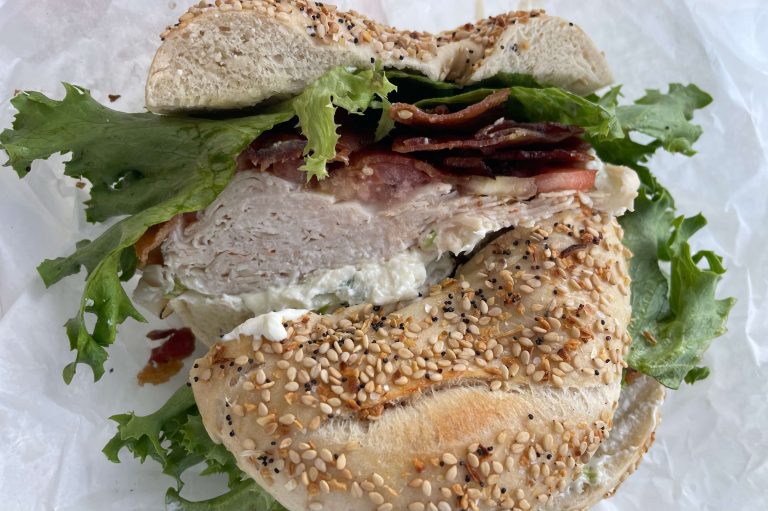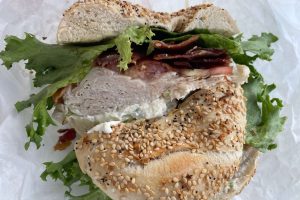 Turkey BLT Bagel Sandwich
Boar's Head turkey, bacon, lettuce, tomato & mayo on an everything bagel. The bagel was soft, chewy and had the perfect amount of sesame seeds, poppy seeds, dried onion, garlic and salt. The bacon was cooked perfectly.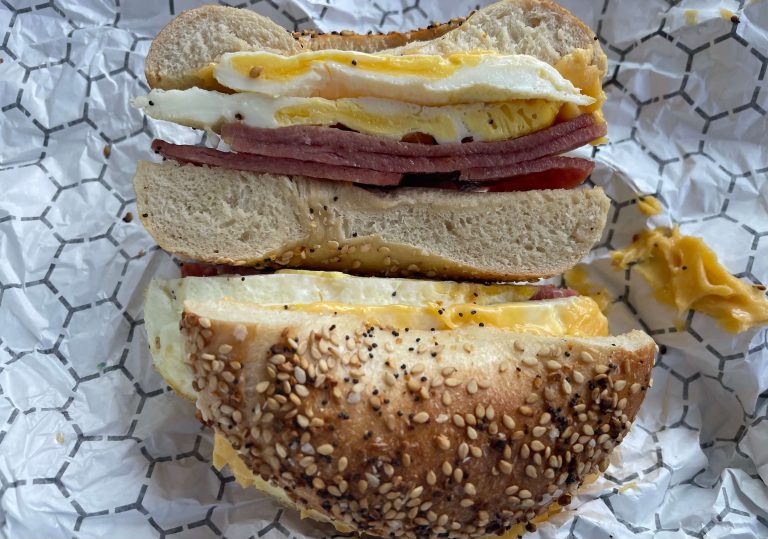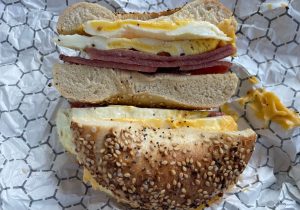 Taylor Ham, American Cheese & Egg
The Taylor Ham was perfectly thick, flavorful and not too greasy (perfect). The egg was cooked by an expert. No other bagel shop made eggs like they did. American cheese held everything together.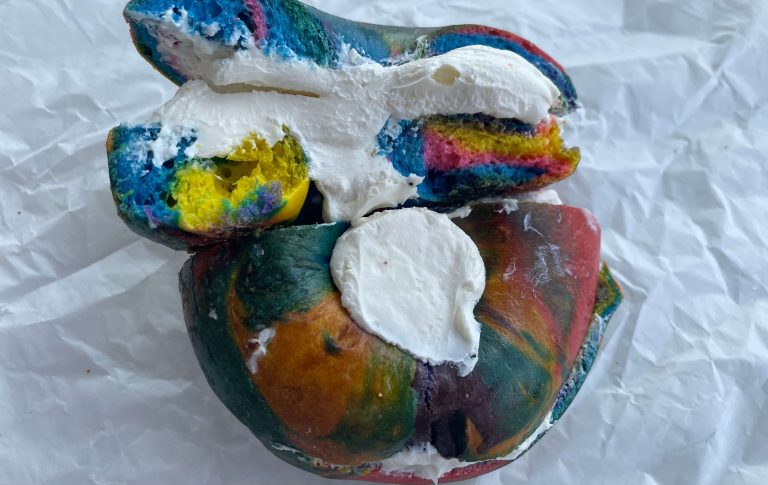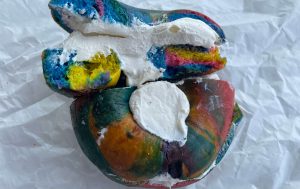 Rainbow Bagel
We tried many of their bagels, but the rainbow bagel was just so fun, we had to include it. All the bagels were excellent.
Lox' n Egg Bread Company
4065 S Tamiami Trail, Sarasota, FL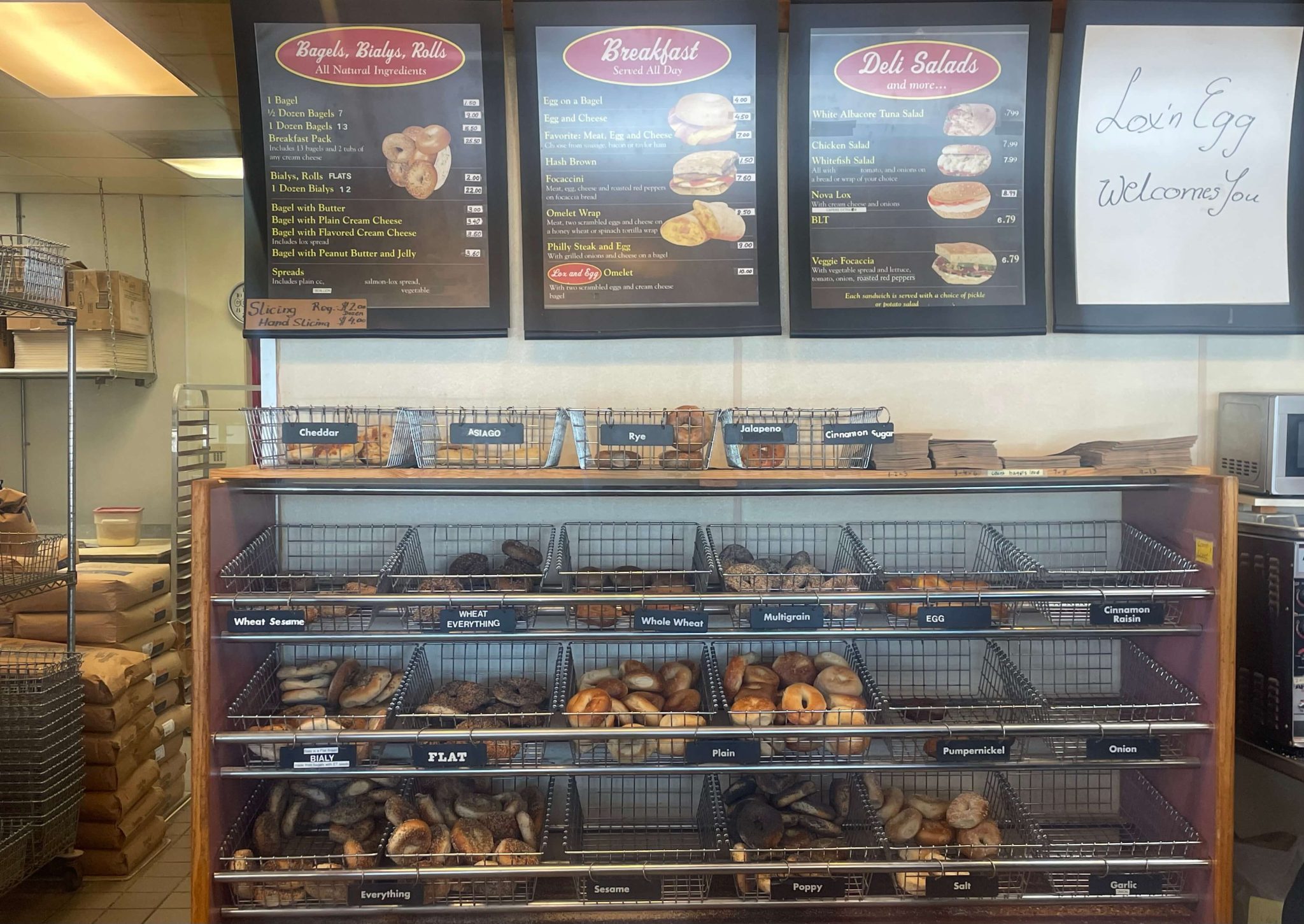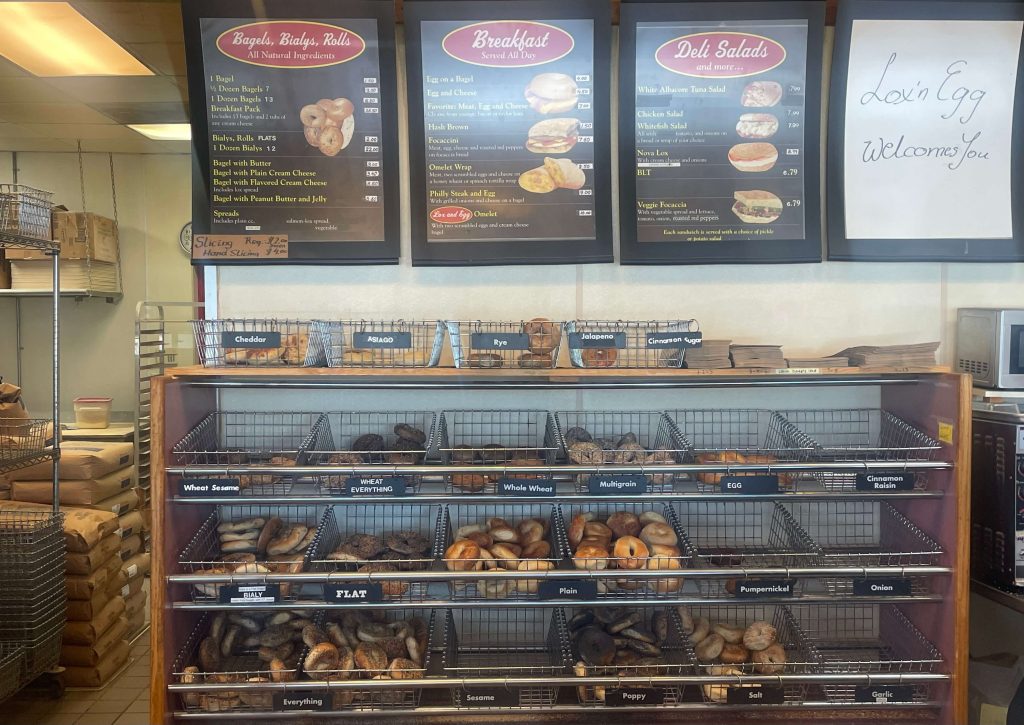 Lox and Egg is a family owned breakfast diner that's known for its bagels. It's a large breakfast diner with lots of seating and floor to ceiling windows.
The bagels were chewy, not overly doughy, but were a bit too hard. The crust should have a little bit of hardness to it, but not the whole bagel. Here's what we thought of their bagel sandwiches…
The Nova lox on an everything bagel with cream cheese and capers was our favorite. The smoked Salmon was fresh and cream cheese was great. If you're looking for lox bagels, give them a try.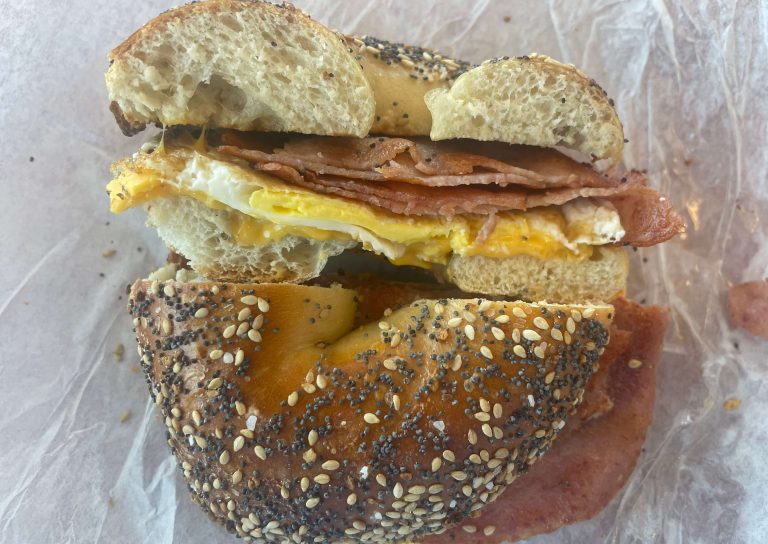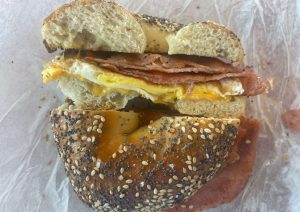 The Taylor ham, egg and cheese sandwich was okay. The Taylor ham or "pork roll" was cut too thin, so it shrunk up on the grill. This caused it to be overly greasy and lose some of its flavor. It should be salty, but it was definitely over-salted. It was hard to eat it without juice or water.
Postal 98 Cafe
1240 Yoder Ave, Sarasota, FL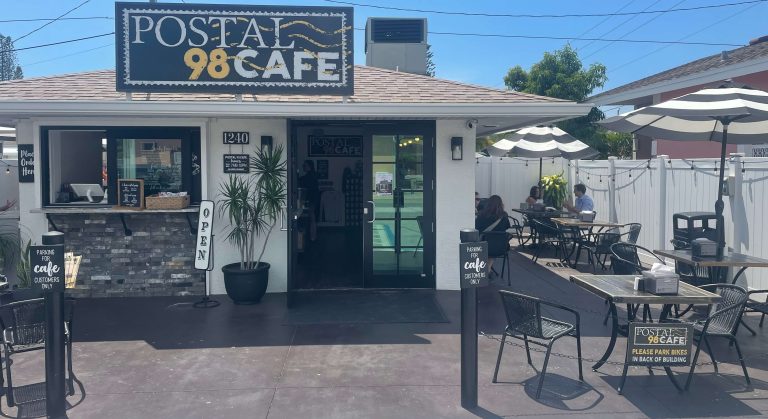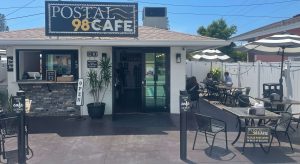 Postal 98 Cafe has the some of best breakfast Sarasota has to offer. Their bagels are fresh, chewy and perfectly doughy. We tried both the plain and everything bagels. Both were full of flavor. We also tried all the breakfast sandwiches and our favorite is Dave's Special.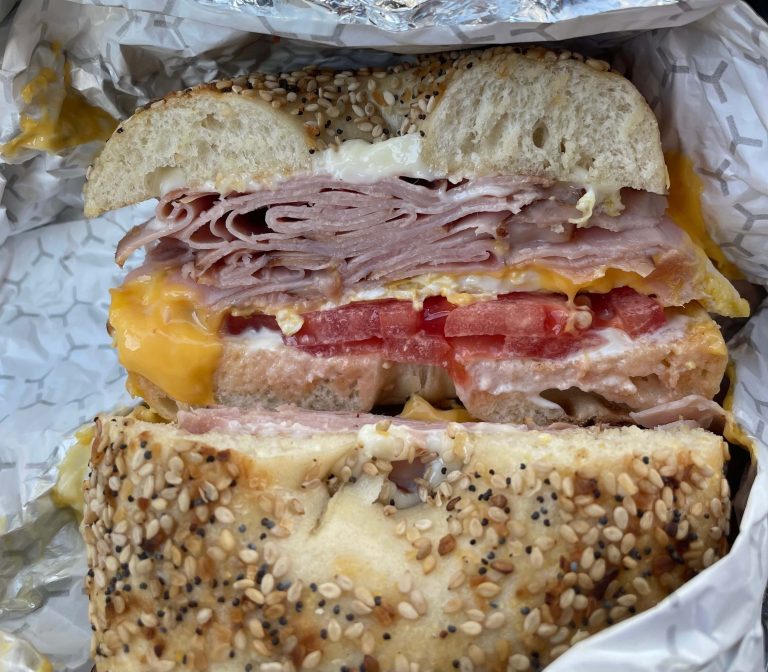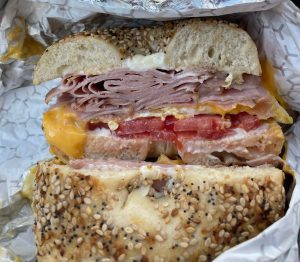 Dave's Special
Has deli sliced ham, eggs, sharp American cheese, tomato and mayo on an everything bagel. The ham is juicy, tender and thin. The egg is perfectly cooked and the tomatoes are super fresh.
99 Bottles NY Bagel Brunch
1445 2nd St, Sarasota, FL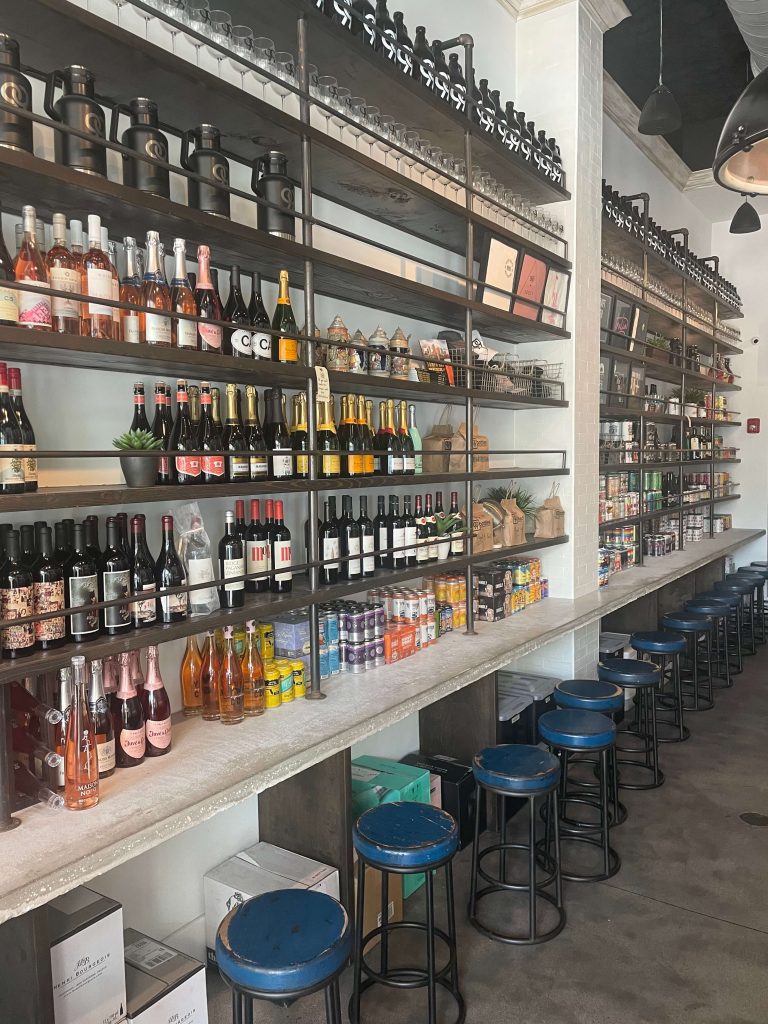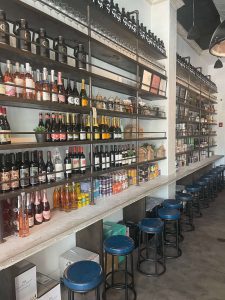 99 Bottles ships in par baked bagels from New York. They're flash frozen and baked fresh every weekend. The bagels are soft and chewy on the inside and the crust has a little hardness to it. They're perfect.
You can just get bagels, bagels with cream cheese or even bagel sandwiches. We tried a few, but the bacon, egg, and cheese breakfast sandwich was our favorite! The plain bagel was lightly toasted, American cheese was excellent and the egg was thick and flavorful.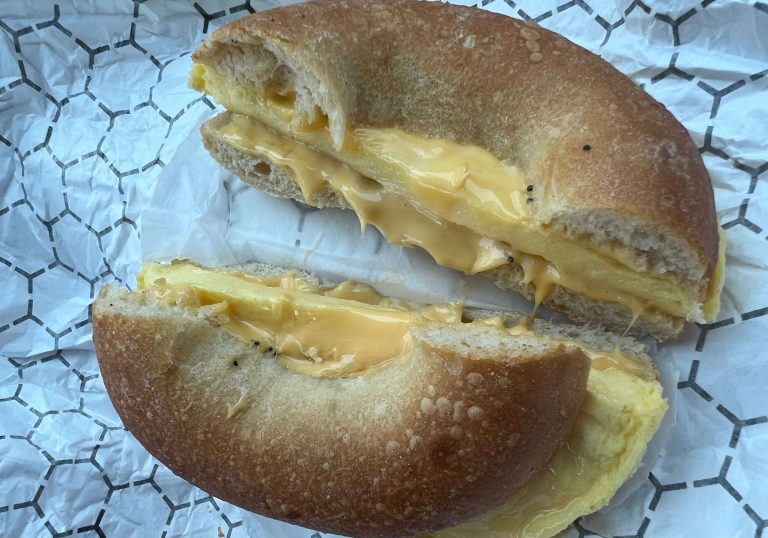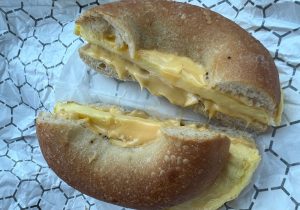 The bagel sandwiches were wrapped in butcher paper to separate from the aluminum wrapping paper. While they're not a permanent bagel shop in Sarasota, they sell some of the best bagels in town.
When: Fri, Sat, Sun. 9am-2pm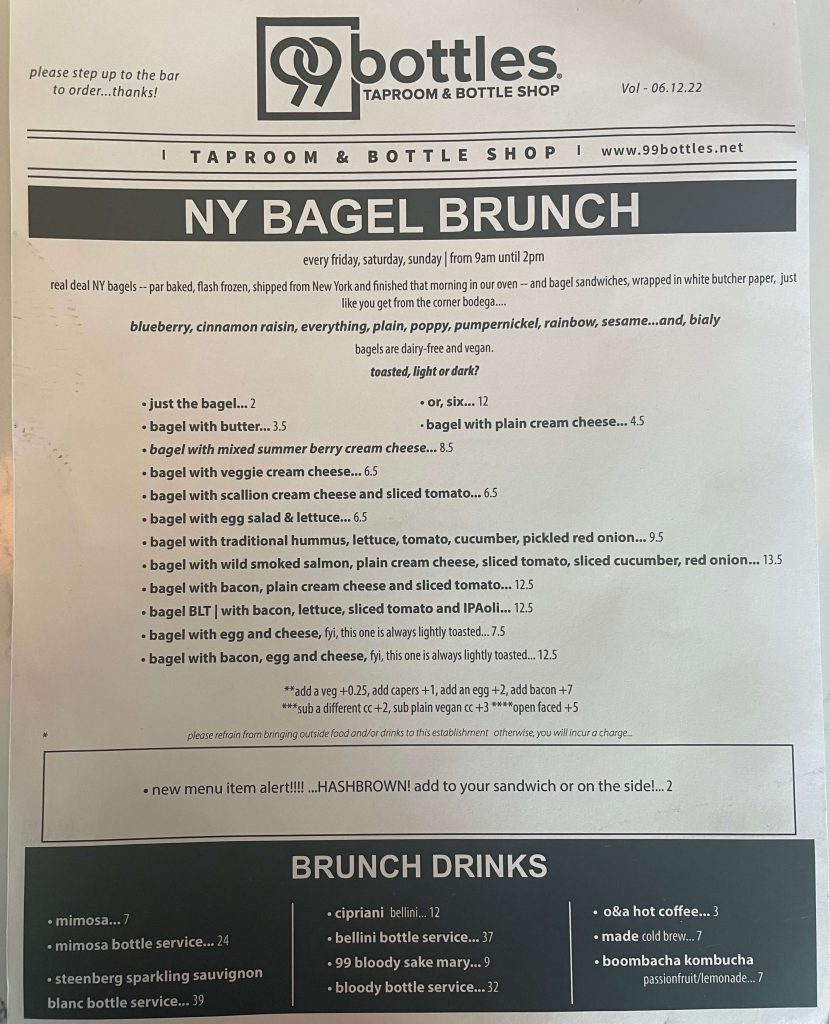 Glenn Family Bakery
Glenn Family Bakery imports bagels from the famous Davidovich Bakery in New York City. The bagels are kettle boiled, hand rolled and proofed in New York's water.
Everyone loves their bagels. They're also among the most popular vendors at one of the best farmers markets in Sarasota!
While we wish they had a bagel shop in Sarasota, they don't. You can only get their bagels on Wednesdays at the farmers market at Phillippi Estate Park. You can also pre-order or buy them in bulk by calling (941) 275-6247.
When: Wednesdays
Where: Phillippi Farmhouse Market
Rise & Nye's
1534 State St, Sarasota, FL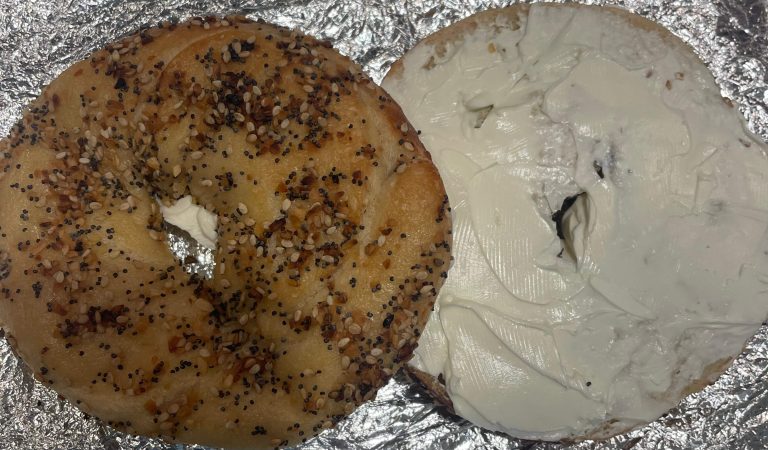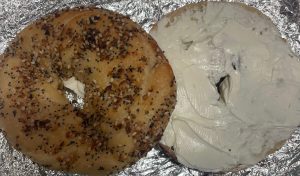 Rise and Nye's is a very socially responsible bagel shop in Sarasota. They offer secure employment for people with intellectual and developmental disabilities. They employ over 30+ employees with special needs.
They ship bagels from Zucker's in New York City. You'll find they're perfectly doughy with just enough chew. The bagels are warm, cushy and more buttery than the rest. A hug in a breakfast pastry. These bagels will not disappoint.
We recommend the lightly toasted everything bagel with lots of schmear. Luckily, they give you two sides of cream cheese.
Cafe Bagel
1811 S Tamiami Trail, Venice, FL
Cafe Bagel has fresh New York style bagels that are baked daily. They have a big menu with lots of bagel breakfast sandwiches. It's a great place to go in the morning! We tried a few different flavors, but our favorite was the everything bagel with cream cheese.
We did try the Taylor Ham, egg and cheese sandwich. However, our favorite was the ham, egg and cheese sandwich. They had the perfect combination of ham, cheese and egg. The eggs were also cooked by someone who knew what they were doing.
Black Gold Coffee Roasters
2385 E Venice Ave, Venice, FL
Black Gold Coffee Roasters can be a decent drive depending on where you live. However, if you live closer to I-75, the drive is almost the same to downtown Sarasota bagel shops.
They ship in Just Bagels from the Bronx and sell the best single origin coffee in our area. By the way, if you're looking for great coffee, check out the list of the best coffee shops in Sarasota.
Our favorite sandwich was the Lox, cream cheese, capers, red onion, lemon and dill on a plain bagel. Make sure to try their awesome bagels from Brooklyn.
Fresh Start Cafe
630 S Orange Ave, Sarasota, FL
Fresh Start Cafe is one of the downtown Sarasota breakfast spots offering great tasting bagels. While they're not exclusively a bagel shop, they have excellent plain bagels with cream cheese. We fell in love with their lox breakfast sandwich. It had cream cheese, tomatoes, onions, and capers on a plain bagel.
Best Bagels in Sarasota
If you're looking for the best bagels in Sarasota has to offer, start here. These are the best bagel places in Sarasota near your location.