This is a list of the best mini golf Sarasota has to offer.
You'll find kid-friendly places where you can even feed koi fish or live alligators!
And of course mini golf for adults!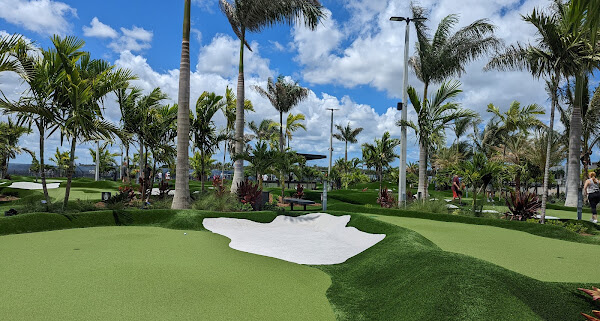 Ready to have some fun?
Here are the best family friendly places to try to get a hole in one:
Popstroke Sarasota
195 University Town Center Dr, Sarasota, FL
The Popstroke Sarasota location is a new 18 hole mini golf course designed by Tiger Woods. It's super fun, trendy and definitely Instagram-worthy. It opened in 2022 and is one of the most fun things to do in Sarasota at night.
At night, the place is packed, here's why…
They have mini golf for adults and kids, ping pong, cornhole and more. The entire golf course has artificial turf, is well lit and is open till midnight every day. There are two 18 hole putting courses depending on difficulty level.
That's not all.
There's a two story bar that's open till 12am with great drinks and decent food. The food and mini golf pricing is fairly expensive, but there's really no place like it. The environment is very social and everything is modern contemporary.
Other than mini golf for kids, they have one of the best playgrounds in Sarasota. It's new, gated and fully shaded. The Tiger Woods putting course is extremely popular among celebrities that live in sarasota.
Smugglers Cove Adventure Golf Sarasota
3815 N Tamiami Trail, Sarasota, FL
Smugglers Cove is an out of the box miniature golf course in Sarasota, Florida. You'll find caves, a pirate ship, live alligators and fun walking paths. It closes at 11pm every day, is well lit and is great for night mini golfing.
You can putt-putt in a cave, up challenging hills, around obstacles and more! There will be waterfalls and baby alligators to keep you entertained. It's a super family friendly place with really nice staff.
You can also feed the gators from a fishing pole! It costs $4 per bag with four pellets. We would highly recommend this mini golf Sarasota location.
The Fish Hole at Lakewood Ranch
10725 Rodeo Drive, Bradenton, FL
The Fish Hole is located in Lakewood Ranch Main Street. They offer the best mini golf for kids in Sarasota. Here's how it's different from the Popstroke mini golf UTC location…
It's rustic themed, small and surrounded by nature. You'll find turtles and 30 year old koi fish swimming in a pond in the middle of the course. Why is that important?
Kids patience is non-existent. Waiting for their turn feels like forever. That's where the koi fish come in! For around a $0.50 or a $1, kids can feed the hungry koi fish, while you putt-putt in peace.
Smugglers Cove Adventure Golf Bradenton
2000 Cortez Rd W, Bradenton, FL
Smugglers Cove Adventure Golf has a second mini golf Bradenton location. You'll find a similar concept of adventure and imagination. There are caves, live alligators, waterfalls and a pirate ship.
Like the other location in Sarasota, you can also feed the alligators from a fishing pole. It costs $5 to feed the alligators. The live gators are fenced in. So no, they will not be joining you on the mini golf course.
The caves are more cool than you think. With Sarasota's hot weather, every minute of shade is worth a million bucks. We love this pirate-themed golf course.
The Fish Hole Miniature Golf
115 Bridge St, Bradenton Beach, FL
The Fish Hole Miniature Golf course is located on Anna Maria Island. If you're on Anna Maria and are looking to do some putt putt golf, this is the best place to go.
It's a really cute place with a relaxing atmosphere. Like the other location in Lakewood Ranch, it's also very family friendly. The staff is kid-friendly, polite and very respectful.
You'll find a pond with koi fish and turtles. For about $1, your kids (or you) can feed the koi fish. After finishing the putt putt golf course, you can check out Anna Maria Island restaurants on the beach.
Evie's Family Golf Center
4735 Bee Ridge Rd, Sarasota, FL
Evie's Sarasota specializes in golf for the whole family. There's an 18 hole adventure style mini golf course with a fairly decent waterfall. There's even a giant covered sandbox with the perfect amount of shade for the little ones.
This is a great place to go with the family and hit some golf balls. Since they have a well maintained putting green, you can even practice for the big game. Evie's Family Golf Center has someone for everyone.
Evie's (Bee Ridge)
Family mini golf
60 station driving range
Chipping green
Putting green
Indoor arcade room
Bar
Restaurant
They have excellent pizza, wings and really good ice cream. You'll also find a covered outdoor tiki hut with drinks.
Mini Golf Sarasota
Here's where to play mini golf based on your current location. This is a convenient way to find the nearest mini golf courses near you.