This is a list of fun things to do in Sarasota at night.
No art museums or opera houses.
We promise!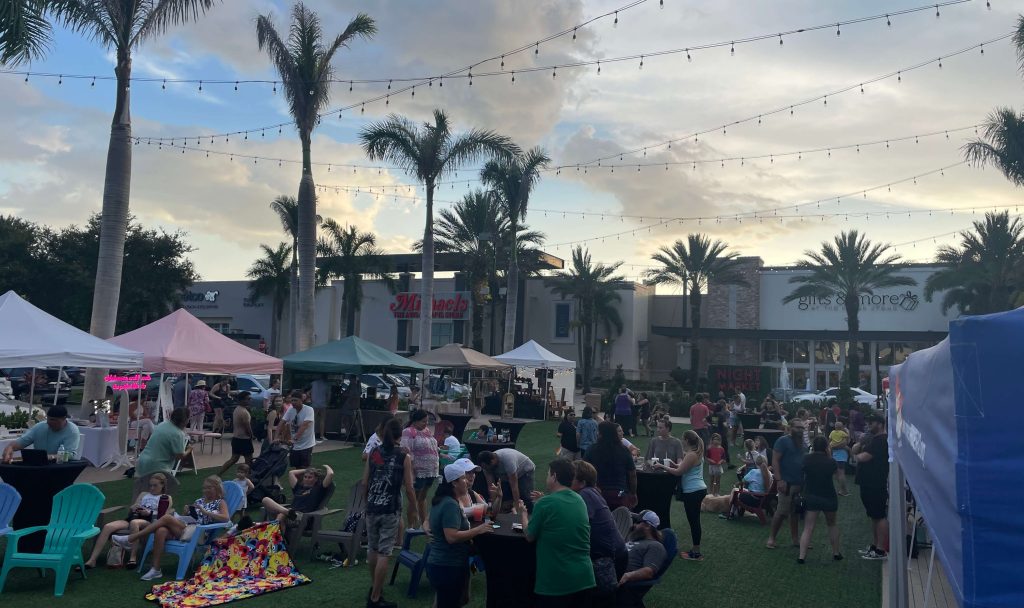 Let's get this party started.
These are the best late night activities and night spots in Sarasota:
Ranch Nite Wednesdays
Ranch Nite Wednesdays is the best place to go at night! You'll find live music, food trucks, local restaurants, cornhole and lots of people having fun. It's by far the best place for outdoor drinking and meeting people. You'll find new restaurants, Good Liquid Brewing Company and lots of places to walk around.
It's super family friendly. There are lots of kids and young families. You'll see kids dancing, running around and playing together everywhere. It's a great place to hang out for people of all ages.
When: Every Wednesday 6-9pm
Where: Waterside Place in Lakewood Ranch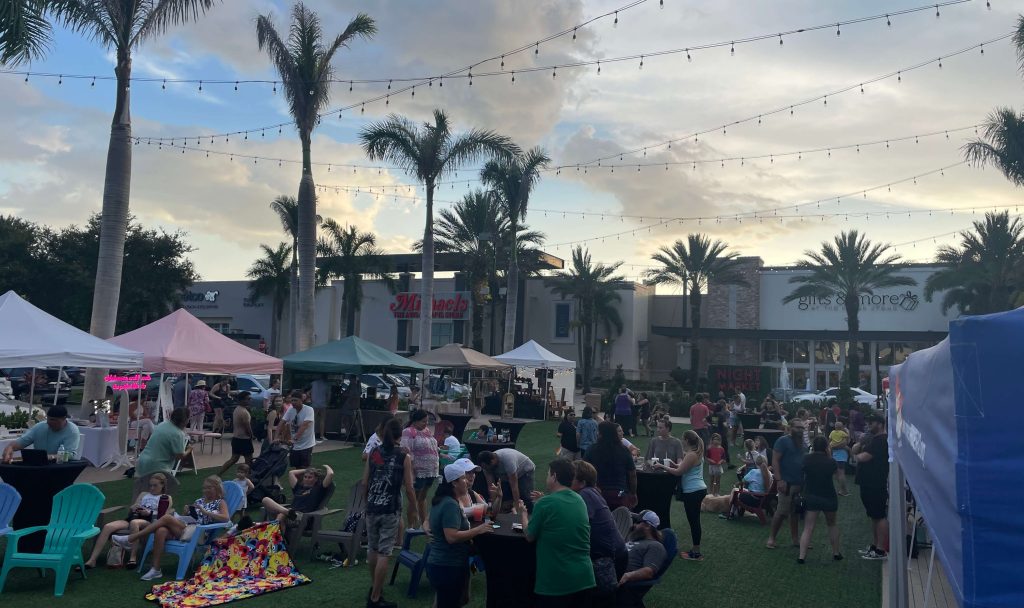 UTC Night Market
UTC Night Market always has a live band, cocktails from Georgies Bar UTC and cool local vendors. You'll find food trucks, Five-O donut stand, handmade art, guacamole stand and more! It's a great place for outdoor drinking and dancing.
If you have kids, there is princess makeovers, cornhole and giant building blocks. It's a cool place to hang out and is also super family friendly.
When: 3rd Thursday of every month. 5-9pm
Where: The Green in University Town Center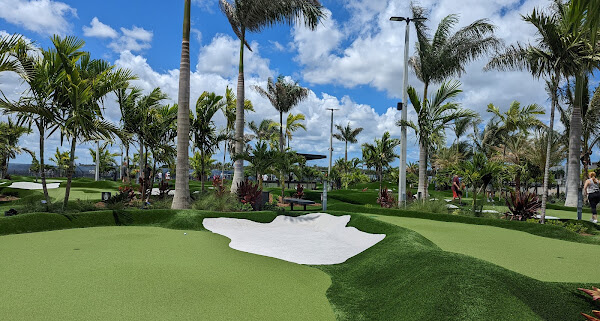 Popstroke
Popstroke is a dream come true that just opened in 2022. It's open till midnight and has many late night activities. So if you're looking for late night hangout spots, check this out…
There's a modern mini golf course designed by Tiger Woods, ping pong, cornhole, outdoor drinking and a two story lively bar. It's by far the most fun thing to do at night in Sarasota.
Late Night Bars
Sarasota has many late night bars, but they're all spread out. Here are best bars in Sarasota and what makes them different.
Cask & Ale
Cask & Ale is a high end craft cocktail bar in downtown Sarasota. It's trendy and has a sophisticated atmosphere. Open every day till 2am.
State Street Eating House + Cocktails
State Street is a Napa Valley themed craft cocktail bar with master bartenders. It's dark, romantic and sophisticated. Open Friday-Saturday till 1am. Thursday till 12am.
Brewsters
Brewsters is a traditional bar for young people in Sarasota. It's upbeat, loud and has a younger crowd. Open every day till 2am.
Night Clubs in Sarasota
If you're in the mood to dance, these are the best night clubs in Sarasota. Some play house music, EDM and others play hip hop and rock.
Perspective Rooftop
Perspective Rooftop Bar is a trendy poolside bar on the 8th floor. On Fridays & Saturdays, there's a live DJ from 9pm-1am. At 11pm, they start playing a mix of techno and house music.
Gator Club
Gator Club is a popular Sarasota night club with two floors. The first floor plays reggie and hip hop. The second floor plays rock and house music.
Pizza N' Brew Downtown
Pizza N' Brew Downtown Sarasota is a pizza place that turns into a super lively nightclub at night. They play house music and it's usually packed with young people.
Beach Club at Siesta Key
Beach Club is a nightclub on Siesta Key that has a large dance floor. There's usually a local band or a live DJ playing.
Glass Bottom Night Kayaking
There's nothing like kayaking at night in glass bottom LED illuminated kayaks. You'll paddle though mangrove canals along the shoreline. The strong LED lights will light up everything in the shallow waters of Sarasota Bay. This is easily one of the most unique things to do in Sarasota at night.
Sunset Tours: 8pm
Night Tours: 9:30pm
Smugglers Cove Adventure Golf
Smugglers Cove is a fun mini golf course that you do at night. You'll find 18 holes that are perfectly lit up. There is a pirate ship, caves, waterfalls and live alligators. It's open every day until 11pm.
Bowlero Bradenton
Bowlero is a super clean and renovated bowling alley in Bradenton. It's a fun place to go on a date, with friends or family. There's glow in the dark cosmic bowling, renovated arcade games and a cool bar.
Sarasota Roaring 20's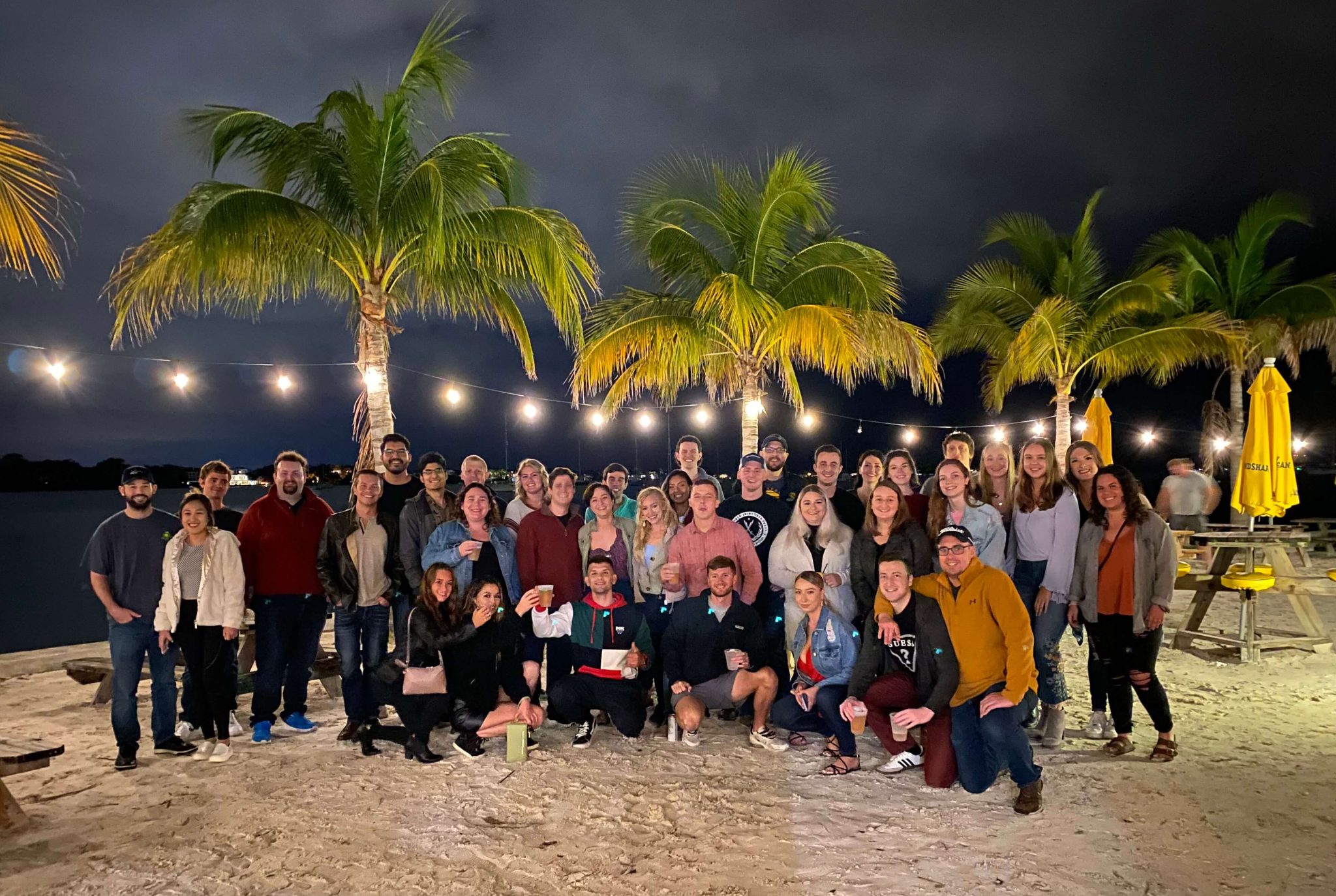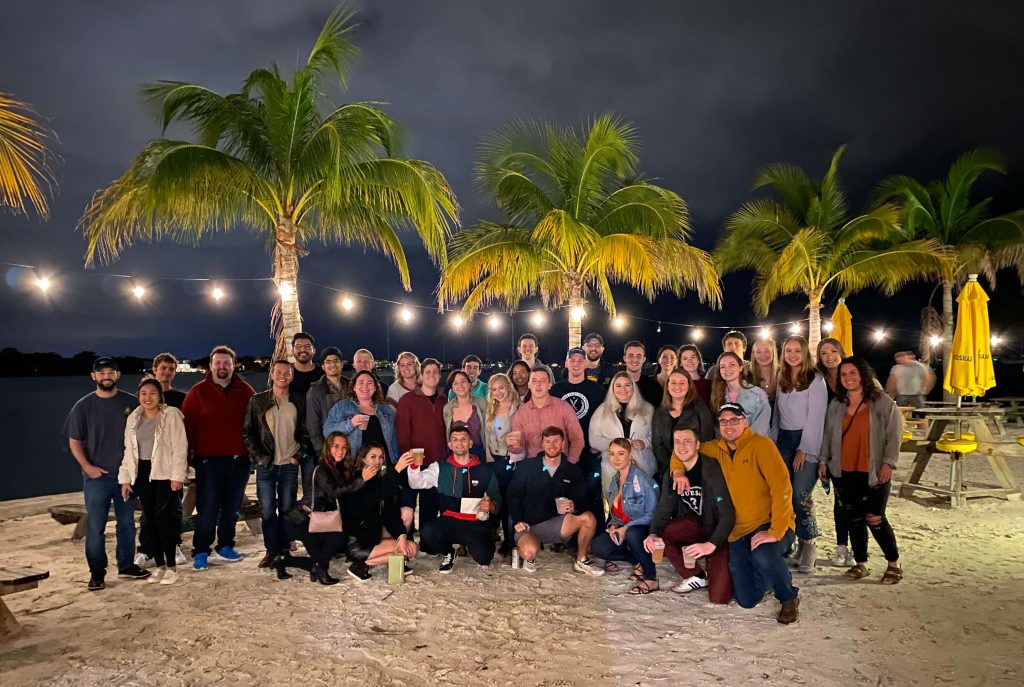 Sarasota Roaring 20's is a Facebook group for 20-29 year olds. They organize monthly mixers on the 1st Saturday of every month. Starting at 8:30pm at O'Leary's Tiki Bar before heading to other night spots. They later move to Perspective Rooftop and finish at Pizza N Brew around 3am.
McCurdy's Comedy Theatre
McCurdy's Comedy Theatre is the most popular comedy club in Sarasota. Some of the comedians that recently performed there are T.J. Miller, Lynne Koplitz, Jim Breuer and Rob Schneider. It's super fun, interactive and hilarious.
Livingston's Amusements
Livingstons's is an 50,000 square foot indoor amusement center. There are arcade games, go-karts, billiards tables, bumper cars and a really cool bar. You'll easily find lots of late night entertainment here.
When does Livingston's close?
Monday-Thursday: 12am
Friday-Saturday: 1am
Sunday: 11pm
Siesta Key Drum Circle
Siesta Key Drum Circle is one of the free things to do in Sarasota at night. You'll see drummers, dancers, hula hoopers and random people joining in on the drumming. It's a super fun experience. It's free.
When: Every Sunday around sunset
Where: Siesta Key Beach
Painting with a Twist
Painting with a Twist is a really fun painting experience while drinking wine. It's one of the best places for girls night or date night in Sarasota. They also have Trivia Night and lots of fun events. They close every day at 10pm.
Mysterium Escape Rooms
Mysterium Escape Rooms are the best way to test how smart and creative you are. It's also very fun. You'll have to solve creative puzzles to move on and "escape" the room. There are also virtual reality games, free retro arcade games and great drinks.
When does Mysterium Escape Rooms close?
Sunday-Monday: 10pm
Wednesday-Thursday: 10pm
Friday-Saturday: 1am
Waterfront Restaurants
If you're looking for more relaxing things to do in Sarasota at night, check out these Sarasota restaurants on the water. Here are the best ones that are open late.
Dry Dock Waterfront Grill
Located on Longboat Key with spectacular views of the water. It's also one of the best places to watch the sunset with some drinks. Open till 10pm Friday-Saturday and 9pm the rest of the week.
Marina Jacks
Marina Jacks is a waterfront restaurant in downtown Sarasota with beautiful views of Sarasota Bay. It faces the sunset and has a view of sailboats and yachts in the background. Open till 11pm on Friday-Saturday and 10pm on Sunday-Thursday.
Mar Vista Dockside Restaurant
Mar Vista is a romantic waterfront restaurant with tables on the sand. You'll find Buttonwood trees and twinkle lights flickering in the air. It closes every day at 10pm.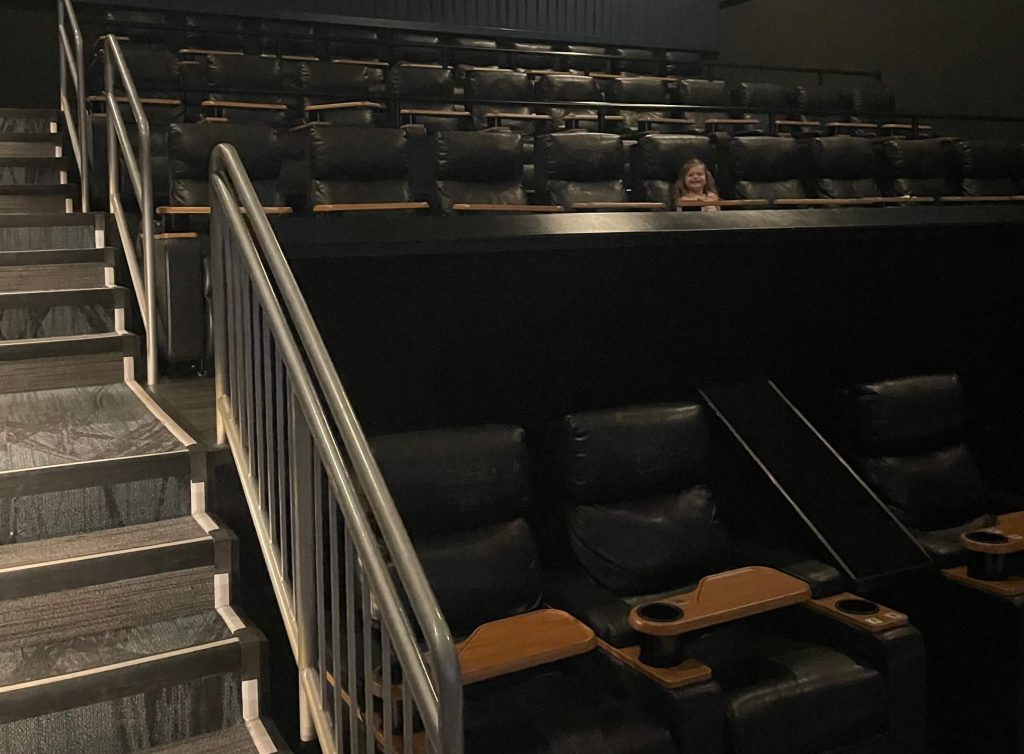 CMX CinéBistro Siesta Key
CMX is a luxury movie theatre where you can have dinner while watching a late night movie. You'll also find a romantic cocktail bar in the front.
Sarasota Pier Night Fishing
If you're into night fishing, Sarasota Pier is open 24 hours. There's a bait shop with live shrimp and live pinfish that's open till midnight on Friday-Saturday. Sunday-Thursday it's open till 10pm. It's also one of the best fishing piers in Sarasota.
Rooftop Bars at Night
If you're checking out the nightlife in Sarasota, there's no better place to start These are the best Sarasota rooftop bars.
Westin Roof Bar
The Roof Top Bar and Eats is a modern sophisticated rooftop bar. It's on the 19th floor of the Westin. The views of Sarasota Bay and downtown are spectacular. Open Sunday-Thursday till 10pm and Friday-Saturday till 11pm.
Perspective Rooftop Bar
Perspective Rooftop Bar is a fun rooftop bar on the 8th floor of the Art Ovation Hotel. It's more upbeat, lively and has great views of downtown Sarasota.
Evie's Driving Range at Night
Evie's is one of the best things to do in Sarasota tonight! They have a driving range, mini golf, arcade games & food. It's a great place to hit some golf balls and have some drinks on your night out. It closes every day at 10pm.
Pangea Alchemy Lab
Pangea Alchemy Lab is a speakeasy bar in downtown Sarasota. When you get there, you'll think it's closed. Hint: The entrance is in the back alley. They set craft cocktails on fire, make cocktails with cereal and serve rabbit tacos. It's a weird place with an odd smell. You'll love it!
Arcade Monsters Lido Beach
Arcade Monsters is an arcade bar with craft cocktails. Imagine a glow in the dark arcade with neon lights and smoky cocktails. It's fun, lively and one of the best things to do in Sarasota at night You'll find Minecraft, Sega Genesis, Mario Kart, pinball and other retro games.
Crumbl Cookies Sarasota
If you've never been to Crumbl Cookies, it's time you go. Their cookies are molecular explosions of flavors that you'll recognize but never thought would go together. They make dreams come true in your mouth.
One of the best late night activities you can do since they're open till midnight on Friday-Saturday. However, Monday-Thursday they're open till 10pm.
Open Mic at Tea's Days
If you're an aspiring comedian, musician or a local artist, Tea's Days is for you. Sing, rap, dance, test out some jokes or perform slam poetry.
When: Every Tuesday 7pm
Where: Tea's Days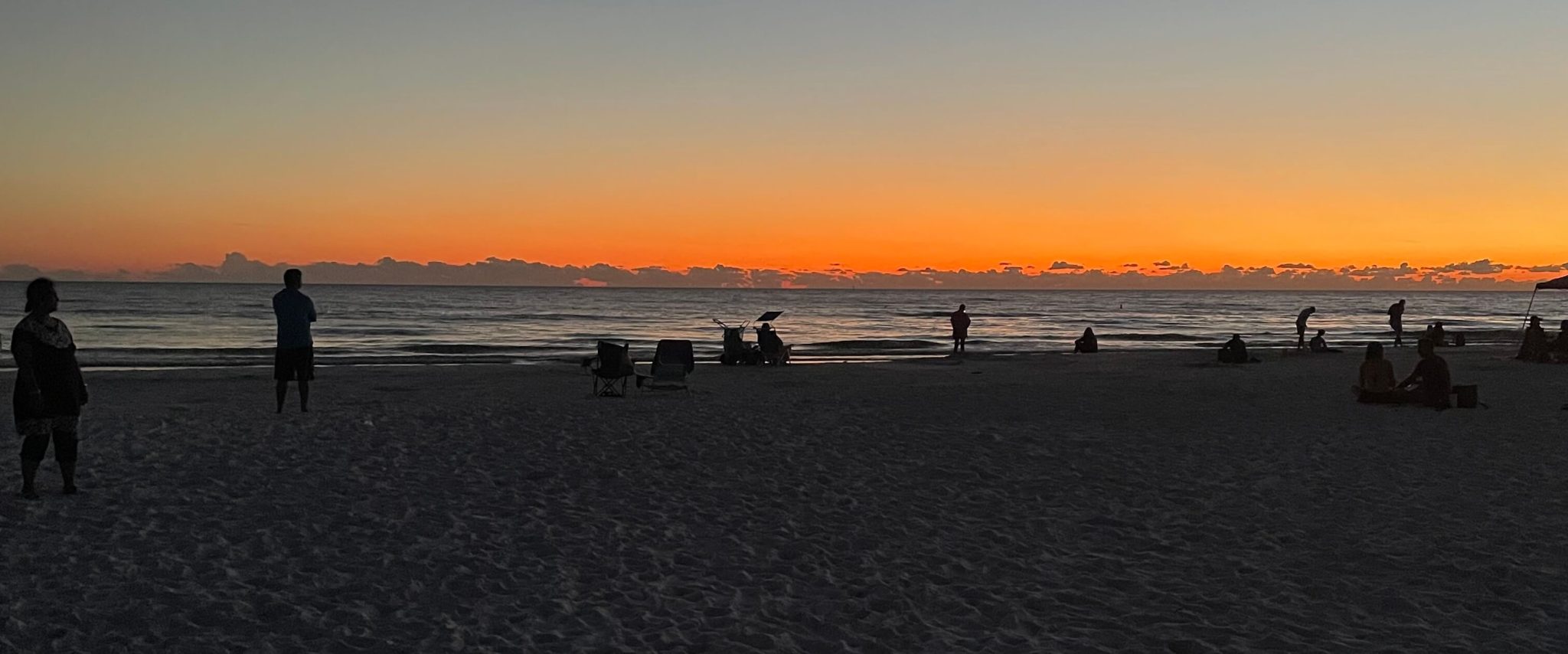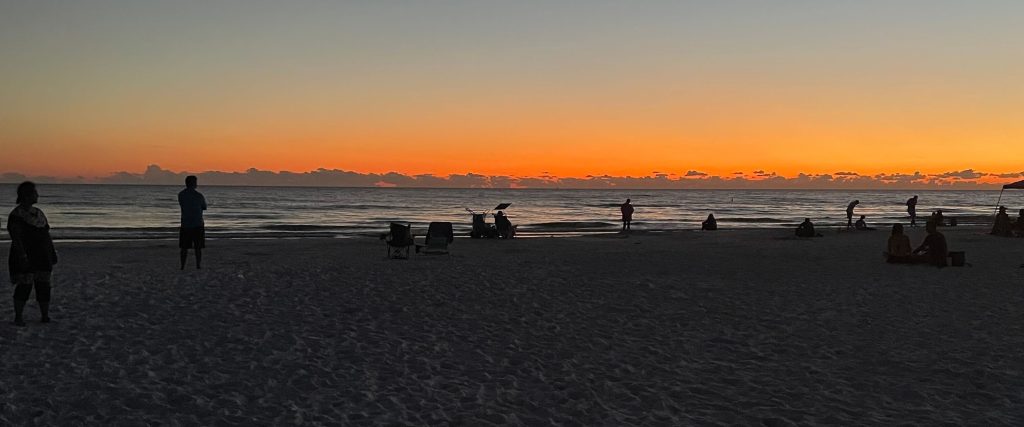 Watch the Sunset
If you're looking for other things to do in sarasota at night, watch the sunset on Siesta Key beach. It's the only place with an unobstructed beautiful view of the sunset.
Best Night Spots and Late Night Activities
These are the best night spots and late night activities near your location. Here's a map that we created to help you find what do to in Sarasota at night.