This is a list of the best playgrounds Sarasota has to offer.
Ranked by shade, artificial turf, rubber cushion flooring, restrooms and more.
We prioritized safe fully gated playgrounds.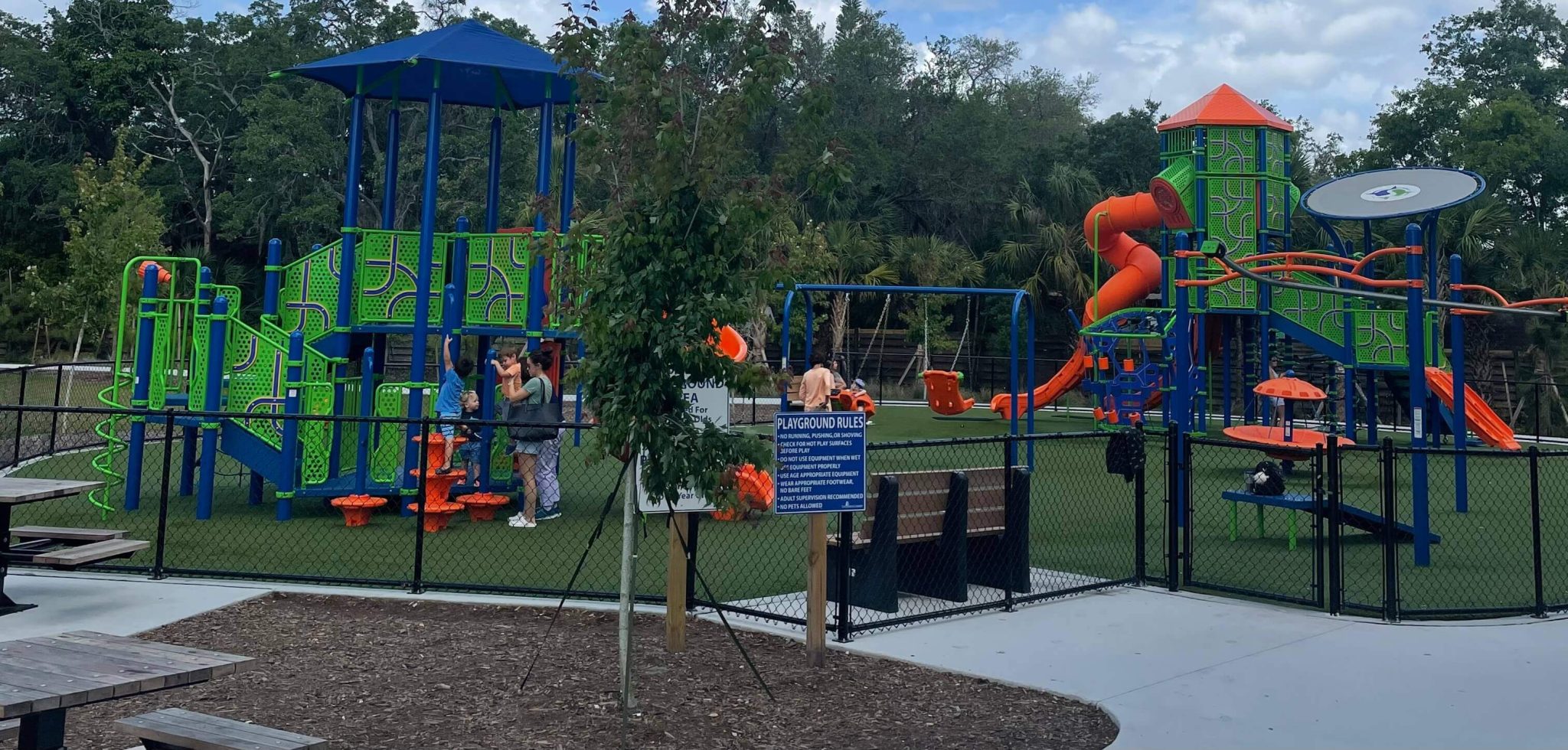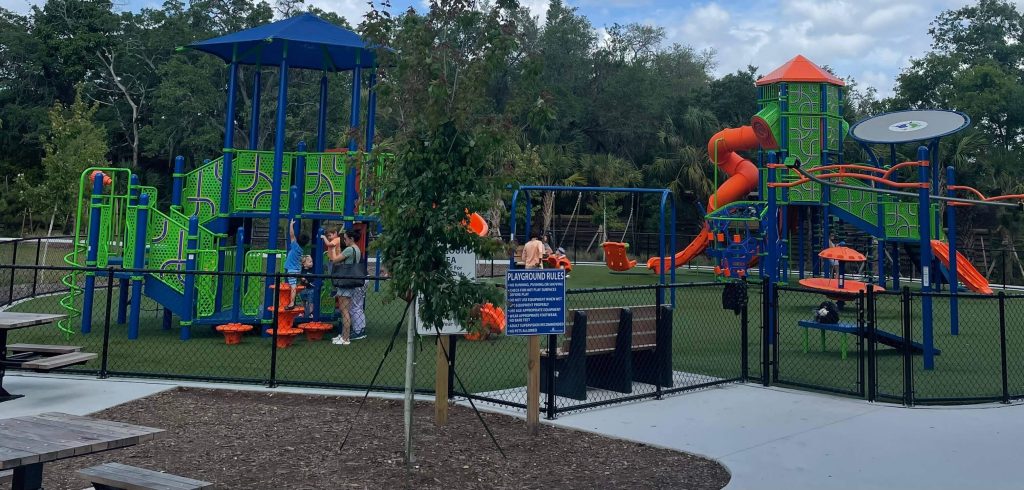 Let's get to the fun part.
Here are the best Sarasota playgrounds we'll talk about:
Payne Park Playground
2010 Adams Ln, Sarasota, FL 34237
Payne Park is a safe, shaded and fully gated circus themed playground. It has a small "splash pad", cooling fans and a 10/10 location. It's among our list of the best things to do in downtown Sarasota with kids.
Not many playgrounds in Sarasota have splash pads. While the circus park doesn't have a big splash pad, it has something. You'll find a water sprinkler section in the back of the smaller kids area.
Every hour the sprinklers turn on for 30 minutes. During the summer, they also run cooling fans. When it rains, you can run indoors to the Cafe in the Park. This convenient cafe offers healthy and delicious food for the whole family.
If you're looking for the best playgrounds for older kids in Sarasota, Payne Park is the best you're going to get. It's also one of the best handicap accessible playgrounds.
Payne Park Playground
Astroturf (easy to run & fall on)
Playground for older kids
Toddler friendly play area
Many shaded areas
Public restrooms
Easy parking
Urfer Park Playground
4012 Honore Ave, Sarasota, FL 34233
Urfer family park has one of the best playgrounds Sarasota has to offer. There are 2 large playgrounds side to side. One is for toddlers and the other is for older children.
There are walking trails, outdoor exercise equipment and a grassy field for activities. You'll find picnic tables and convenient seating throughout the area.
Our favorite part is all the shade this park boasts. You'll definitely appreciate all the overhead cover. Urfer playground is definitely one of our top contenders when it comes to things to do in Sarasota for families.
Nathan Benderson Playground
700 N Cattlemen Rd, Sarasota, FL 34232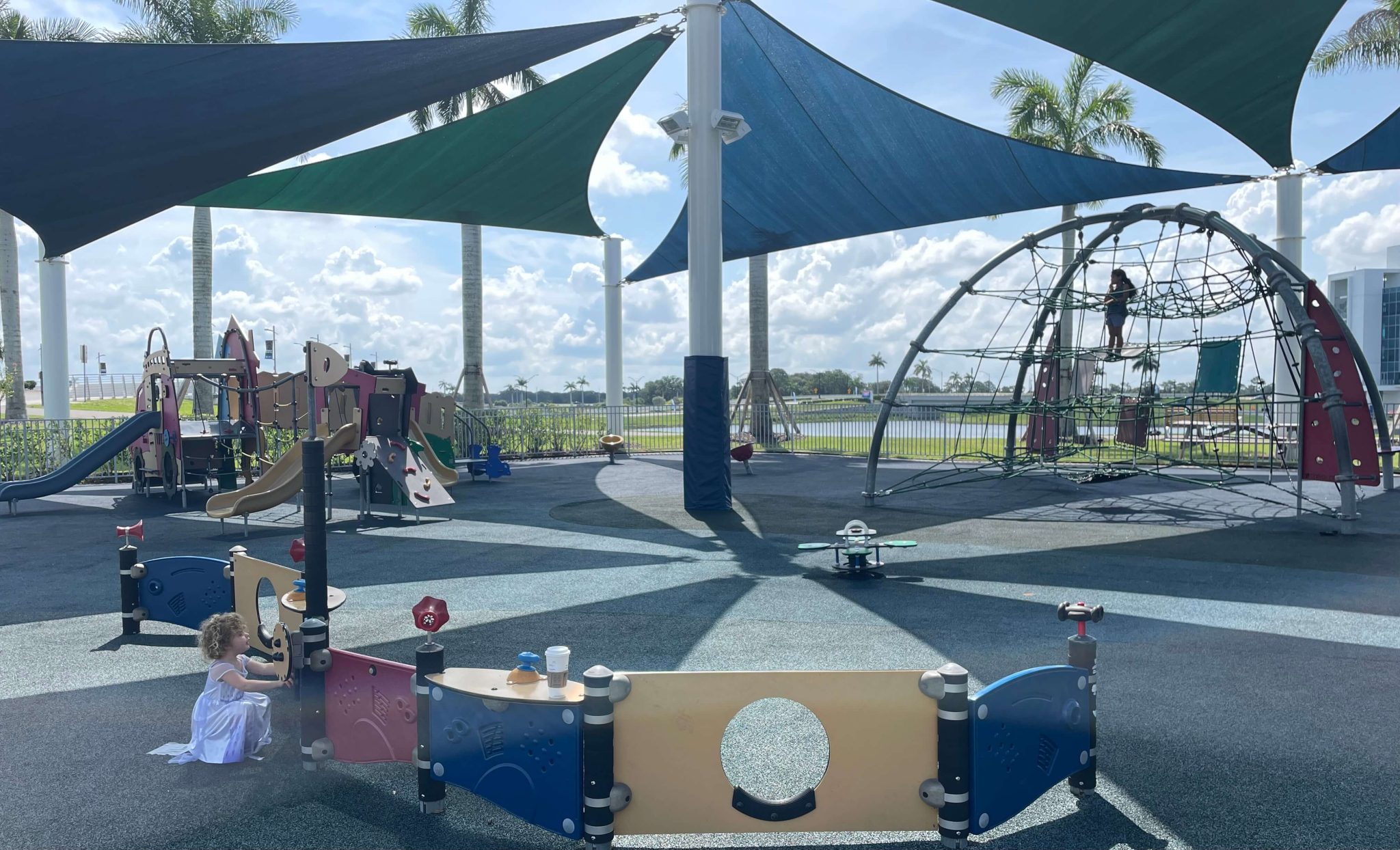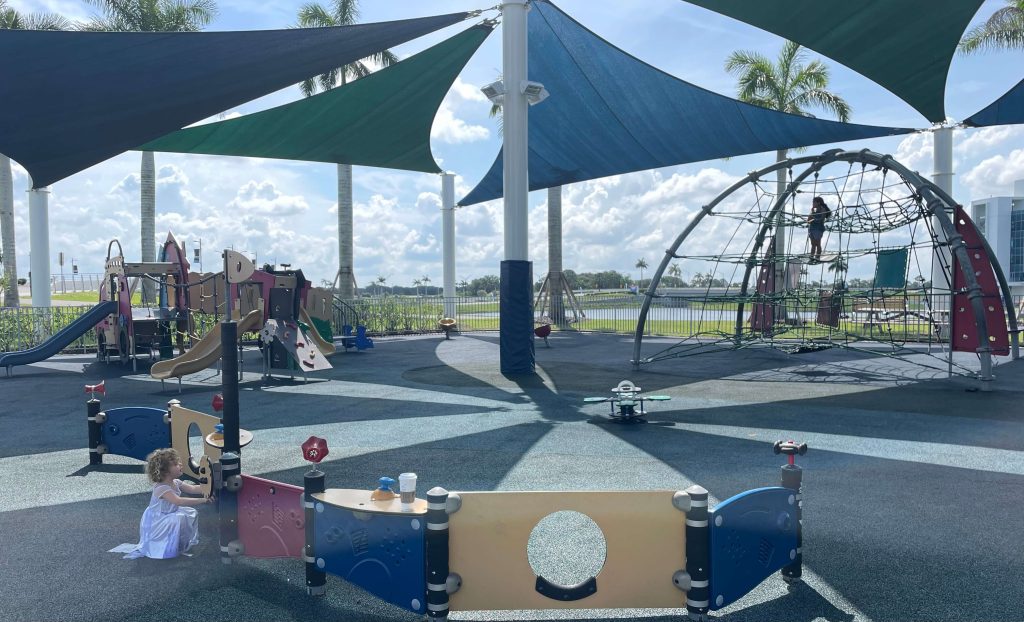 The Nathan Benderson playground is fully gated, safe and has total shade. There's lots of parking right next to the playground. Which makes it less embarrassing if your kid is throwing a fit.
The UTC playground is part of a larger 600 acre park. You'll find over 3 miles of paved trails around a 400 acre lake. It's located in Sarasota county next to the UTC mall.
Public restrooms are right outside the playground! Making it the easiest and most convenient park on our list. The best part is the enclosed gate surrounding the playground. There's also complete shade covering the entirety of the playground.
Ashton Trailhead Playground
4281 Ashton Rd, Sarasota, FL 34233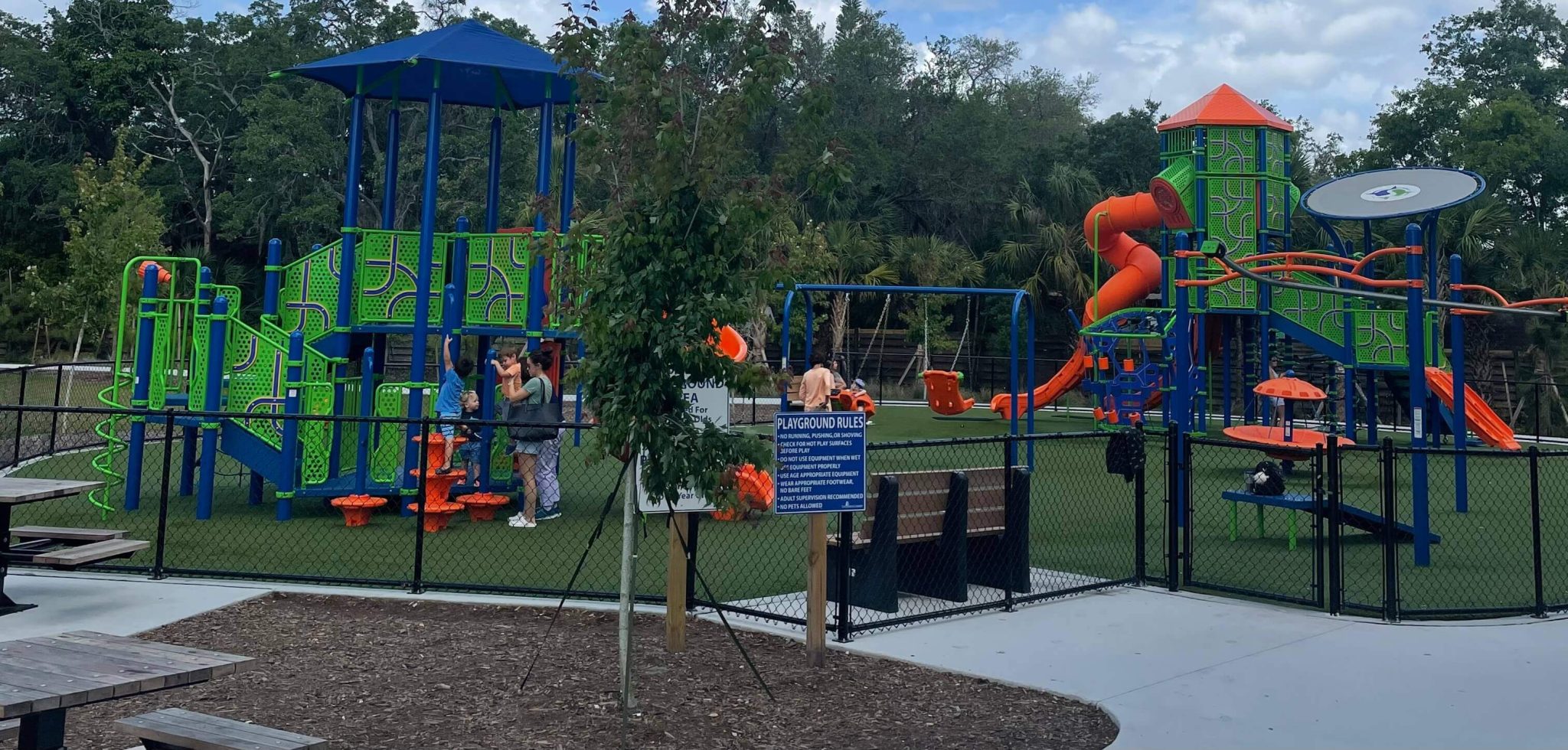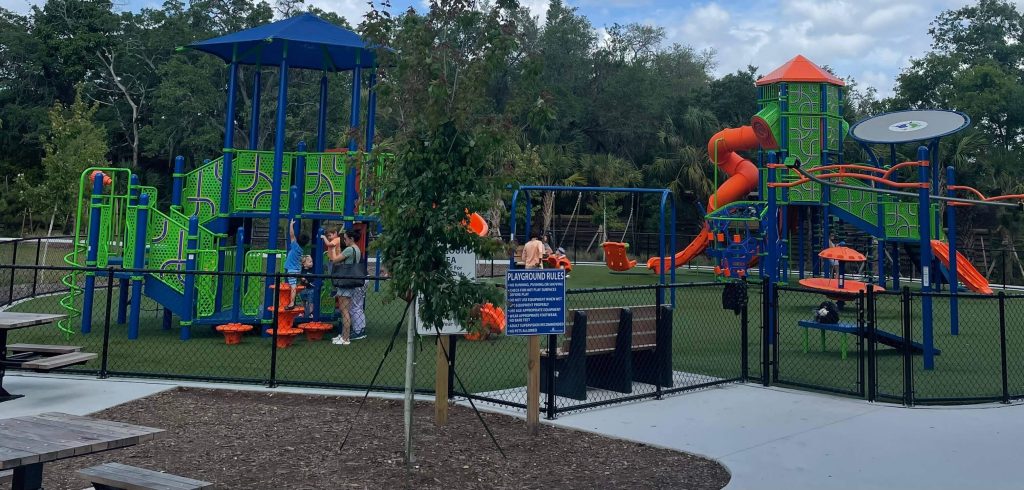 Ashton playground is one of the newest playgrounds in Sarasota. It just opened in December 2021. Located along Legacy Trail. You can easily get there by car or bike!
There is a 3 story big kids playground and a really cool little kids playground. The artificial grass is super cushy for falls and a clean alternative to traditional park sand or wood chips.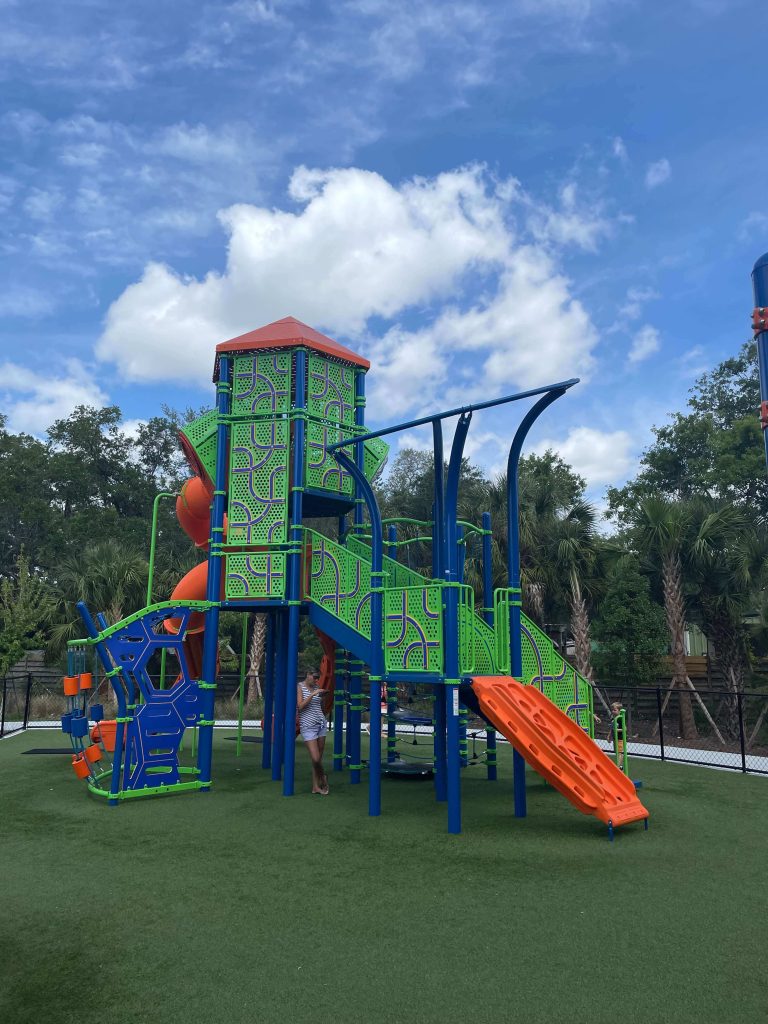 The only downside is that Ashton park lacks shade. So make sure to wear plenty of sunscreen and bring a hat. It's arguably the perfect size for a casual afternoon playdate.
Astroturf artificial grass
Clean public restrooms
Metal zip line
Large climbing towers
3 story slides
Access to Legacy Trail
Park benches & picnic tables
Shelters in case it rains
Grills
Sarasota Springs Trailhead
4012 Webber St, Sarasota, FL 34232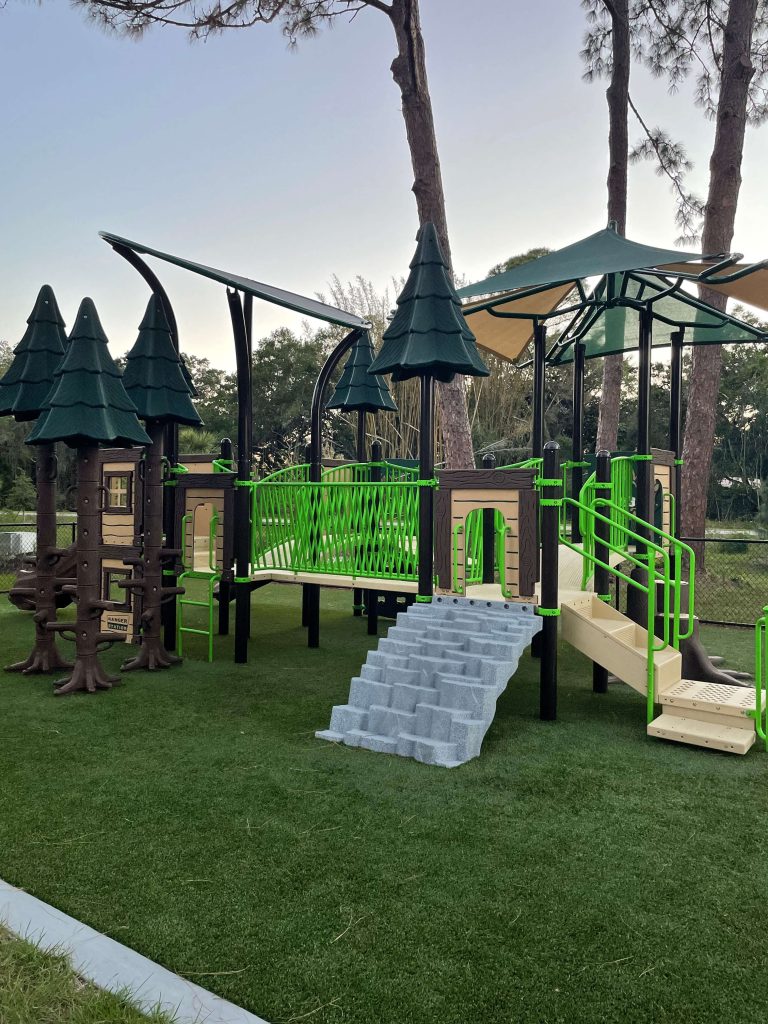 Its woodland theme gives it fun and character. Enjoy tree stumps, little mushrooms to hop on, and pine tree accents. All in all, the park is very cute and perfect for children ages 2-5. Also known as the Webber playground.
Webber park is a new playground with more simplistic equipment. It's a small park built in 2022. This is what makes it the perfect park for younger kiddos. Located on Legacy Trail in the Sarasota Springs neighborhood.
Keep in mind there is no shade so this may not be the best choice for an ultra hot day. If it rains, this park has also got a covered set of picnic tables to shelter under. One of the best toddler friendly playgrounds in Sarasota!
Fully enclosed
Artificial grass turf
Public restrooms
No shade
Potter Park Playground
8587 Potter Park Dr, Sarasota, FL 34238
Potter Park is definitely one of the coolest kids playgrounds in Sarasota. There are many different playground areas. All ranging for kids of different ages.
The main playground has canopy shade and is also lined with trees. The other areas are exposed but do have some tree cover. They also have large shaded areas with picnic tables that are great for birthdays or special events.
There are many sections where kids can run back and forth. During peak summer months, the mosquitos do get aggressive here. Definitely one of the best playgrounds Sarasota has to offer.
Arlington Park Sarasota
2650 Waldemere St, Sarasota, FL 34239
Arlington playground is nicely shaded by trees, fully enclosed and has lots of seating options. There's a great mix of park equipment for both young and older children. You'll find an ample supply of swings (a rarity here in SRQ).
The only downside is the absence of bathrooms and the dreaded wood chips. Outside the gated playground, you'll find an outdoor workout area. Filled with resistance training equipment, stationary bikes, and plenty of space for HIIT workouts.
Easily among the best Sarasota playgrounds when it comes to shade and play area.
Pioneer Park Playground
1260 12th St, Sarasota, FL 34236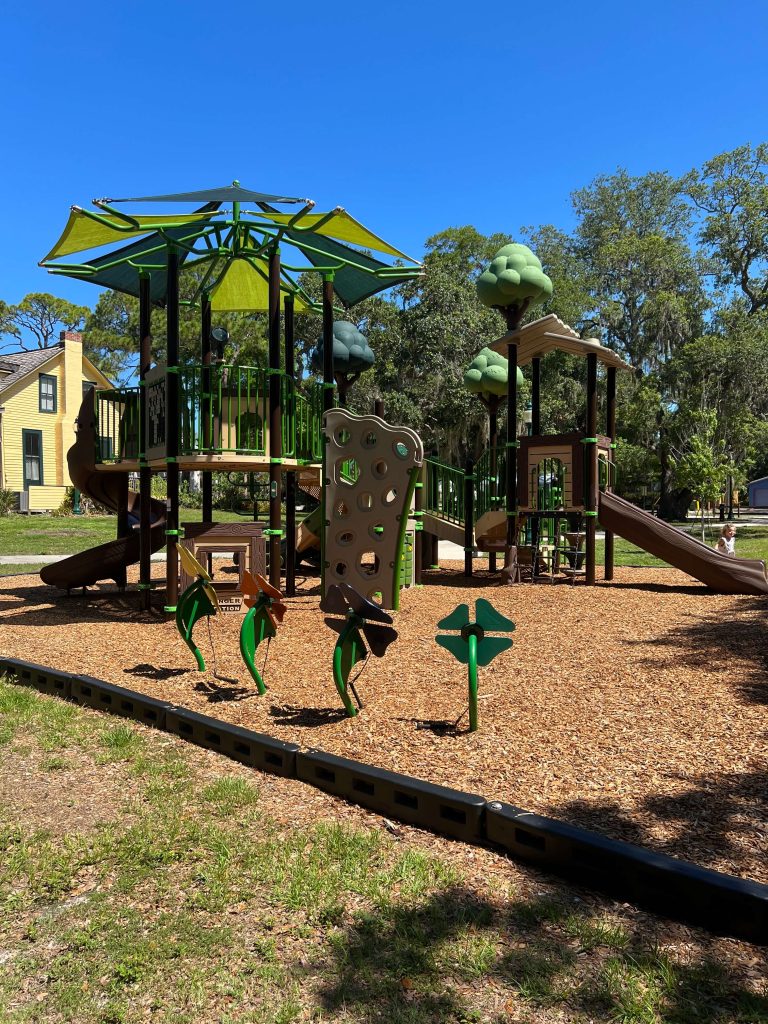 Pioneer Park is a treehouse themed Sarasota playground built in 2019. It's truly a hidden gem and is suitable for all ages. Slides are large and plentiful and there's a little treehouse with a table. Most of the playground is shaded by trees.
Our favorite thing is a large netted globe, where kids can climb on and spin at the same time. By far one of the most well designed Sarasota playgrounds. The park is nestled between a basketball court, trails, and picnic tables. The one downside is there are no bathrooms.
Bayfront Park Playground
5 Bayfront Dr, Sarasota, FL 34236
Bayfront Park has a playground with a beautiful view of Sarasota Bay. Your kids can play while you watch the sunset. It's fully gated, safe, usually busy and has one of the best locations in downtown Sarasota.
What makes it unique, is that it's a 1-2 minutes walk from O'Leary's tiki bar. It's the only playground where you can take a break and get a strawberry margarita. Or an ice cold draft beer. Which is why it's one of the best playgrounds in Sarasota.
Children's Garden
1670 10th Way, Sarasota, FL 34236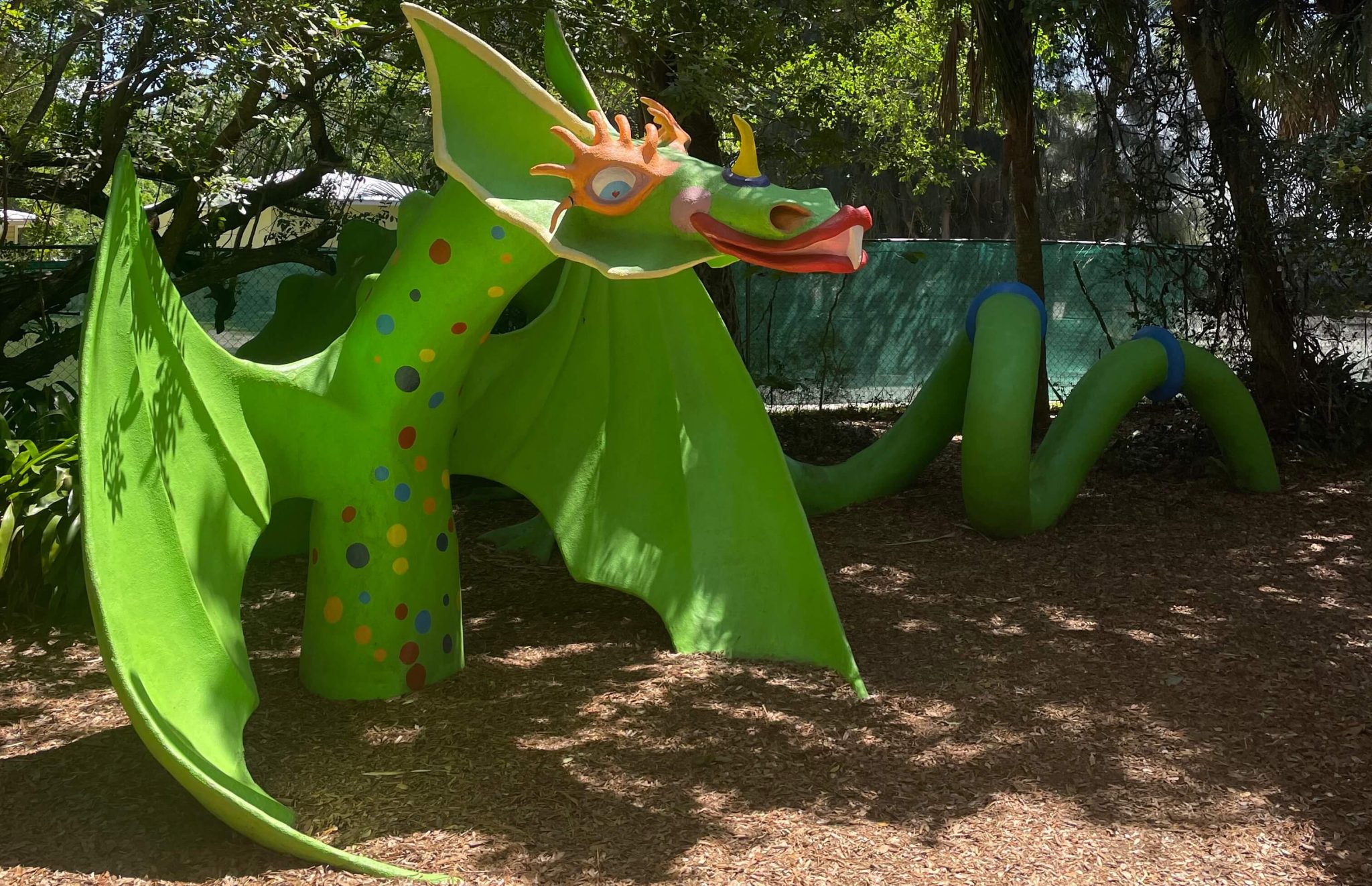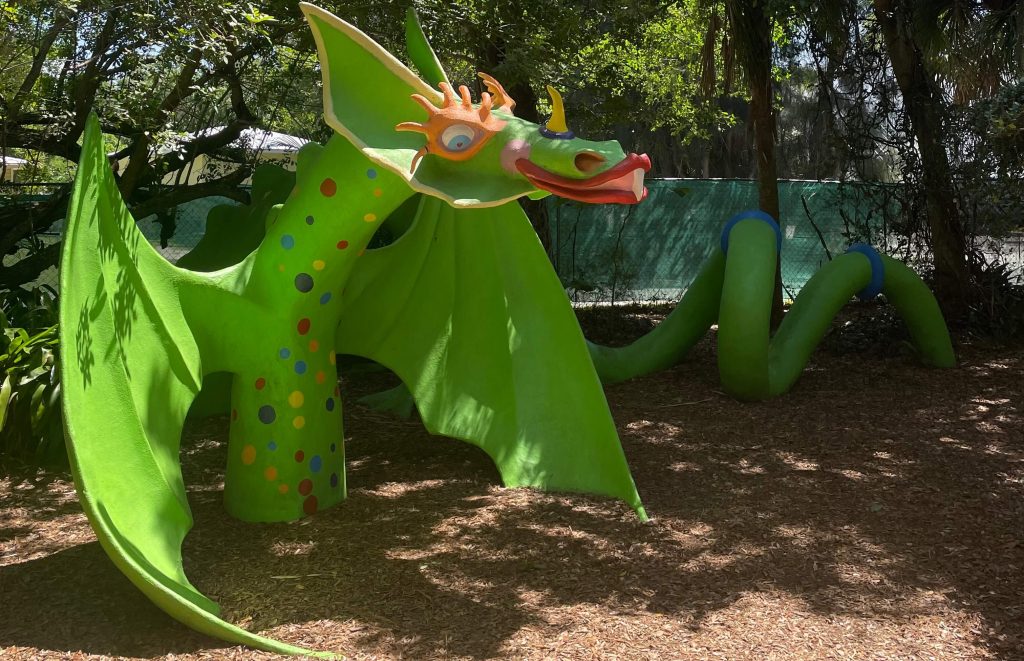 Children's Garden is a whimsical land of creative play! First you'll enter an ivy covered tunnel leading to a fairy door. Then, you'll discover outdoor kitchens, a bamboo rainforest, sensory garden, a pirate ship and a mountain of wheels leading up to a rope swing.
There's also a stage where children can play dress up and act out their own songs and stories. While it does have a playground, it's the last thing you'll notice. If you're looking for Sarasota toddler activities, this should be your go to.
Children's Garden Admission:
How much is Sarasota Children's Garden?
Adults (13+): $10
Children (Ages 3-12): $6
Children under 2: Free
Thursdays: 20% off discount
What is the Sarasota Children's Garden?
Costume room (100+ outfits)
Pirate ship
Maze
Forest kitchen
Playground
Rope swing
Climbing mountain of tires
Coloring
Puppet show
Dance stage
3 Little pig homes
David Bolger Playspace
5401 Bay Shore Rd, Sarasota, FL 34243
David Bolger Playspace has the coolest swings of any playground around! They have giant woven baskets set on a beautiful timber frame. The space is large and gives kids plenty of space to run around.
The downside is that there's no enclosure, so you do need to keep a closer eye. However, there's lots of shade and it's never too busy. It's located on the grounds of the Ringling Museum. So it's commonly referred to as the Ringling museum playground.
The museum and playground is free every Monday. It's one of the best free things to do in Sarasota with kids. The museum offers many family friendly events and activities.
Siesta Key Beach Playground
948 Beach Rd, Siesta Key, FL 34242
The Siesta Key beach playground is a very large beach themed playground. We're talking lots of swings, a large sand castle play space for older kids and a shaded part for toddlers. It easily made our list of the best Sarasota playgrounds.
One of the best parts is the rubber cushion flooring. It's a soft and bouncy surface for accidental falls that doesn't get too hot. They have picnic tables and lots of free parking. It's a great place to take kids near Siesta Key beach.
UTC Indoor Playground
200 University Town Center Dr, Sarasota, FL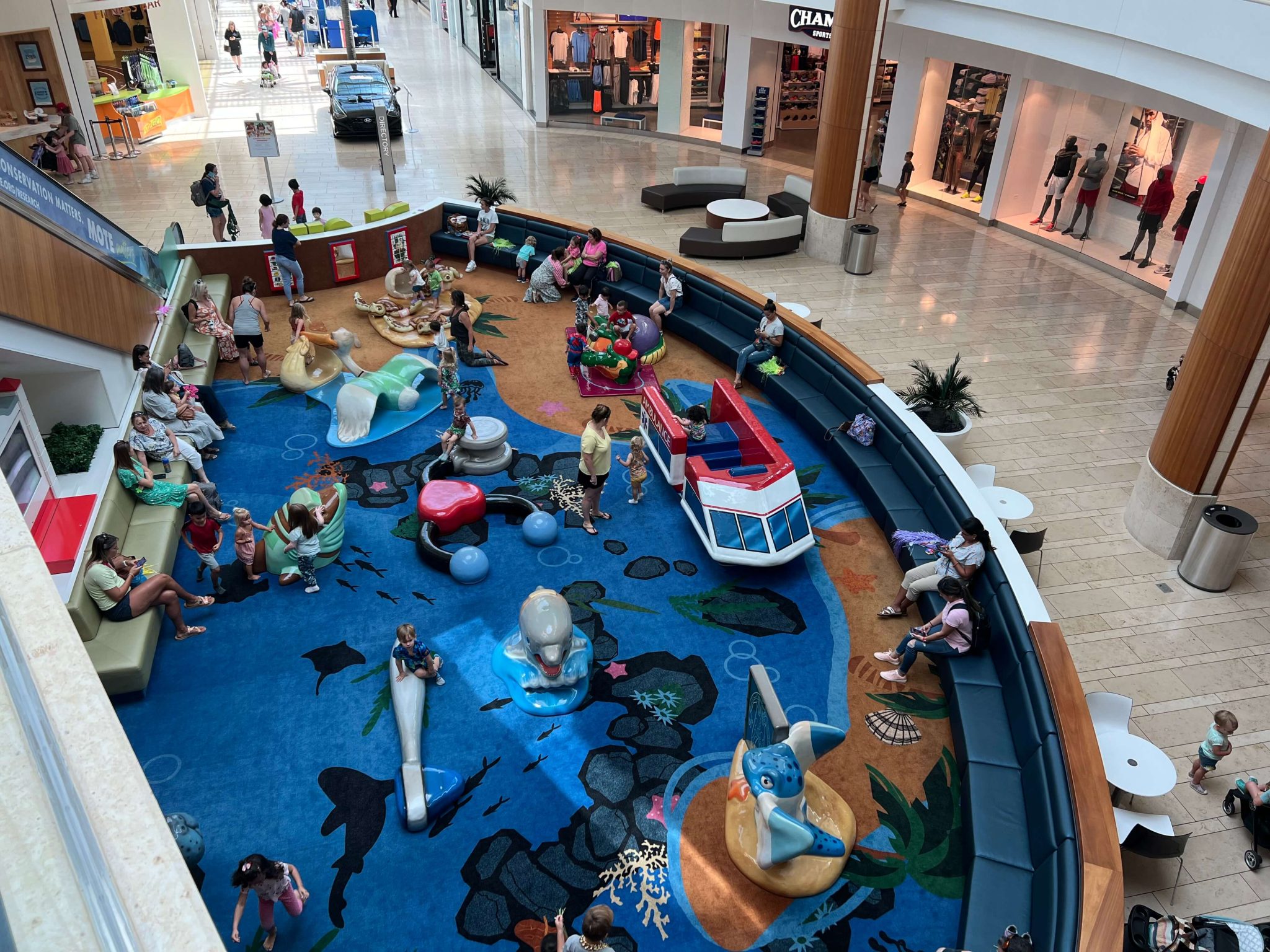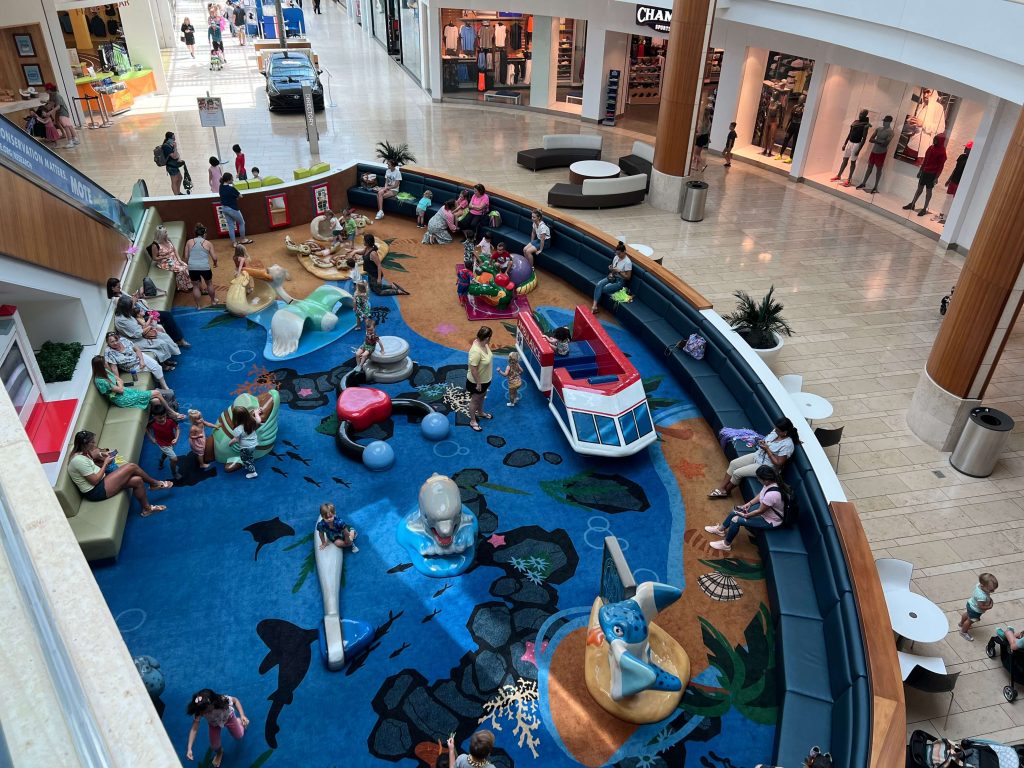 When the summer heat gets to be too much, you can always turn to the UTC mall indoor playground. The space isn't huge but it's definitely large enough for kids to run off some energy and socialize.
Even without expansive equipment, the mall boasts the coldest AC you can ask for in Florida's sweatiest months. Come for the play space and stay for the smells of Auntie Anne's pretzels and perfume samples from Dillards next door.
While it's VERY busy, it's one of the only indoor kids playgrounds in Sarasota, Florida. It's a great place for indoor activities for toddlers.
Map of Sarasota Playgrounds
This is a map of the best Sarasota playgrounds near your location.