This is a list of the best Korean BBQ Sarasota and Lakewood Ranch restaurants.
Reviewed by local foodies.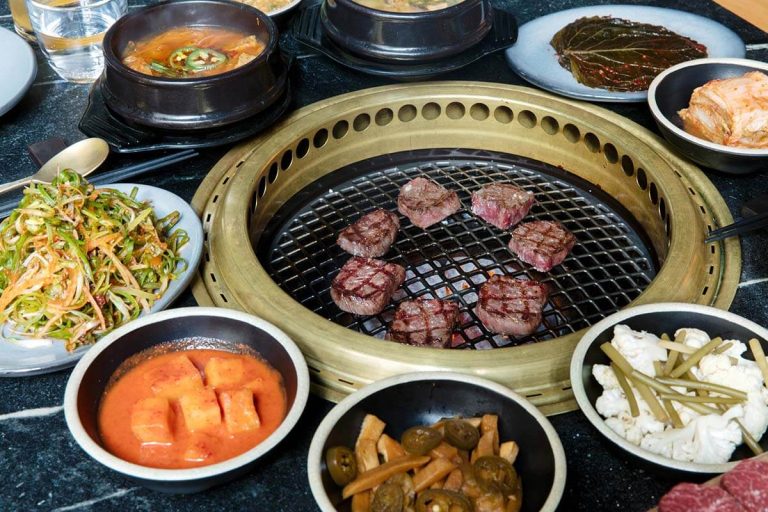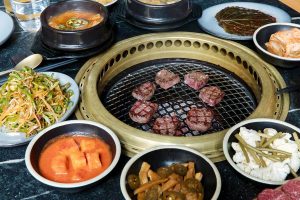 Ranked by quality of meats, tabletop grills, service and atmosphere.
Let's get started.
Here are the best places to grill Korean barbecue on a tabletop grill:
KORE Steakhouse at Waterside Place
1561 Lakefront Dr #111, Sarasota, FL 34240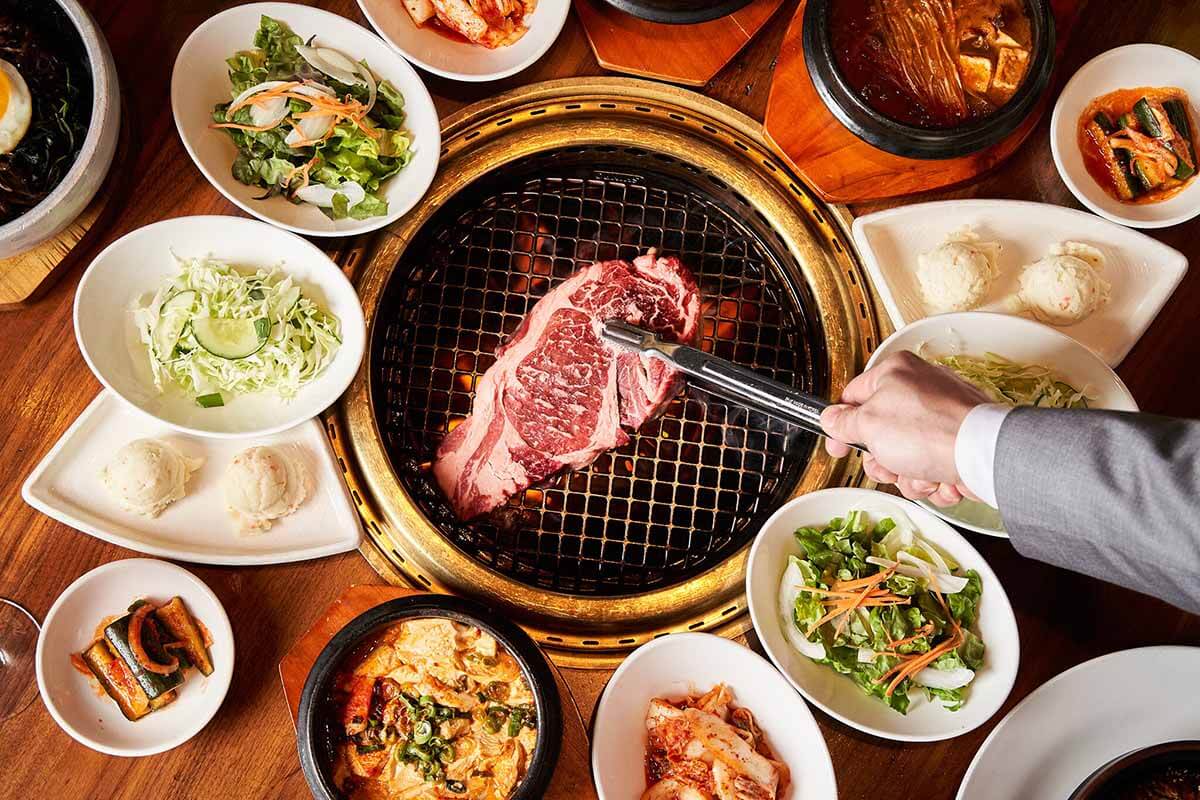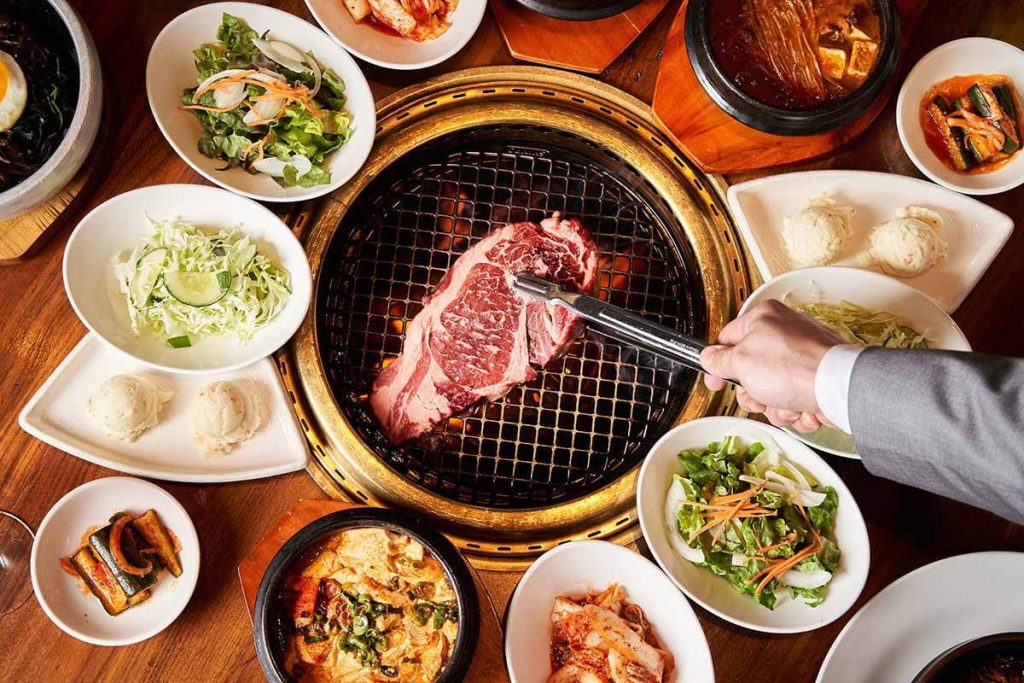 Korê Steakhouse is a new Korean BBQ restaurant at Waterside Place. KORE offers more than just a stellar cut of meat, it offers a truly authentic and upscale Korean BBQ experience. Enjoy elevated quality of meat and fresh traditional Korean ingredients.
The smokeless grill on every table offers a fun and custom approach to preparing your own meat and seafood. The drinks are generously poured and made fresh from scratch. Service is excellent and even on a busy night is consistently spot on. We especially enjoyed the sauces, sides, and garnishes served with your choice of protein.
The flavors were rich and unique to an area that previously had very few out-of-the-box options. Lakewood Ranch truly needed some unique dining options and Kore Steakhouse delivers.
Charlie's Bulgogi
4567 Bee Ridge Rd, Sarasota, FL
Charlie's Bulgogi is a small, clean and family-owned Korean barbecue restaurant. The Korean dishes were full of flavor, the ingredients were fresh and the service was outstanding.
The combination of perfectly cut meats and spices was ideal. We tried both the "cook at the table" style and the traditional dining experience. The tabletop grilling was definitely a better experience.
The meal portions were very generous, the meats were well prepared and the owners were very friendly. The owners, Soo and Charlie treated us like old friends without knowing we were there for Korean BBQ reviews.
We would highly recommend the tabletop grilling experience. Order the mouth-watering kimchi, tasty short rib and ramen.
Korean SSAM Bar
1303 N Washington Blvd, Sarasota, FL 34236
Korean SSAM Bar is a small Korean family owned restaurant. There is a lack of dining tables, so expect it to be fairly busy. The server was always smiling, attentive and friendly towards all the diners. The place was casual, clean, but definitely needs renovations.
People come here from the authentic Korean food and no-frills atmosphere. Once we ordered off the menu, the food came out quick. For a better experience, make sure be upfront of how spicy you want your food.
The seafood pancake appetizer was very tasty, but could use a little more crisp. The spicy pork and beef bulgogi was rich in flavor and both had the perfect texture. Drizzled with delicious sauce.
The kimchi ramen was flavorful, delicious and considered the best among local diners. We also highly recommend ordering the tteok-bokki (spicy stir-fried rice cakes) and kimchi fried rice. Overall, they surpassed our expectations and we will definitely return in the future.
K-Nam Korean BBQ & Sushi Restaurant
3440 Clark Rd, Sarasota, Florida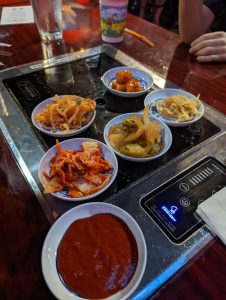 K-Nam Korean BBQ & Sushi Restaurant is one of the only cook your own Korean BBQ in Sarasota, Florida. There is truly no better dining experience than eating directly off the grill. The servers was very polite and attentive.
If you're craving authentic Korean BBQ where you cook your own meat on the grill, this is the place. There is a decent variety of meats to choose from accompanied by a great selection of side dishes, like the banchan.
We loved the seafood pancake, well marinated meats, bulgogi and noodles. The portion sizes were generous and they had a great sushi bar if you want to switch it up in the future. There was lots of easy to find free parking.
Shilla Korean Restaurant
501 N Beneva Rd #240, Sarasota, FL
Shilla Korean Restaurant is a top rated Seoul-worthy barbecue place in Sarasota, Florida. They're known for their authentic Korean dishes, Pork Bulgogi, Bibimbap, Galbi beef and seafood pancake.
One thing that really stood out was the service. The waitress was extremely kind and kid-friendly. The menu had lots of healthy options and they even have a lunch buffet to better experience of Korean food. We especially loved the warm and intimate atmosphere.
Yaki-Sushi·Grill·BBQ
5231 University Pkwy Unit 113, Bradenton, FL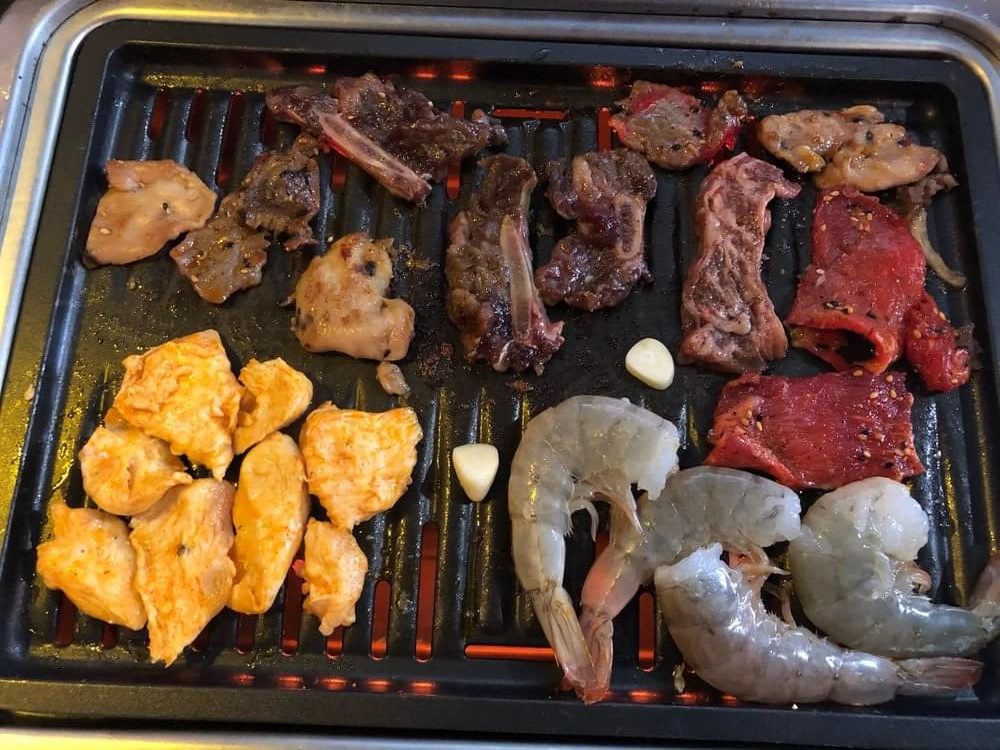 Yaki-Sushi·Grill·BBQ is a Japanese restaurant with Korean BBQ grilling tables. We visited Yaki Sushi many times and got to try different dishes. The sushi boat had excellent maki rolls, definitely amongst the best sushi in Sarasota.
They had multiple tables throughout the restaurant where people were eating directly off the grill. The grill-at-the-table bbq was very fun for the entire family. The interior was colorful, modern and it was not too busy.
Hong BBQ & Hot Pot
445 Cortez Rd W, Bradenton, Florida
Opening: May 2023
Hong BBQ & Hot Pot offers a Chinese and Korean BBQ dining experience. They offer an all-you-can-eat authentic Chinese Hot Pot & Korean style BBQ food. While they have a location in Tampa, Florida, the Bradenton location will be opening in May 2023.
This is a highly anticipated new restaurant in Bradenton, especially for Korean BBQ diners.
Map of Sarasota Korean BBQ Restaurants
This is a map of Korean barbecue restaurants in Sarasota and Lakewood Ranch, Florida.