This is a list of the best bubble tea places in Sarasota, FL.
Many places serve boba.
But these have the best tapioca balls, slush, milk tea and chill vibes.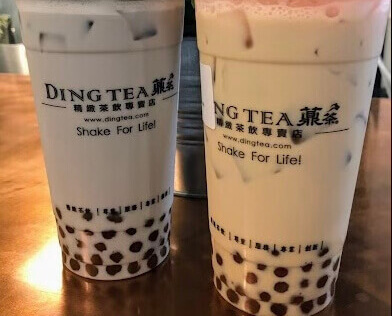 Let's jump right in.
Here are the milk tea and boba shops we'll talk about:
Chi Chop & Kung Fu Tea Sarasota
8404 Lockwood Ridge Rd, Sarasota, FL
Kung Fu Tea has over 350+ locations in the US. Considering it's one of the most famous boba places in Sarasota, you have to try it. This bubble tea cafe offers free wifi, delivery, reasonable prices and has the best bubble tea in town. It's shares the inside with Chi Chop, a hibachi style and fried chicken restaurant.
Best Boba Tea Flavors [Kung Fu Tea]
Taro slush with bubbles
Taro milk tea with bubbles
Mango slush with jellies
Mango Jasmine green tea with popping bubbles
Coffee milk tea with coffee popping boba
Their famous taro slush is taro blended with milk powder, cane sugar and ice. While the taro milk tea is made with taro, earl grey tea and milk powder. If you're looking for great places to get milk tea, the Kung Fu Tea Sarasota location does it right.
List of Milk Tea Flavors [Kung Fu Tea]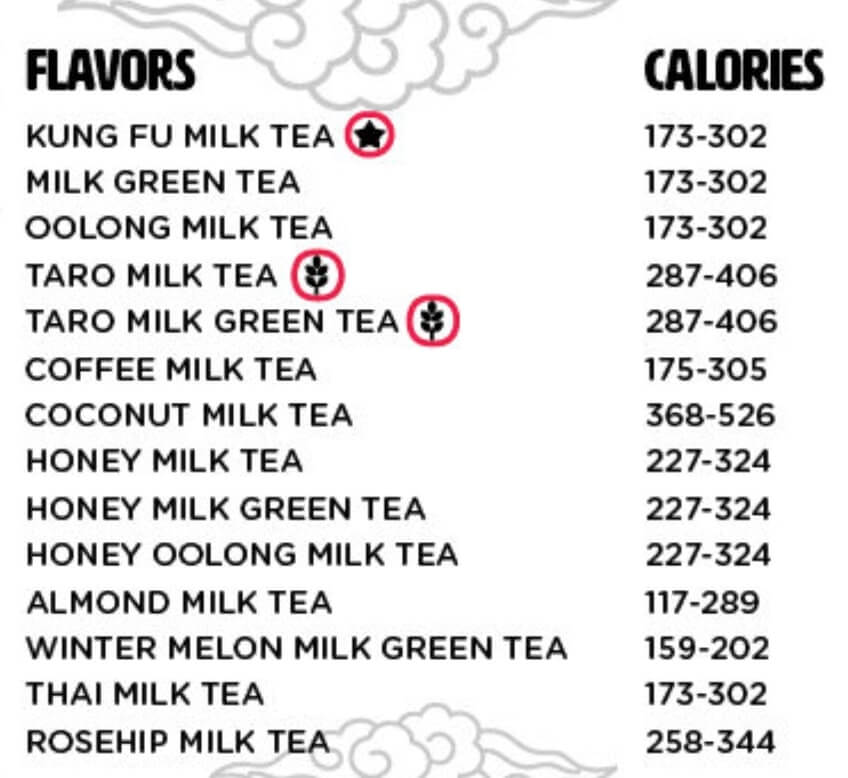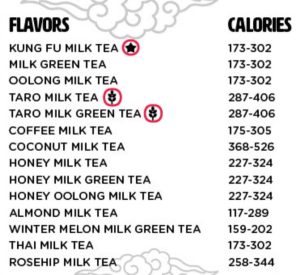 Every Kung Fu Tea location follows the "3T" method that's specific to every drink. High quality tea leaves steeped at the ideal temperature and time. Their tapioca pearls use two basic ingredients, tapioca starch and brown sugar. You can also choose your sugar level from 0%-120%. This is what makes them the best bubble tea in Sarasota.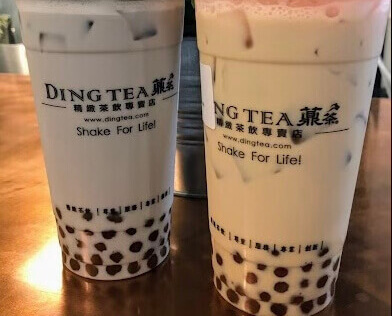 Ding Tea UTC
5231 University Pkwy, Unit 105, University Park, FL
Ding Tea UTC is the newest bubble tea cafe in Sarasota (October 2021). Ding Tea has over 1,366 locations worldwide. Over 100 of those locations are in the United States. It was founded and headquartered in Taiwan. Since Taiwan is known for the best boba in the world, having a Sarasota location is awesome.
Ding Tea Menu Options
Assam Black Tea
Jasmine Green Tea
Oolong Tea
Flavored Tea (12 flavors)
Slush (smoothies)
Milk Tea
Coffee
Fruit Juice
Yogurt
Latte
We recommend a green tea matcha or taro slush. You can choose your sugar level 0%-100%. If you're getting a milk tea, you can also choose your ice level 0-100%. Everything is customizable, including the type of boba.
Boba Flavors & Jelly [Ding Tea]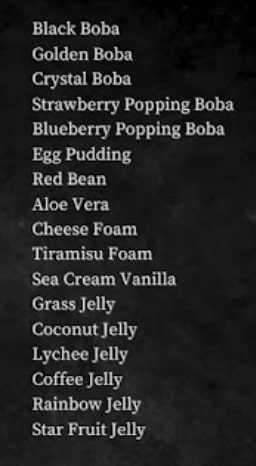 Ding Tea Sarasota location offers delivery, free wifi and has the best boba in town. We absolutely love their tapioca balls! When it comes to the best bubble tea places in Sarasota, we couldn't ask for more. By the way, it shares the inside with Bún-Haus Vietnamese restaurant.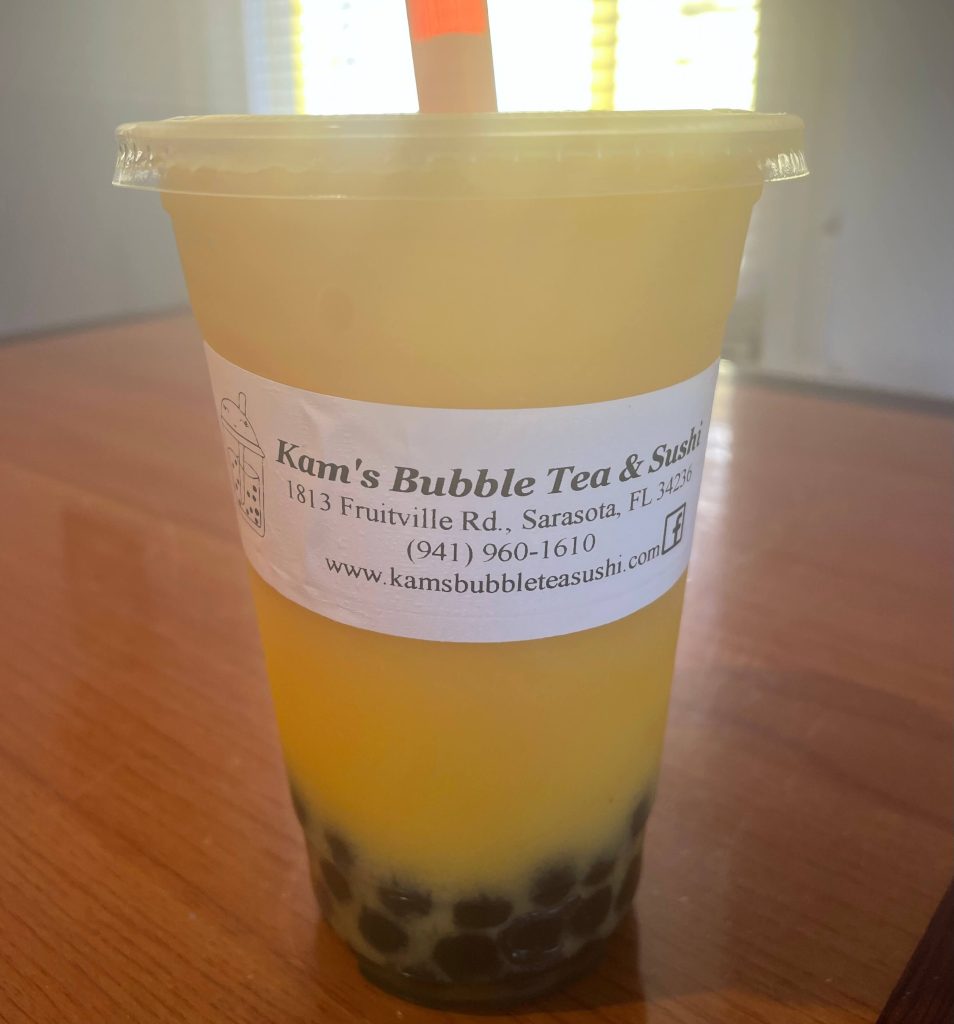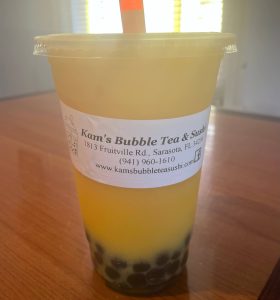 Kam's Bubble Tea & Sushi
1813 Fruitville Rd, Sarasota, FL
Kam's Bubble Tea makes real fruit smoothies and has great tasting boba! Depending on the season, Kam's will use fresh fruit or canned fruit. Never powder. The boba isn't hard and tastes just right. Though they have what seems like 100+ flavors, you won't find green tea matcha or taro.
While it's one of the best boba tea places in Sarasota, it has its drawbacks.
The menu is overwhelming and disorganized. Rather than just listing the flavors, they wrote "with Bubble Tea" or "Smoothie" at the end of every choice. Making it impossible to read. While it's nice to have an extensive menu, you need 5-10 minutes just to read through it.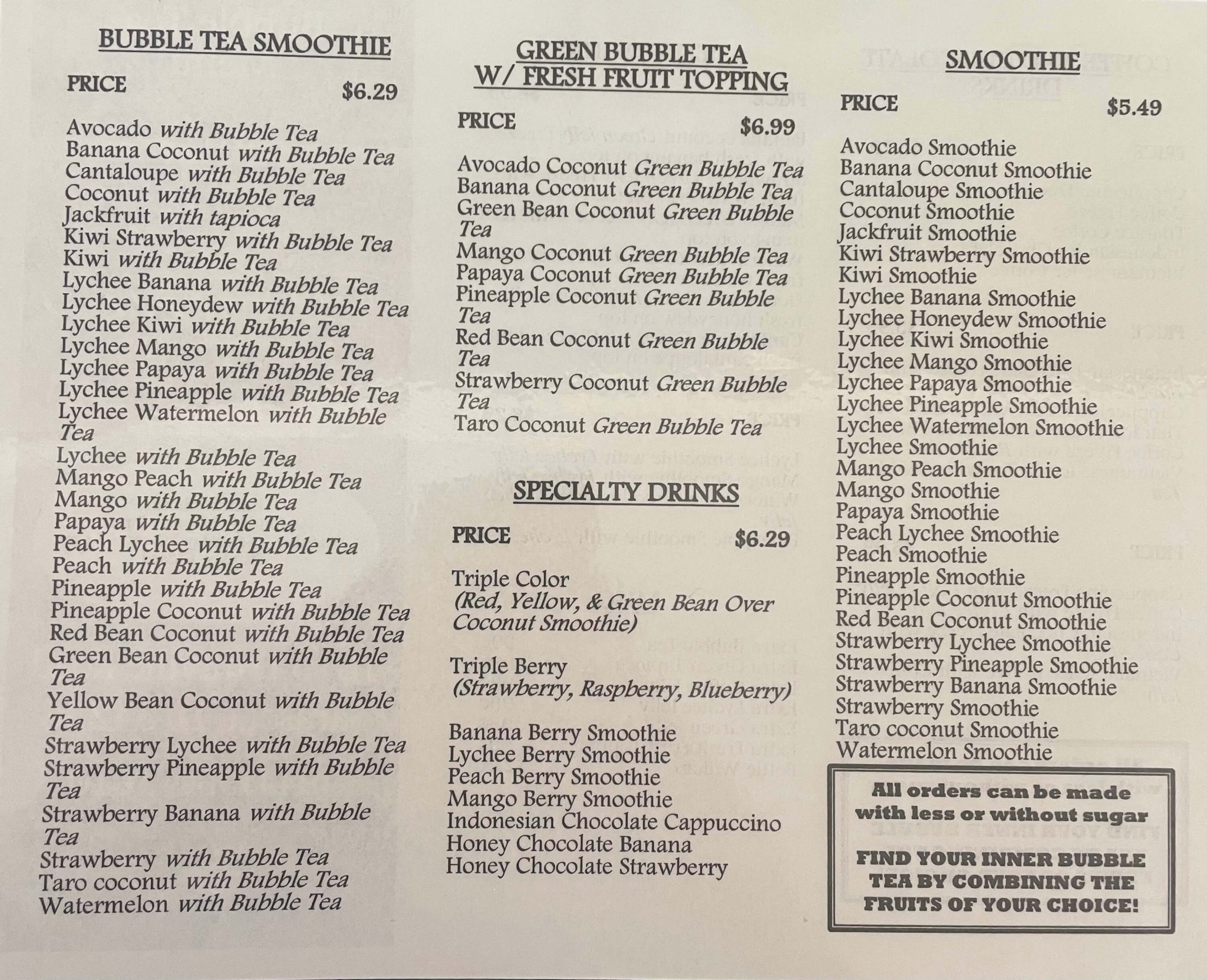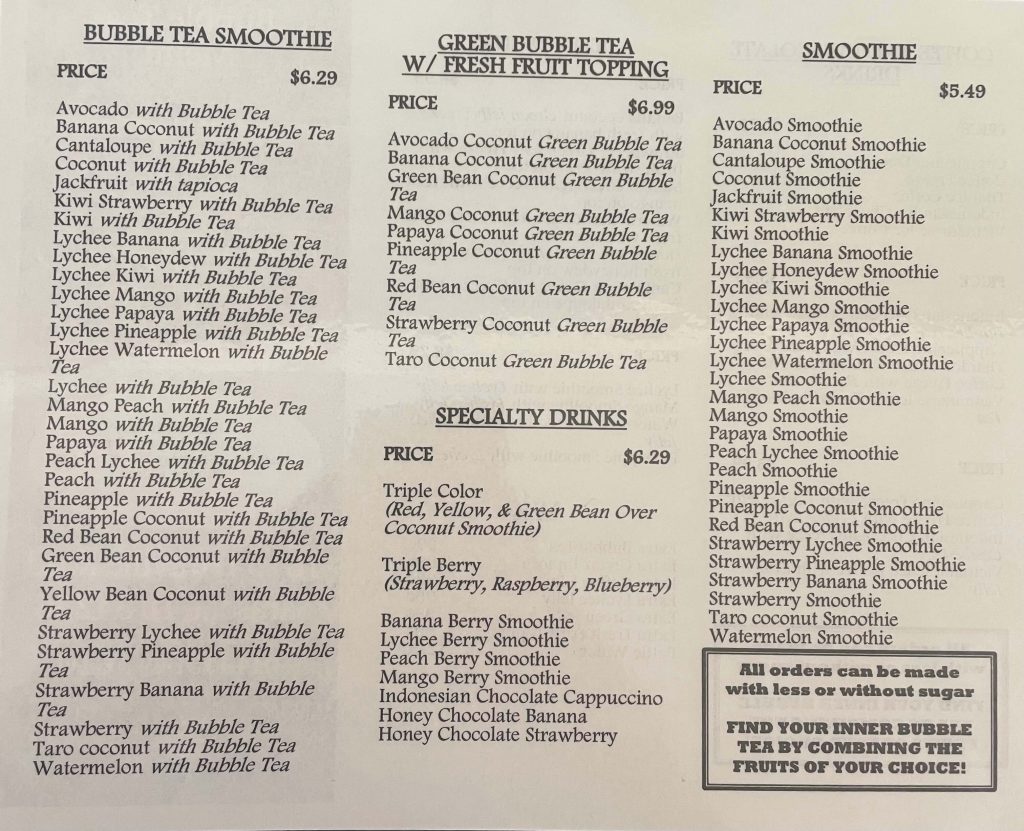 Kam's use basic lids. So you won't get to pop the top with a straw. Their interior decor and cup labeling drastically needs a tune-up.
However! Since they use real fruit, their fruit smoothies are going to be rich and thick. If you're looking for a non-corporate locally owned bubble tea shop that cares about what you put into your body, this is it.
Stiks Sarasota
4413 S Tamiami Trail, Sarasota, FL
Welcome to your new favorite spot in town. If you haven't already heard, Stiks is a new Asian restaurant specializing in pho, curry dishes, pad thai and boba tea. If you love milk tea, it'll become one of your favorite Sarasota boba tea places.
As far as looks go, this place has a defined aesthetic all its own. Trendy, cozy and very monochromatically pleasing. Go for the delicious boba tea and stay for the instagram friendly scene. Beyond its appearance, the Asian food offered here is consistently tasty.
Popular Menu Options [Stiks]
Chicken pad thai
Pho beef broth
Crispy pork rolls
For those with dietary preferences and restrictions, they are very accommodating. From endless vegan choices, gluten-free options and dairy-free boba tea, they cater to everyone's palate and needs.
Top Boba Drinks [Stiks]
Our favorite is the dairy-free lavender boba tea with coconut milk!
Pho 101 Noodle House
6125 S Tamiami Trail, Sarasota, FL
Pho 101 is a Vietnamese restaurant with pho, crispy noodle dishes and delicious Thai boba tea. While it's not exclusively a boba cafe, they still have amazing slushy boba tea. We would highly recommend coming for the great food and bubble tea with tapioca balls.
Bubble Tea Flavors [Pho 101]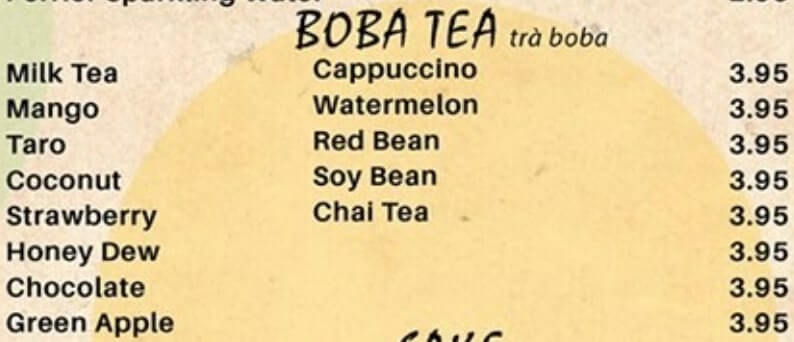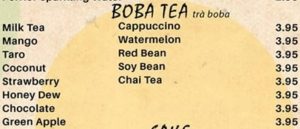 The most popular boba flavors are taro, honeydew and coconut. We recommend skipping the chocolate and green apple boba flavors.
Pho 99
5191 Clark Rd, Sarasota, FL
Pho 99 is a Vietnamese restaurant with a contemporary chic atmosphere. Their boba tea comes in a glass mason jar with a handle on the side. While it's made from a powder mix, many people still claim they have the best boba tea in Sarasota. Because of its popularity among the locals, we absolutely had to include it.
In 1999, they opened their original location in South Plainfield, NJ. They later expanded to Franklin Park, NJ and Sarasota, FL. Considering they've been around for 3 decades, they had enough time to perfect their pho and boba.
Again, while they do use a powder mix, they are still among the better places to get boba tea in Sarasota. If you already tried the other boba shops on this list, Pho 99 Sarasota should be your next one.
Best Bubble Tea to Get [Pho 99]
Taro Boba Tea
Mango Boba Tea
Thai Boba Tea
Boba Tea Places in Sarasota
Here's a convenient way to find the best bubble tea places in Sarasota. This is the best way to find boba tea near your location.
Bubble Tea Places near Bradenton, FL
If you're looking for more boba tea spots, check our list of the best bubble tea places in Bradenton.